Chromecast is Google's $35 little HDMI dongle that allows users to stream content directly from the Internet over their Wi-Fi network. It's pretty good! But it has an unfortunate dearth of official third-party apps that would make it a true living room conqueror. As of Thursday morning, though, the little dongle can boast at least one more streaming feather in its hat: Pandora.
The Internet radio giant announced in a blog post that it was bringing one-touch streaming to Chromecast. Users will be able to "cast" Pandora directly to the TV using their smartphone or tablet as the remote control, which will provide core Pandora functionality such as Play, Pause, Thumb-up or –down, and Skip.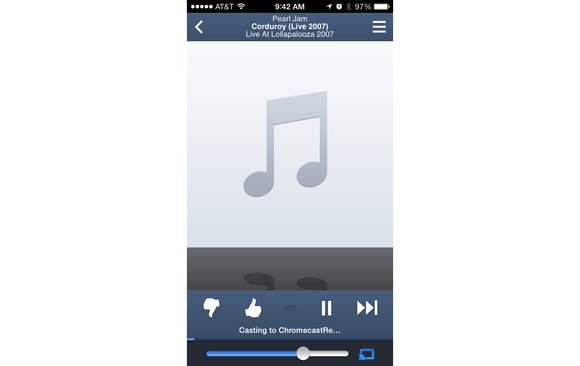 Pandora says the Chromecast cast function is available as of today for listeners who downloaded version 5.0 of the Pandora app. Chromecast integration will work with all Android phones and tablets as well as iPhones (support for iPads will be "coming soon").
A necessary step in the right direction
While Chromecast has been selling like magical wish-granting pancakes, the service is in a desperate need of more third-party apps. In addition to Pandora and a plethora of Google properties, Chromecasters now have access to Netflix, Hulu Plus, and reportedly HBO Go is coming soon. It's a good start, but still short of what is availalbe on many other set-top devices.
While Chromecast users are able to access just about anything available on the Web via the browser function, it doesn't work as seamlessly as the official apps. This lack of streaming apps is the only thing keeping Chromecast from being a serious low-cost threat to the Rokus, TiVos, and Apple TVs of the world.
Unless the service can wrangle in more third-party partners—and as Google appears to be tweaking Android to be a smart TV OS in some form—Chromecast may be destined to be little more than a curious little side note of technology.