It's almost Halloween, so you better have your costume dialed in, your pumpkin carved, and a cupboard full of candy for all the cute little moochers who'll be ringing your doorbell. Oh, you don't have any of that done? Ah, screw it. You can always turn off all the lights, pretend you're not home, and zone out in front of the tube. Watching all the Halloween episodes in this list could take you until Thanksgiving.
The only thing that could beat the scarily funny shows here is if the 24 excellent "Treehouse of Horror" episodes of The Simpsons were streaming for free, but you can purchase sets of those from iTunes for a reasonable price of $8 for each of the three six-episode compilations.
Community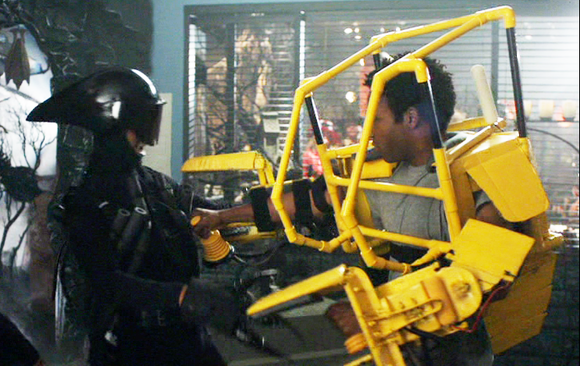 So the must-see Halloween episode of Community is clearly "Epidemiology," from season 2. The gang has to deal with a zombie outbreak at the school's Halloween party, and the costumes are amazing, from the Dean's Lady Gaga outfit to Abed and Troy's Aliens duo…at least before some unfortunate wardrobe malfunctions. But the rest of Community's Halloween episodes are great too, including the Day of the Dead-themed "Introduction to Statistics" in season 1, "Horror Fiction in Seven Spooky Steps" from season 3, and even "Paranormal Percentage" from the shaky Dan Harmon-less season 4. It's worth a marathon—and a marathon is worth throwing in another season 2 episode, "Critical Film Studies." It isn't technically Halloween themed, but everyone is in costume—the gang tries to throw Abed a Pulp Fiction-themed birthday party, but instead Abed re-creates My Dinner with Andre with an unwitting, unwilling Jeff Winger.
The Cosby Show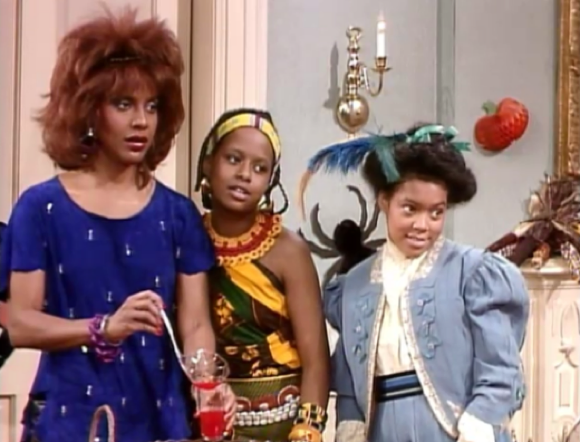 Will I ever tire of telling you that The Cosby Show is on Hulu Plus? Look, watching the best sitcom of the '80s with commercials for the Microsoft Surface is just a trip, and the show itself holds up amazingly well—family harmony and ugly sweaters are pretty timeless. The "Halloween" episode from 1985 is a classic, the one where Vanessa has her first boy-girl party, an exercise in extreme awkwardness, especially when her crush Robert shows up. But even better is the 1987 episode "Cliff's Mistake," when Cliff and the kids go all-out to make a haunted house in the basement, scaring poor Peter (Rudy's adorable round-faced friend) so bad he runs back up the stairs and right out of the house.
Family Guy
Speaking of Cosby, he shows up in the first seconds of Family Guy's ninth-season episode "Halloween on Spooner Street" (on Netflix and Hulu Plus). But it's not really Bill, of course—it's Chris Griffin in a politically incorrect costume. And the show gets even wrong-er from there, poking fun at bullying, horny teenagers, race, and little people, with plenty of gratuitous violence and cursing. So wrong that it's right? Eh…you be the judge. If this episode doesn't set you off Family Guy forever, there's also "Petergeist." It aired in May, so it's not Halloween themed, but it does ape the plot of the movie Poltergeist, and it's on Hulu Plus and Netflix too.
Freaks and Geeks
In "Tricks and Treats," Sam thinks he's too old for trick-or-treating, but he and his posse go anyway, with predictably awkward results. And Lindsay ditches her mom, not to mention her wholesome friend Millie, for mischief with the cool kids—until they inevitably go too far, and Lindsay has to admit to herself that being cool isn't always the coolest thing you can do.
My So-Called Life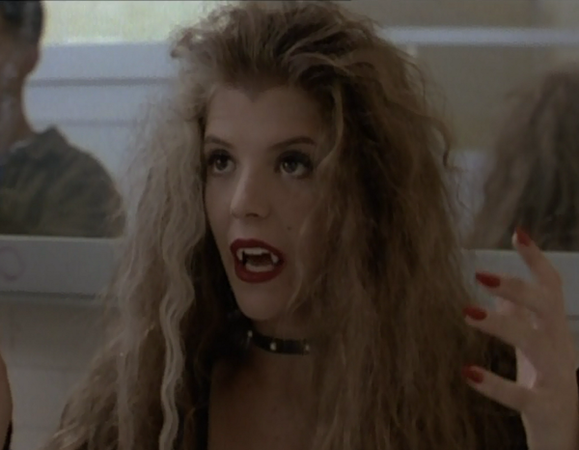 One of the best episodes of arguably the best teen drama of all time, "Halloween" is a ghost story and at least four love stories—there's Angela and Jordan, of course; Brian's unrequited crush on Angela and lust for Rayanne; Patti and Graham's surprisingly steamy romance; and, sweetly, Danielle's affection for her big sister. And it's all wrapped up in a waiting-for-Tino story, as per usual. Funny how what a crappy waste of a night for one person could be the best night ever for the geek on the fringe.
Parenthood
In "Orange Alert," (on Netflix and Amazon Prime), Max, the little boy with Asperger's, wants to go trick-or-treating for the first time since he was a baby, and his parents have to try to balance his special needs and their lack of control. Lawyer Julia is dismayed that her daughter Sydney wants to be a beauty queen. Zeek and Camille go all-out as always, but the teens in the family can't be bothered. Anyway, it's no zombie invasion, but as with most Parenthood episodes, it's full of little moments that go down as sweet as candy corn.
30 Rock
It seems like every time you rewatch an episode of 30 Rock, you'll catch a new joke, and season 4's trip to the Chuckle Hut is no exception. In "Stone Mountain," Frank, Lutz, and Twofer try to elevate their pathetic Halloween party by teaming up with Jenna and her entourage of gay guys and hot girls. And Tracy fears the celebrity-death "rule of threes," with cameos by Jimmy Fallon and Betty White. ("Nice try, Jordan," she snarls, "but I'm going to be at your funeral. I'm going to bury you.")
Brooklyn Nine-Nine
The new Reno 911-ish comedy just aired its "Halloween" episode this week, but if you didn't catch it on Fox, you can watch it on Hulu Plus. And you should, because it's really, really funny. Halloween has to be an awful night for any law enforcement professional, and here it's made worse when a couple officers have to don costumes to work undercover busting parties. Back at the precinct, the holding cell is full, of course, hoodlums dressed as Hillary Clinton and Kim Jong-Il need to be separated because they keep making out with each other, and the cops even have to pull together a lineup of fat guys in baby costumes. So while the police are understandably grumpy, you'll have the giggles for 22 minutes straight.
Futurama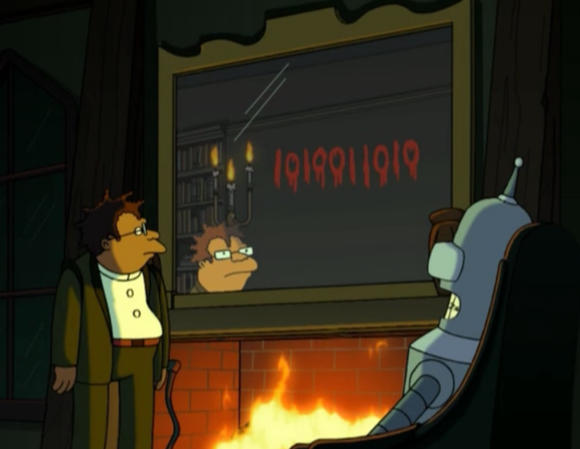 In "The Honking," Bender inherits a haunted castle from his uncle Vladimir, then gets stalked by a "werecar." (Yep, a werewolf car. Of course!) It's got tons of references for nerds, from nods to The Shining and Christine for the film geeks, to little in-jokes about Tandy computers and that old flying toaster screensaver. All of Futurama streams on Netflix.
New Girl
The current season of New Girl is on Hulu Plus, including the just-aired Halloween episode "Keaton," in which Schmidt, still reeling from the Cece situation, takes solace in emails from his childhood hero Michael Keaton. Jess throws a Halloween party because she is one of the most fun characters on TV, and Nick is afraid of ghosts because he's a giant man-child. If you're not caught up with the new season, no need to skip ahead—just fire up Netflix and re-experience the magic of season 2's "Halloween" episode, in which Jess dresses up like a zombie Woody Allen.
The Office
What can ruin Halloween for Michael in the season 2 episode "Halloween"? Having to fire one of his beloved, well-costumed employees by the end of the day, on the order of those joy-killing ogres from Corporate. But don't stop there. Creed, Dwight, and Kevin's dueling (trueling?) Joker costumes in "Employee Transfer" are not to be missed. And they take it up a notch in "Costume Contest," even though the eventual winner is probably the worst one.
Parks and Recreation
Leslie Knope loves everything, including Halloween—well, not so much in season 2, when she's locked in an epic struggle to defeat local prankster Greg Pikitis (streaming on Netflix and Amazon Instant). Ann's Halloween party in that episode is totally owned by Andy and April's rager in the season 4 classic "Meet 'n' Greet" (also on Netflix and Amazon). And last season's "Halloween Surprise" (Netflix and Amazon) finds chronic wet blanket Ron Swanson in a costume, trick-or-treating with children (yes, including Andy), which obviously should not be missed.
South Park
South Park always puts together a great Halloween episode, stretching way back to Zombie Kenny lurching his way through "Pinkeye" in the very first season. In season 2, "Spooky Fish" is one of those episodes that's a little uncomfortable to watch, but not for being over-the-top offensive like South Park can get—it's just a little too creepy, referencing an old Star Trek episode about an evil parallel universe. If you just want straight-up laughs, you can't go wrong with "Hell on Earth 2006" in which Satan throws a My Super Sweet 16-style Halloween party on Earth, and Butters has a run-in with the late Christopher Wallace. Last year's parody of The Shining, "A Nightmare on FaceTime," is killer too.