On Thursday TiVo rolled out its new out-of-home streaming feature, provided that you're using one of TiVo's Roamio Pro or Plus DVRs and an iOS device.
The DVR maker has offered the ability to watch live TV, stream recorded programs, and download complete shows to an iOS device for a while now—but only when your device is on the same network as your DVR. With this update, you can watch or download a show from anywhere on the Internet.
The live-TV feature is reminiscent of Slingbox's offerings, but without the extra box. In my testing Thursday it worked pretty well, with video quality varying with the speed of the Internet connection. (To stream video live at good levels of quality, your home Internet needs solid upload bandwidth and you also need solid download bandwidth wherever you are. Out-of-home video also won't work on cellular networks and requires a Wi-Fi connection.)
In addition to live streaming, you can now save shows over the Internet from your DVR to your iPhone or iPad. As someone who just came back from an international trip, I'd have loved to use this feature to load some of the shows I'd missed onto my iPad for the trip home.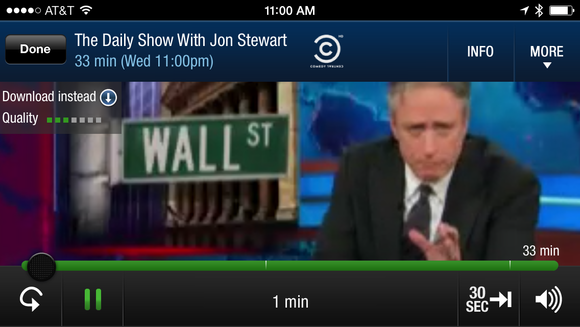 Unfortunately, there are some caveats. The show downloads seem to function best when your iOS device remains on and sitting at the download screen; when I put my device to sleep or switched to another app, the downloads stalled. When my network conditions changed, sometimes downloads would stop and I'd need to tap to resume the download. (The good news is, the TiVo app resumes downloads where you left off and doesn't require you to start from the beginning.)
Watching live TV with the TiVo app continues to be a little bit weird. You can't just stream a live show; when you tap Watch Live, TiVo will schedule a recording of the show, and then start streaming that to you. It's not that big a deal, but it means that your Now Playing list will be littered with any shows you tried to watch live, and you'll need to delete them later.
Users of the TiVo Roamio Pro and Plus can use this feature now by updating their iOS TiVo app to the latest version in the App Store. If you've got a device that requires the TiVo Stream add-on to encode iOS video, TiVo says that you'll be getting this feature in early November. Android users will get the feature in spring 2014, and TiVo says that they'll support streaming over LTE networks in the spring of 2014 as well.
Roamio Pro
Price When Reviewed:
$600
Roamio Plus
Price When Reviewed:
$400