Just when it seems there is no area left untouched by the sharing economy—which has made cars, apartments, and even clothes communal objects—a new trend emerges. This time, it's shared Wi-Fi signals.
Wireless network Fon on Wednesday introduced its home Wi-Fi router, the $59 Fonera, in the United States after building up Wi-Fi hot spots across Europe and Asia. The router splits a wireless signal into two—one for your own home use, and a secondary, smaller slice for other Fonera users.
If you sign up for Fonera, which offers free lifetime membership with the purchase of a router, you join a network of more than 12 million Wi-Fi hotspots around the world. If you find a fellow user's signal in the area, you just enter your Fonera username and password to connect to their home network. The company added an option to log in with Facebook as part of its U.S. launch.
Community Wi-Fi
Fon isn't a broadband service provider. It piggybacks on your existing service, but securely splits the wireless signal into separate, password-protected pieces—one for your use, and one for your community to use.
So, what's the appeal of sharing your Wi-Fi signal? Well, in the event that you need a signal—say, walking down the street trying to access a congested cellular network or traveling overseas trying not to use data—you have access to one just by sharing your own.
If you turn your router off, of course, your access to Fon's hotspots is frozen.
The concept is more popular overseas, where Fon's Wi-Fi signal splitting service is built in to many telecom companies' routers. Of the 12 million Fonera hotspots around the world, only 4 million of those are from Fonera's branded routers. The rest are from Fon's partnerships with broadband providers.
Sodhi said Fon hopes to build up those relationships with U.S. cable companies, too.
Buying a $59 router when you likely already own one might sound like a bad deal, but Fon is marketing its router as a booster for your Wi-Fi signal. If you put the Fonera in a spot where your signal is shoddy—like your basement—the router amplifies the signal.
Sharing signals
Fon isn't the first company to apply the sharing economy model to Wi-Fi. Cable companies like Comcast are getting on in the Wi-Fi everywhere action by building up hotspots across the country—but those are for its own customers. Fon U.S. CEO Nina Sodhi said Fon's service is different because it isn't tethered to a specific provider.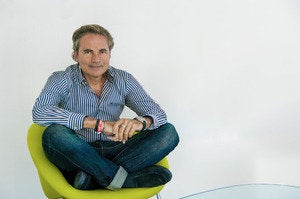 "What's great about Comcast doing it—and too bad they didn't do it with us—but it validates the concept of neighborhood or community Wi-Fi in the U.S.," Sodhi said.
Start-ups are jumping on board with Wi-Fi everywhere, too. Hotspotio is a new Android app that lets smartphone users share their portable hotspots. Hotspotio's gimmick is that in order to use someone else's hotspot, you have to do a favor for them. The favors range from buying them a drink to liking them on Facebook.
The sharing economy is creating a variety of ways to access Wi-Fi—Fon's U.S. launch adds another.
"The market conditions right now are perfect for Fon—the explosion of data usage, the broader Wi-Fi category of iPads," Sodhi said. "We're really excited about launching in the U.S."
We plan to test a Fonera to see just how well it works as a signal booster and community-builder, so stay tuned.