It's only a matter of days before Halloween, and time to really start packing in those scary movies to set the mood. Last time, we got the ball rolling with a selection of recommended movies from Hulu, and here's an additional thirteen (!)—in honor of the witching hour—from Netflix. Like our last batch, this selection ranges from moody and spooky to gory and funny. They include zombies, vampires, piranha, giant bugs, and wurdalaks. Light up your jack-o-lantern and press play.
Nosferatu
★★★★★
Widely considered one of the greatest directors in history, F.W. Murnau was one of the original German Expressionists, using extraordinary sets and angles to illuminate the moods of his stories. For Nosferatu (1922), he adapted Bram Stoker's novel Dracula, but failed to secure the rights. Stoker's family tried to sue, and we almost lost this amazing film to history. The incredible, creepy Max Schreck stars as the ratlike Count Orlok, who rises out of his coffin, stiff as a board, not moving a muscle. For further research, see Shadow of the Vampire (2000), a fiction film that imagines what this movie might have been like if Schreck were a real vampire.
Black Sabbath
★★★★☆
The great Italian horror director Mario Bava made the full-color Black Sabbath (1963) with three separate stories, and it's one of the greatest horror anthologies ever made, alongside Dead of Night (1945) and Kwaidan (1964). The first spooky story, "The Telephone" takes place entirely in a basement apartment, about a call girl terrorized by a series of mysterious phone calls. Horror legend Boris Karloff—who also "hosts" the movie—stars in the Russian story "The Wurdalak," about a dead creature that stalks the living. And finally, there's "The Drop of Water," about a dishonest nurse hired to prepare a corpse for burial. Netflix has the English-language version, which was edited and is significantly different from the Italian version available on DVD. Bava's original title was I tre volti della paura (The Three Faces of Fear), but the distributor changed it to cash on in the success of Bava's Black Sunday (1960). However, the famous band borrowed their name from this movie, so it all worked out.
Rosemary's Baby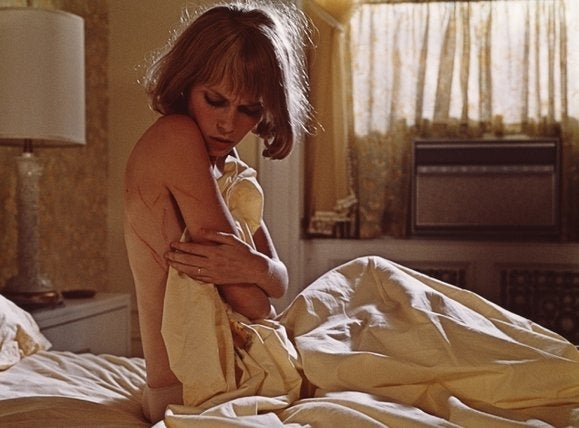 ★★★★★
Director Roman Polanski adapted Ira Levin's novel to make his first Hollywood hit, Rosemary's Baby (1968). A short-haired Mia Farrow stars as Rosemary, who moves with her actor husband Guy (John Cassavetes) into a New York apartment building. Their neighbors (Ruth Gordon and Sidney Blackmer) are slightly odd, and strange things begin happening. When Rosemary finds herself pregnant, things turn downright sinister. Polanski is a master of paranoia, and especially the paranoia of being trapped and alone in an unwelcome place; and yet his movie was so classy that it earned a Best Supporting Actress Oscar for Gordon, as well as a Best Screenplay nomination for Polanski.
Piranha
★★★★☆
Joe Dante was among the first generation of filmmakers that had been raised watching movies. Landing a job with producer Roger Corman, he worked his way through the ranks until he became a director, making his solo feature debut with Piranha (1978), a quasi-parody of Jaws. A pair of hikers breaks into a military installation for a swim, and accidentally release genetically engineered piranha into the nearby rivers and streams. The nasty little biters eventually make their way to a summer camp filled with kids. Dante's low-budget effects are still pretty snappy, and though his usual level of satire hadn't quite evolved yet, he at least pays homage to some of his favorite old movies by casting Barbara Steele and Kevin McCarthy in small parts. A sequel was made, and a newcomer named James Cameron was hired to direct it.
Re-Animator
★★★★★
Chicago native Stuart Gordon was involved in a fringe theater troupe before he turned filmmaker with this incredible adaptation of an H.P. Lovecraft story. Not reverent in the slightest, Re-Animator (1985) goes off in its own hilarious, bizarre directions, starting when young scientist Herbert West (Jeffrey Combs) rents a room with University student Dan Cain (Bruce Abbott). West creates a glowing green formula that resurrects dead tissue, and he does not hesitate to use it. One character, a menacing professor named "Dr. Hans Gruber" (Al Berry) becomes separated from his head and still manages to cause trouble. The lovely Barbara Crampton co-stars as Dan's girlfriend, and also the dean's daughter. Composer Richard Band blatantly steals music from Psycho, and it still works.
Scream
★★★★★
A decade after Wes Craven made one of the great slasher movies, A Nightmare on Elm Street, the genre had been played out. So Craven and screenwriter Kevin Williamson teamed up for Scream (1996), a movie about characters that were actually aware of slasher movies and knew all the rules. This clever premise somehow pays off as characters end up breaking the rules in spite of themselves, or even inventing new ones. Craven's direction is crisply paced, using available spaces to spooky effect and allowing for welcome moments of levity. Drew Barrymore appears in the famous prologue ("What's your favorite scary movie?"), and Neve Campbell, Courteney Cox, David Arquette, Matthew Lillard, Rose McGowan, and Skeet Ulrich fill out the rest.
Bride of Chucky
★★★☆☆
The talking doll Chucky, voiced by Brad Dourif, was the killer in the Child's Play slasher series, one of many that ran out of steam. But in the late 1990s the series became more playful with Bride of Chucky (1998). Oscar-nominee Jennifer Tilly plays Tiffany, an ex-girlfriend of Chucky's former human self, who tries to resurrect her lover ("Well, hello… dolly!"), but winds up turned into another doll. Chucky and Tiffany hit the road with a young couple, hoping to take over their human bodies, and wind up on another bloody killing spree. Amazingly, Hong Kong action director Ronny Yu (The Bride with White Hair) was hired to direct this, and he brings a slick, kinetic, cartoonish energy to the proceedings.
Mimic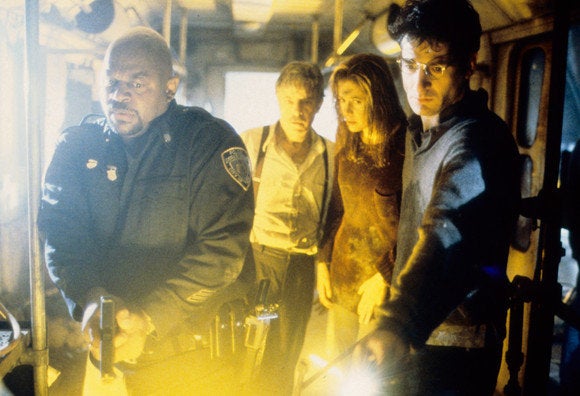 ★★★★☆
One of the most fascinating and visionary directors working today, Guillermo Del Toro came to Hollywood after his memorable Spanish debut, Cronos. His sophomore effort, Mimic (1997), is fairly silly, but strikes just the right tone. Oscar-winner Mira Sorvino plays entomologist Dr. Susan Tyler, who saved the city from a rampaging disease by inventing a new breed of insect. Three years later, strange attacks begin occurring and it seems that they have something to do with Susan's creation. It's not long before a ragtag band of misfits end up in a strange underground world of broken subway trains and sewer drains to save the city again. Del Toro has a genuine enthusiasm for monsters, as well as labyrinthian spaces, and despite some short cuts and drawbacks, the movie is very entertaining. Sadly, Netflix is showing the original 105-minute theatrical cut and not Del Toro's much-improved 112-minute director's cut.
Land of the Dead
★★★★★
Twenty years after making the third part of his "Living Dead" trilogy, George A. Romero made part four, Land of the Dead (2005). In it, bands of outsiders have set up systems to stay safe from zombie attacks. One of them, Riley (Simon Baker) dreams of heading north, and another, Cholo (John Leguizamo) hopes to raise enough cash to buy a luxury apartment in a gated high-rise run by entrepreneur Kaufman (Dennis Hopper). Unfortunately, one of the zombies has begun to show indications of intelligence—and leadership. Some critics remarked that this was one of the first Hollywood movies to take on the moods and themes of 9/11, albeit indirectly. Romero is also interested in the imbalance of class systems, which has only become more of an issue. Asia Argento, the daughter of Romero's pal, director Dario Argento, co-stars. Reportedly, the creators of Shaun of the Dead were given parts as zombies.
The Cabin in the Woods
★★★★☆
Taking the idea of the post-modern, self-aware horror film to an entirely new level, The Cabin in the Woods (2012), written by Joss Whedon and directed by Drew Goddard, begins like a typical "cabin in the woods" movie. A group of friends, who don't look as if they'd be friends in real life, drive to the woods to spend the weekend partying and having sex in a cabin. Strangely, this cabin appears to be monitored by two guys (Bradley Whitford and Richard Jenkins) in a computer lab. And things just continue to escalate, getting weirder and more mythic. Of course, it's all a massive deconstruction of the genre itself, and many horror buffs can't stand this movie for that reason, but it does have an equal number of passionate fans on the other side. Star Chris Hemsworth, of course, played Thor in Whedon's The Avengers later the same year.
Tucker and Dale vs. Evil
★★★★☆
Here's the movie that detractors of The Cabin in the Woods cite as being a true work of genius. Eli Craig's Tucker and Dale vs. Evil (2011) also begins with the same cliché: a group of teens head to a cabin in the woods, but detours into another cliché, when the teens stop at a gas station for maps and beer, and pick up creepy vibes from the hillbilly locals. This time, however, the hillbillies are Tucker (Alan Tudyk) and Dale (Tyler Labine) and the twist is that they're super nice! When the gory slayings start, it looks like Tucker and Dale are to blame, but the truth is more bizarre and hilarious. This movie doesn't have the scale of The Cabin in the Woods, but it still goes to unexpected, and perhaps warmer, places; by the end, we grow to genuinely care for our hapless hillbillies.
Pulse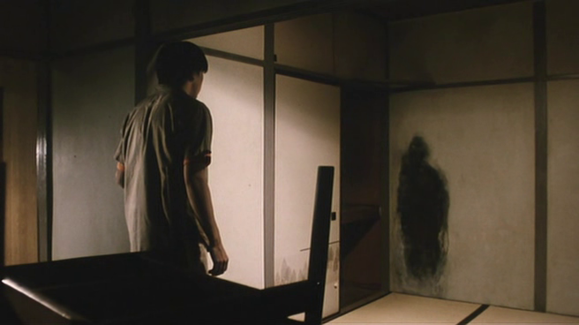 ★★★★☆
Now for a couple of imports: Japan became well-known for a little while for creepy and innovative ghost stories (as well as girls with stringy hair), but Kiyoshi Kurosawa's Pulse (2001) gets points for being one of the most genuinely frightening movies of its decade. A man hasn't turned up to work in a few days. One of his co-workers visits his apartment, speaks to him, turns his back for a moment, and discovers the man's corpse. He checks the man's computer. The screen is telescoped into infinity and weird figures are appearing in the corners. Another man sets up a new computer, plugs in the internet cable, and is asked, "Do you want to see a ghost?" Things get stranger and more unsettling, with very little chance of predicting where they'll end up. Kurosawa's frequent leading man Koji Yakusho appears in a small part. A 2006 American remake, starring Kristen Bell, should be avoided.
Let the Right One In
★★★★★
Adapted from the novel by John Ajvide Lindqvist, the Swedish import Let the Right One In (2008) was the best vampire movie in many a moon. (Ironically, it opened in theaters the same day as the far more popular and far less interesting Twilight.) Director Tomas Alfredson brings an unusually quiet, moody quality, using cold weather and muted colors to enhance the story. A shy, outcast boy, Oskar (with a bad haircut), is bullied at school and lives alone with his single mother. One day a strange girl shows up. Called Eli, the two strike up a friendship, although she keeps saying cryptic things like "I'm twelve. But I've been twelve for a long time." Eventually, he learns that she's a vampire, and the film reveals what happens to vampires who enter a dwelling without being invited. The climactic showdown with the bullies is absolutely heart-stopping. A surprisingly good American remake, Let Me In (2010), is also worth seeing.
What's new on Netflix
American Gigolo
As Good as It Gets
A Band Called Death
Blood and Wine
Breaking Away
The Central Park Five
Citizen's Band
Confessions of a Dangerous Mind
Congo
Evil Dead 2
Fargo
Forrest Gump
The Gambler
Ghostbusters
Henry: Portrait of a Serial Killer
The House of the Devil
The Italian Job
Jeffrey
Joe Kidd
King of New York
The Last Days of Disco
Lock, Stock and Two Smoking Barrels
Mansfield Park
The Painting
The Rabbi's Cat
Return to Me
Road House
The Sand Pebbles
Timeline
Troll 2
Twilight (1998)
Two Mules for Sister Sara
Wake in Fright