We're all familiar with the 3 o'clock slump: the time toward the end of the workday when your mind gets fuzzy, and concentrating is nearly impossible. While some people reach for another cup of coffee to combat fatigue and avoid another Buzzfeed black hole, other people believe that there's a better, caffeine-free way to boost concentration: music.
"I knew that people instinctively liked to listen to music while doing work," says Will Henshall, founder and CEO of neuroscience-based music service Focus@will, "[so I] started to look into the neuroscience of what's happening in your brain while you're trying to concentrate."
Focus@will claims that its music playlists make users more productive and increase attention span by 400 percent with long-term use. Similarly, a playlist on Rdio promises that its fast-tempo tunes will boost energy and enhance workout performance, according to certain psychological studies. But as for how and whether such things actually work to boost focus, the science yields mixed results.
Get into the groove
Essentially, Focus@will is a music player that features instrumental playlists designed to "set and forget," available through your Web browser or via a mobile app on iOS and Android devices.
"About 50 percent of all music consumption happens while people are at work," says Henshall. "We have found that listening to existing music you like or love is distracting because it's designed to move you."
Along with a team of researchers, Henshall, a musician and entrepreneur, found that most people on average could concentrate for stretches of only 20 to 40 minutes before needing a break. People working or studying also require about 20 minutes to acclimate to their environment enough to focus on the task at hand, a process known as habituation.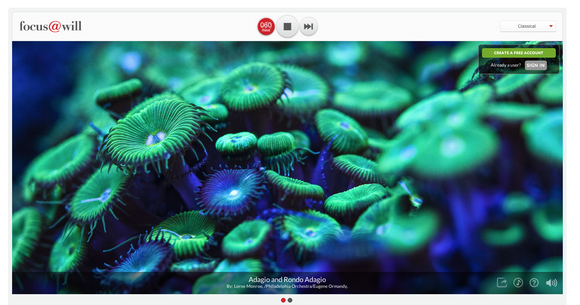 Focus@will uses phase-sequenced music to influence how the brain habituates, playing instrumental pieces with specific characteristics such as musical key, intensity, speed, and arrangement to hasten the cycle of habituation and improve long-term focus. Developers created seven musical channels featuring classical, ambient, cinematic, and up-tempo works that have been highly edited not to elicit emotion. (Curiously, Focus@will has no jazz panel, as jazz demands attention and many of its instruments sound like a human voice, Henshall notes.)
"The goal is to trick your brain into habituating. We make very, very subtle changes to the stream so you don't notice, and it nudges you just enough so the subconscious keeps listening," Henshall says. "Over six weeks, you develop Pavlovian conditioning and Focus@will puts you into a focus state faster."
A study conducted at Fu Jen Catholic University in Taiwan shows that background music influences user attention based on how much the listener likes or dislikes the music playing. Based on this finding, Focus@will selects music for its database that doesn't excite or move listeners. Users can press a Skip button, should they have a strong reaction to a particular piece.
"This is the exact opposite of usual entertainment-based music listening, where you only like music that actively moves you in some way," Henshall adds. "When you're putting together music of your own, you use music that you like. By definition, none of those pieces of music will work for you because you're choosing music for your conscious brain. And by playing those pieces back, you'll get distracted."
Henshall says that engineers have reedited each individual track for the Focus@will system, which has approximately 100,000 pieces of music. The edited pieces are less dynamic in range and adjusted so that "the differences between quiet, less emotional bits and louder, more strident parts aren't so different."
To find the most effective tunes, Henshall, along with a scientific advisory board and UCLA psychology team, conducted "two years of in-depth productivity research" with 200 alpha participants. The group also commissioned a Bowker market research project with over 72,000 respondents before launching Focus@will in May 2013.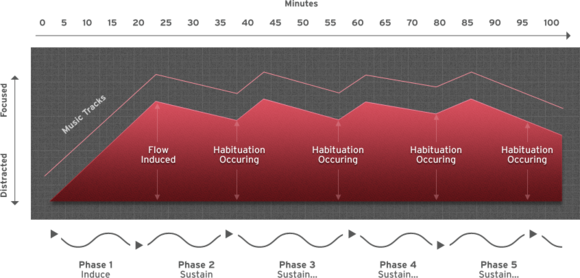 And this method is catching on. Focus@will usage is growing at 1 percent a month, with 35 percent of traffic coming from Japan, where Henshall says users listen all day. Henshall says that people with attention deficit hyperactivity disorder (ADHD) are another rapidly growing user base; he hopes to conduct an informal study of ADHD users and medication in the near future.
Blinded me with science
While Henshall sees Focus@will as a "button you can push when you want to get stuff done," several researchers have expressed skepticism about the application's scientific integrity.
"There's a proliferation of people right now trying to cash in on neuroscience breakthroughs and producing products," says Michael DeWeese, assistant professor of physics at the Helen Wills Neuroscience Institute at the University of California, Berkeley. "The truth is, we really don't know how the brain works. There isn't some specific fact that has been learned in the last couple of years that would allow someone to build a very powerful, improve-your-brain kind of software or background music."
DeWeese says it's common sense that ambient music would be more conducive to concentration than highly defined or attention-grabbing tunes, and that response to music and attention are highly subjective. Similarly, the extent to which background noise plays a factor in concentration differs from person to person.
Psyche Loui, a psychology and neuroscience researcher and assistant professor at Wesleyan University, agrees. She doesn't know of any peer-reviewed studies that demonstrate how playing a musical piece can "lock in and take over your attention span." Focus@will's science primer cites general cognitive neuroscience, but doesn't describe exactly how the program works.
"We know there's a ton of good that music can do to the brain, and we know that lots of people listen to music in the background while they're working," says Loui, who notes that she won't subscribe to Focus@will. "Different types of selective attention have been shown to be related to brain rhythms in that when you attentively perceive an object, that's associated with some high-frequency rhythms in the brain. But sort of taking those rhythms over using music isn't something I've seen yet."
Change of habit
Vivienne Ming, theoretical neuroscientist and visiting scholar at UC Berkeley, takes a harder line on the scientific basis for Focus@will's claims. Our brains consistently pay attention to music on some level and often predict the next movement or beat, she says, citing research by Stanford professor Vinod Menon.
"[The brain is] going to spend a certain amount of attention paying attention to our music, regardless. One shouldn't think that there's a kind of music that can allow us to disengage," Ming says. "I think that the basic story that you can pick background music, which is not necessarily distracting, is fine, but their particular story that this specific selection of music has certain meter and rhythm, that is in certain keys that they use to target transitions to maximize workplace attention … I'm very skeptical."
Ming points out that there is little evidence to support the notion that music enhances the brain's slow state or theta waves, which are often associated with creativity. In fact, research suggests that optimal engagement occurs in transitional states between habituation, according to Ming.
"It turns out, our maximum attention, awareness, and focus comes in transition moments. When the music starts and stops and there's nothing to predict, our brain becomes incredibly attuned to the environment," Ming says. "It's extremely difficult for me to imagine how a specifically chosen direction of music would enhance our ability to lock on to something else."
Were she to design a similar concentration application, Ming says, she would allow for pauses with no music so that users could relax, become more aware of their surroundings, and then deeply reengage. Additionally, she says that the idea of habituation as defined by Focus@will developers is a shaky notion.
"Our brains don't just follow a rhythm, but they're using essential resources that need to be replenished," she says. "Focus is highly dependent on what people are doing. You can think of focus or attention as a limited resource, as a fuel. To really work hard at marking a decision, you are literally using up energy."
Habituation or any fundamental attention cycle is dependent on the activity being accomplished, Ming explains. If the activity is extremely challenging, the period to habituation will be much shorter, while easier tasks will have a longer period before habituation is reached.
"I think that the idea that you can design music to be very much in the background so that you're minimizing the degree to which it's drawing on the cognitive resources of the listeners can help," Ming says. "But I'm a bit skeptical of the possibility of being able to create more-engaged workers through specifically chosen music beyond the basics of not playing flashy, noisy music."
Whether or not specific types of music can actually help you stay focused is highly susceptible. Some will find Focus@will's bland (yet soothing) playlists to be excellent boosters, while others are sure to find it distracting. The key is to disengage: Find a method that works for you, take a deep breath, and—whatever you do—stay off of Facebook.