There's something about the way Brits do TV that can be as refreshing as a spot of tea. Perhaps it's the wacky sense of humor, or the even-shorter-than-cable seasons that leave little room for filler. Here are five of my favorites from the U.K., including several recent additions to Hulu Plus.
Coupling
Written by Steven Moffat (later of Doctor Who and Sherlock fame) as a semi-autobiographical account of his own relationshop, Coupling (2000-2004) is a nearly perfect sitcom that stands up to multiple viewings. (My wife and I have watched the whole series through at least twice, after I'd already watched it once before we'd met.)
It centers around a group of six mostly friends with overlapping relationships, both past and present. Sort of like Friends but, you know, actually funny. There's the dumb-but-well-endowed Patrick, the reality-challenged Jane, Susan with her "affinity" for Australians, the master of foot-in-mouth disease Jeff, and so on.
Some of the jokes about Tories and traffic on the A6 travel across the pond about as well as a keg of Guinness, and the final season suffers from the loss of the hilarious Richard Coyle as Jeff, but I dare you to watch without a smile on your face. And you'll never hear the word "apparently" quite the same again.
The whole series is streaming on Netflix, Amazon Prime Instant Video, and Hulu/Hulu Plus. A truly horrible attempt at an American remake used some of the same scripts, but was both painful to watch and mercifully short lived. Luckily, you won't find it online.
Jekyll
Robert Louis Stevenson's 19th century novella Strange Case of Dr Jekyll and Mr Hyde has inspired many movies and TV shows over the years, but Jekyll (2007) is a contemporary telling of the body-sharing tale that's full of twists and turns neatly packed into a six-episode series.
James Nesbitt plays Tom Jackman, the only living descendent of Dr. Jekyll and Mr. Hyde, who uses 21st century technology—and a personal assistent—to keep his darker side from running amok or finding out that he has a family that he's trying to protect. As you might expect, it doesn't work out as neatly as he hopes, and there's this little matter of a shadowy organization with its own designs for Mr. Hyde. Like Coupling, it was written by Steven Moffat, and co-stars Gina Bellman (Coupling's Jane) as Jackman's wife, but this is a much darker, more disturbing ride.
The series is streaming on both Netflix and Amazon Prime Instant Video.
Life on Mars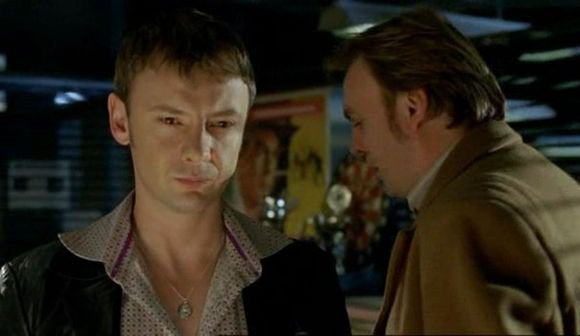 In Life on Mars (2006-2007), John Simm plays Sam Tyler, a modern-day cop in Manchester who gets hit by a car and wakes up transported to 1973. It's a police procedural with a big mystery: Is Tyler mad, in a coma, or did he really go back in time?
Much of the fun comes from watching Tyler navigate an alien world without cell phones, computers, or rules for what the police are allowed to do to suspects. That last attitude is best displayed by Philip Glenister's Detective Chief Inspector Gene Hunt, one of the best throwback characters you can hope to find on TV, unabashedly kicking in doors and spewing the most un-PC speeches around.
Life on Mars also attempts to tie in both Tyler's childhood and his modern injured state with the storylines, and the show sometimes suffers in those strained moments. It's really best when it's a fish-out-of-water police drama. And yes, David Bowie's song of the same name features prominently in the show.
Up until recently Life on Mars wasn't available on any streaming service in the U.S, but all 16 episodes recently came to Hulu Plus. Like Coupling, this show too saw an American remake, set in New York with a cast that included Jason O'Mara, Harvey Keitel, Michael Imperioli, and Gretchen Mol. Although its one season included more episodes than both of the original's put together, it was a pretty poor imitation. However, a follow-up series to the British original set about a decade later in the same universe, Ashes to Ashes, actually lasted for three seasons and was pretty good too—tackling issues like sexism more head-on—but that one isn't streaming now.
The IT Crowd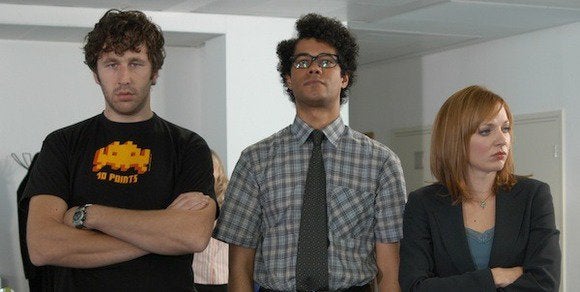 If you've ever needed tech support and found yourself greeted with the phrase, "Hello, IT. Have you tried turning it off and on again?" then The IT Crowd (2006-2010) might be for you. Focusing on the small IT department of the nebulous Reynholm Industries, The IT Crowd features Chris O'Dowd before breakout his roles in Bridesmaids and The Sapphires. His bored, lazy Roy plays nicely against Richard Ayoade's Moss, a socially inept tech nerd who probably falls somewhere on the spectrum. Katherine Parkinson plays their completely untechnical boss, Jen, who bluffs her way into the job. Brit-tinged comic genius ensues.
You can watch all four seasons of The IT Crowd on Netflix or Hulu/Hulu Plus. A one-hour wrap-up special finally aired a few weeks ago in the U.K., but isn't officially available to stream in the U.S. (although you might be able to find it on, say, YouTube if you ran a search).
Blackadder
You may know Rowan Atkinson as the bumbling buffoon Mr. Bean. And if that's the case, I feel sorry for you—because he's at his best when he's self-serving jerk Edmund Blackadder.
Blackadder (1983-1989) is actually four distinct series (plus a few specials) taking place in four distinct eras, with distinctly different punctuation for some reason. Atkinson plays the Duke of Edinburgh in the Middle Ages; Lord Blackadder (grandson of the original Black Adder) during the reign of Queen Elizabeth I (played by Miranda Richardson); butler to the incompetent Prince George (a foppish Hugh Laurie) in the late 18th and early 19th centuries; and finally, cowardly Captain Edmund Blackadder during World War I.
Although the periods may shift, there are some constants. Edmund is a scheming, conniving weasel concerned only with his own success and well-being. And Atkinson finds a way to keep Tony Robinson's Baldrick as his whipping boy throughout. There are great characters, such as Sean the Irish Bastard and Lieutenant The Honourable George Colthurst St. Barleigh, and both Laurie and Stephen Fry play multiple roles (this prior to their collaboration on A Bit of Fry and Laurie).
The entire run, plus various specials, are available on Netflix, Amazon Prime Instant Video, and Hulu Plus.