The home automation market heated up after Nest Labs released its thermostat in 2011, and now the company wants to keep things cool with a smart smoke detector called Nest Protect: Smoke + Carbon Monoxide.
The new smoke alarm promises to not only save your life should tragedy strike, but also to stop the whole house from going to Defcon 1 whenever you singe your Sunday bacon. The new smoke detector also talks, lights your way to the bedroom, and sends mobile notifications to your smartphone or tablet via the company's Android and iOS apps.
Nest Protect is slated to hit store shelves in November starting at $129, but you can pre-order it from Nest.com starting Tuesday.
A smart smoke alarm
Perhaps the niftiest (and most important) feature of Nest Protect is that it talks. Rather than relying on beeps, the alarm shouts vocal alerts to let you know there's a fire, and if you have your whole home rigged with Nest Protects, the smoke alarm network can even tell you which room is ablaze. Nest says vocal alarms are key since children—not to mention overworked parents—can sometimes sleep through a screaming smoke alarm. Human voices, on the other hand, are harder to ignore.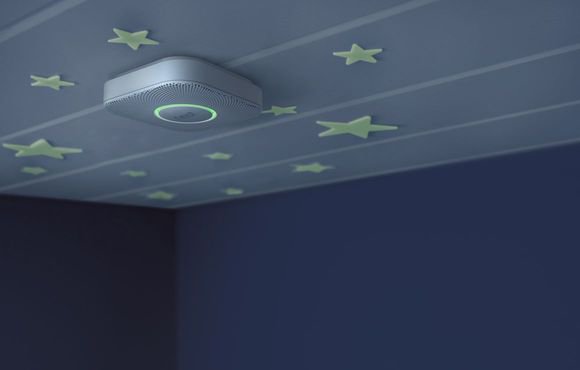 Adding intelligent notifications to a smoke alarm is a great selling point and will certainly be a life saver, but what about those endless false alarms that smoke detectors tend to produce?
We've all been there: You're cooking in the kitchen when suddenly the smoke alarm goes off. You grab that dishrag and start waving your hand furiously until the stupid thing stops screaming. Then someone says the obligatory "what kind of an idiot puts a smoke alarm near the kitchen, anyway?" Everyone laughs, and away we go—until the next time.
Nest's new smoke alarm hasn't quite figured out how to end this problem, but it does promise to make it easier to deal with.
Nest Protect will shut up with a simple wave of your hand, rather than repeated waving of a broom, and if you're paying attention, the smoke alarm may not even get that far. Protect includes a feature that gives you an early warning called a "heads-up" if it detects high levels of smoke or carbon monoxide (CO) in the house. At that point, you can just wave at the Protect without ever having to deal with a Defcon-level event.
But wait, there's more
The smoke alarm will also detect when the lights in your house are off and then glow white when it detects movement, to light your way in a dark home.
Nest says Protect is loaded with all kinds of sensors to detect smoke, heat, and CO levels. It can also interact with a Nest Learning Thermostat to shut off your gas-powered furnace if Protect detects high levels of CO.
As with its thermostat, Nest's smoke alarm connects to the Internet so you can get mobile alerts about dying batteries and emergencies. Nest Protect will be available in black and white, and as either a battery powered or wired version when it hits stores next month.