Rdio has found a way to keep the music playing in its mobile apps, even after users have exhausted their free trials.
Rdio's radio feature, known as "Stations," is now free on iOS and Android, with no subscription required. Users can create Stations based on artists, albums, songs, playlists, or genre, and Rdio will generate a play queue with similar music. Rdio also lets users tweak their Stations with a five-point "popular" to "adventurous" scale.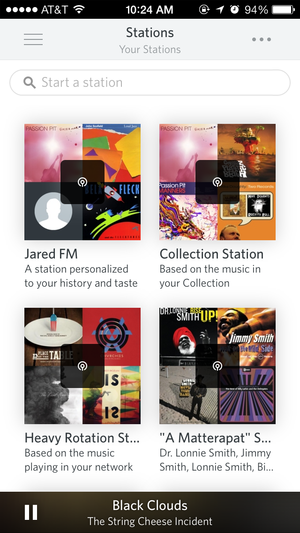 On their own, Rdio's Stations are similar to other streaming radio services like Pandora, Slacker Radio, and iHeartRadio. But they also act as a hook for Rdio's subscription service. For $10 per month, users can pick and choose from millions of songs on demand, create their own playlists and listen to full albums.
With free Stations, Rdio is taking a page from rival music service Spotify, which also offers free radio features on its mobile apps. Rdio will continue offering on-demand music for subscribers, who have also had access to Stations since August.
The main disadvantage that Rdio still has against Spotify is the lack of a free on-demand service for laptops and desktops. Users can get an extended free trial through desktop Web browsers, but it's still a ticking clock compared to Spotify's unlimited listening.
But that will change in the coming months. In September, radio station operator Cumulus Media acquired a significant stake in Rdio's parent company, Pulser Media. Cumulus plans to help Rdio launch a free, ad-supported service similar to Spotify later this year or early next year, and will also help promote Rdio on its 525 terrestrial radio stations.
Although there's no shortage of options for streaming video apps, Rdio's customization options and well-designed user interface are worth checking out. Once the free on-demand version falls into place, Rdio should be a worthy competitor to Spotify on all fronts.