[Update: With Q4 come and gone, I checked with Netflix again and was told on January 6 that the option should roll out "this month."]
Face it: You like to kick off your shoes, loosen your pants, and plant your derriere firmly on your couch to binge-watch episode after episode of a TV series you stumbled across on Netflix.
No? Just me? Well, in any case, a while back Netflix introduced a feature that automatically starts playing the next episode when you reach the end of a streaming TV show. Netflix calls it Post-Play, and it's tailor-made for those who get hooked on a show and want to watch several eps at a time.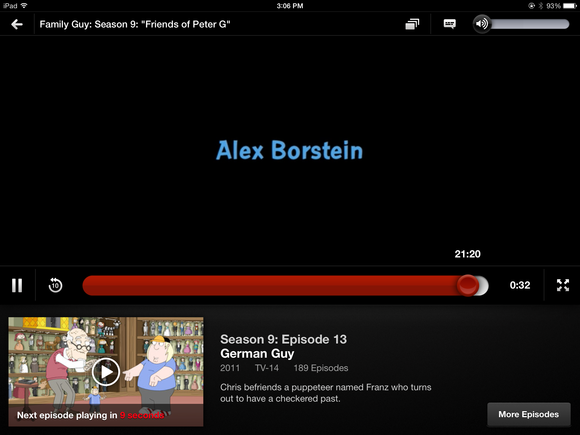 The only problem is that some people—me included—see Post-Play as less of a feature and more as a bug, because you can't turn it off. Why would you want to? When I tell my kids they can watch one Peep and the Big Wide World on the iPad while Daddy's making dinner, for example, I don't want it to shuffle them off to the next episode if I miss the ending while draining the rotini. And more than one coworker has admitted to going to sleep to, say, the delightful laugh track of Cheers and not wanting the next one to queue up on its own. (Post-Play plays two episodes, then prompts you to confirm that you're still watching.)
The good news? Netflix has apparently received feedback about Post-Play from more people than just this guy. In an email, Netflix Director of Corporate Communications Joris Evers told me, "Sometime in Q4 we're going to push out a feature that will enable members to stop autoplay after each episode on a profile level; i.e., a parent will be able to stop Netflix from automatically playing the next episode."
All right then, battle won. Now on to world peace.