Monsieur, can I have a French 75, s'il vous plaît?
Shout that to the bartender at your favorite watering hole on a busy night, and you'll likely have to wait a while for the refreshment to arrive. But ask your at-home Monsieur the same question, and you'll get the drink almost instantly. This is the bartender of the future, and it's ready to steal the spotlight during your next house party.
Monsieur is a robot. A drink robot. A robot that pours cocktails. (Suck it, Roomba.) Monsieur remembers your favorite drink and is happy to pour you that Sidecar as soon as you get home after a long day at work. (Did Monsieur just become my new best friend?)
Here's how it works: A tablet built into the machine holds a full collection of drink menus that identify the beverage bottles you'll need to make the items on each menu and tell you where to load them inside the machine. Once the bottles are in place, users simply scroll through the menu, select a drink, and tap Pour. A vacuum-like mechanism pumps the alcohol through hoses and into the waiting cup, adding a mixer simultaneously to create an even pour.
We've seen other bartending machines before, but this one stands out for its craftsmanship and simplicity. The bottles are tucked neatly away, menus are easy to navigate, and Monsieur's clean-up mode ensures that you won't have to scrub excess liquid out of the hoses.
Mechanical engineer Barry Givens co-created both Monsieur and its parent company of the same name, which launched a Kickstarter campaign on Tuesday to get Monsieur out to the public. "It's all about discoverability," Givens said during a demo at the TechHive office. "[Monsieur] learns your tastes, what time you like certain drinks, and introduces you to new cocktails."
Front and center is the Monsieur's brain, an on-board Android tablet. (The version we saw incorporated a Google Nexus 10, but that may change by the time the Monsieur ships.) It fits on your kitchen table, and has a library of 7000 different cocktails.
Monsieur's strength, however, is in creating drink menus of 20 to 30 drinks. After all, you'd need an entire liquor store's range of booze to exhaust its full list. The size of a particular menu depends on the number of bottles your machine can support: The Mini Monsieur (not, alas, the Garçon) holds four bottles, and the standard-size machine holds eight.
Drink menus focus on different cocktail styles. Monsieur ships with ten menus to start, including "tiki bar," "sports bar," "girls' night out," and "classic." (If you already have certain bottles, or if you want to make a menu of your favorites, you can create your own menu.)
The menu includes information about each drink's ingredients and flavor profile, and about appropriate garnishes to accompany it. Monsieur specifies the bottles—both mixers and spirits—you'll need to make the drinks, and tells you where to load each bottle within the machine.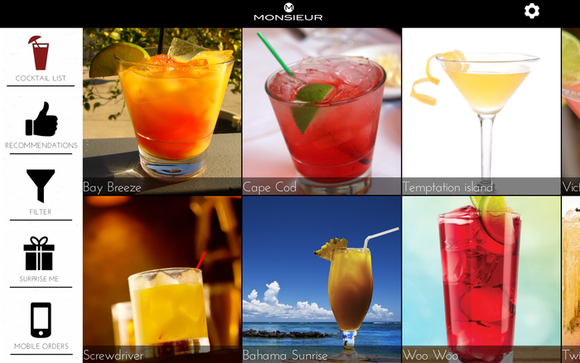 Though Monsieur is adroit at balancing and pouring drinks, it doesn't attempt certain finishing touches, like muddled cherries or a good stir. But that's okay: What it does well is keep the drink's flavor profile balanced.
If you prefer drinks on the lighter side, Monsieur can make them with less alcohol. Conversely, if you want to let loose a bit, you can scroll the drink's strength up to "boss." ("Boss" isn't kidding around, either: The strong Woo-Woo I sampled was more potent than I expected, though it still tasted balanced and delicious. Hey, the demo was after work on a Monday—no shame in a little pick-me-up.)
If you're not sure what to order, Monsieur's filter feature will offer some recommendations. For example, if you're in the mood for something dry with orange juice, it searches for a drink that matches those flavors. If you're feeling particularly bold, tap "surprise me" for a random drink of Monsieur's choosing.
The app
Monsieur is smart enough on its own, but its corresponding smartphone app for Android and iOS makes it even smarter. You can use the app to order a drink straight from your phone, if both Monsieur and your phone are connected to the same Wi-Fi network.
For big parties, you can set a limit on how many drinks each of your guests can order to prevent friends from going overboard. To take charge of crowd control, you can tell Monsieur to serve only drinks ordered from the app. Yes, Monsieur wants you to have fun, but not too much fun.
"The mobile app takes the thinking out of responsibility," Givens told me. It tracks how many drinks you've had and what your blood-alcohol content is, and it suggests that you order a cab or an Uber if your BAC exceeds the legal limit for driving.
The more you use Monsieur, the more it learns about your schedule and your drinking habits. It detects the other devices sharing its Wi-Fi network, and can log the time of day your smartphone—and by extension, you—arrive home, so it can start making your preferred drink right away. If a friend comes over, Monsieur will ask if it should make a second drink, as it can detect that another smartphone is within range of its network. Now, that's what I call service.
Monsieur is available for preorder through Kickstarter—though it hasn't achieved full funding as of this writing, it's close to reaching its goal.
The four-bottle home unit starts at $1499, and the eight-bottle unit starts at $2299.