Samsung might have a hubris problem. After launching a handful of overpriced, underspecced Galaxy Tab tablets, followed by the underwhelming Galaxy Gear smartwatch, the company is now launching a $300 TV box with very little going for it.
The Samsung HomeSync, which arrives on October 6, is an Android-based set-top box that acts like a big-screen extension for Samsung's Galaxy phones and tablets. Up to eight users can sync photos, videos, and music from their mobile devices—they'll automatically show up on the HomeSync. The device comes with a 1TB hard drive for storing content.
HomeSync has some other features as well. Users can download apps from Google Play to the device—provided developers add the necessary support. Some apps, such as YouTube and a web browser, are pre-loaded on the device. Users control the HomeSync using their Galaxy devices, which can either mirror the TV display or act like a touchscreen trackpad and keyboard.
Competitors cost less
It's not a bad concept, but it just seems so pricey for what you get. Apple TV, by comparison, costs just $100, and it uses iCloud to display users' latest photos and videos on the television. It also allows iPhone and iPad users to beam their photos, videos, and music directly to the set-top box via AirPlay. It also can display videos or other files loaded into iTunes on a networked computer.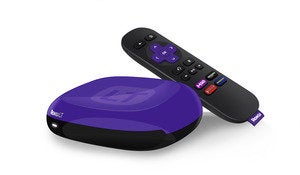 For Android users, Roku's $50-and-up set-top boxes allow you to send photos, videos, and music to the television. All you need is Roku's free app, which works with all Android devices, not just Samsung's Galaxy phones and tablets, and it's available for iOS as well. You can also use Plex to access media stored on other networked devices.
Of course, both of those set-top boxes have a wide selection of streaming video and music app to match HomeSync's other features.
The only clear advantage for Samsung is that it can store content locally on its 1TB hard drive. That's not a necessity unless your wireless router and Internet connections are super slow. And, if you really value a hard drive, you could get an Xbox 360 or PlayStation 3 for less, trading off some of that local storage for the ability to play video games and watch movies on disc.
It's hard to comprehend why Samsung thinks HomeSync is worth buying for $300. Quite simply, there are too many better, cheaper options available for living-room entertainment.