At a Glance
Expert's Rating
Pros
Lights itself with even, warm lighting
Improved page-flipping mode
Cons
No physical page-turn buttons
Our Verdict
The second-generation Paperwhite is the best dedicated ebook reader you can buy, with a high-contrast screen that lights itself.
Last year the Kindle Paperwhite finally gave ebook readers what they'd been asking Amazon about for years: A Kindle that could be read in the dark without clipping on a book light. It was a good product, but early adopters complained that the screen lighting was a bit uneven. With the 2013 model, Amazon has fixed that problem, improved the lighting, and thrown in a bunch of nifty software updates.
Warmer and whiter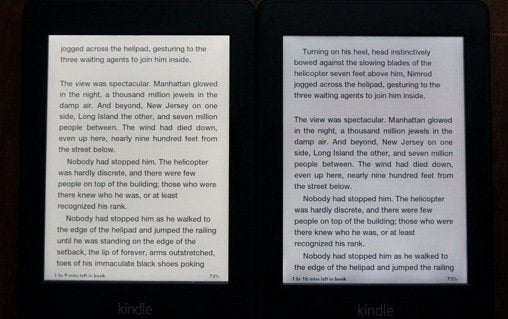 The new Kindle Paperwhite ($119, plus an additional $20 to remove Amazon's "special offers" advertising) is a dead ringer for last year's model. They share the exact same dimensions, design, and nearly identical weights. (The new Paperwhite is a whopping two ounces lighter; my limited powers of perception don't allow me to notice any difference.) In fact, the only obvious external difference is the branding. The familiar Kindle logo on the back of the e-reader has been replace with Amazon's.
Never mind the debossing. You'll be spending most of your time looking at the touchscreen of the Paperwhite. The screen's pixel density remains the same 221 ppi, which is higher than previous-generation E Ink kindles but not quite high-resolution enough to banish all jagginess from text. The old model offers good contrast, but this new model's whites are even whiter and blacks even blacker. This increased contrast makes text and images appear much crisper—and the older version was no slouch in this respect.
Like the original model, this Paperwhite illuminates itself by channeling light through a clever set of "light guides" that allow tiny lights peeking in from the side of the screen to illuminate the entire reading area. It's clever technology that really works, but in the first-generation Paperwhite some people complained of a banded or mottled interference pattern—basically, inconsistent lighting—at the bottom of the screen.
This new Paperwhite's screen addresses this fault. It's evenly illuminated, with no banding at all. The light itself is also much warmer than the previous version's cooler blueish hue. This warmer color, coupled with the increased contrast, creates a reading experience that's a much closer match to the printed page.
Amazon claims the Paperwhite is 25 percent faster than the previous version, and it is indeed speedier. Pages turn quickly and books open in a snap. Screen refreshes (when the screen flashes black for a second in order to wipe and redraw the E Ink screen) happen less frequently, thanks to a new software trick that only refreshes the screen when the Kindle thinks it's required. (The old model would refresh every six pages, whether it needed to or not.) You can, however, optionally set the screen to refresh after every page turn if you can't stand the slight ghosting that can occur with fewer screen refreshes.
As with all Kindles of recent vintage, you use the touchscreen to both navigate around the interface and turn pages in books. I'd like to see Amazon bring back physical page forward and back buttons. Having dedicated buttons allow you to rest your finger on the button and press down when you need to turn the page, instead of moving a finger to tap on the screen. A minor detail, but one that would make for a more pleasant reading experience.
Software upgrades, too
In addition to the hardware tweaks in this version, Amazon has added a few software features that have a significant impact on the Kindle reading experience.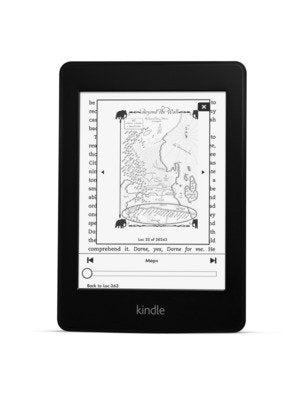 Page Flip addresses a constant frustation of mine: Flipping to a different part of a book is easy when that book is made of paper, but on a Kindle it's always been problematic. To flip to a new location, you had to tap forward (or backward) until you found the other part of the book, and then you'd need to navigate back to where you were. Page Flip solves this by opening a window in the middle of the screen, floating above your current page, containing the contents of your current book. You can navigate from chapter to chapter with a slider, and tap within the window to turn pages. When you're done, just tap the X in the upper right corner of the window and you'll find yourself right back where you were. Bookmarks also now use Page Flip to display the bookmarked page in situ as you read.
Page Flip's slider is a bit sensitive, which can make jumping to a particular chapter in a book rather hit-and-miss. You can also forgo the slider entirely and tap chapter to chapter using the arrows on either side of the bottom navigation.
Reading footnotes on a Kindle used to require a similar amount of jumping around. Since a Kindle page doesn't have a "foot," all notes in a book were treated like endnotes. Tap on the number indicating the note, and you'd jump to the end of the book with the text of the note. You had to hit the back button to return to reading, like a barbarian. The new Paperwhite introduces a long overdue feature: in-line footnotes. Now when you tap on a footnote's number it is displayed in a little window, like the Page Flip interface. Tap anywhere on the screen and the footnote closes and you're right back to where you left off.
Looking up words has also been improved with tighter integration with X-Ray. X-Ray, available in select books, tells you additional information about terms, characters, and places mentioned in the book. Now when you look up a word by tapping on it, the definition is displayed, along with any information from Wikipedia, and X-Ray information that gives you book-specific information about the term/word you tapped.
In addition to the improved lookups, any word you look up is automatically added to the new Vocabulary Builder feature. Vocabulary Builder appears in your Kindle library and collects any words that you look up. Flashcards allow you to quickly learn all the words you've looked up. This feature is neat, and well executed, but I just don't see myself using it. It might be good for children learning to read, students who use the Kindle for schoolwork, or people studying a new language.
There are a few new features which Amazon plans to roll out in November, so I couldn't consider them for this review. Goodreads integration, Freetime (which allows limits on reading time and access to the Kindle Store) and cloud collections are all coming with a future software update.
Bottom line
I love tablets, but dedicated E Ink-based ebook readers still have a lot going for them. They're unsurpassed in bright light, free from distractions, and don't cause eye strain like a backlit LCD screen can. If reading plain text on a blank page is your idea of fun, E-Ink readers like the Kindle Paperwhite provide a superior reading experience.
The Kindle Paperwhite is the best E Ink Kindle yet. If you have a non-Paperwhite Kindle, upgrading to the Paperwhite is a no-brainer. The screen is crisp, responsive, and evenly lit. Owners of last year's Paperwhite have more to think about when considering upgrading. If you're happy with the cool color tone of the screen and the uneven light, then stick with the old Paperwhite. If you'd rather have even light with a warmer tone, then pony up the money for the new Paperwhite. You won't regret it, and maybe you'll even learn a new word or two.