October means many things: autumn, pumpkins, the World Series, a classic album by U2. It's also National Stamp Collecting month, National Pizza Month, and National Squirrel Awareness Month (no joke). But most of all it's Halloween time, and time to start digging into a universe's worth of scary movies. Scary movies can be about anything, from simply suggesting the mood of a nightmare to conjuring up actual monsters, ghosts, or other evil forces. Here are ten great scary movies available for streaming on Hulu Plus.
Vampyr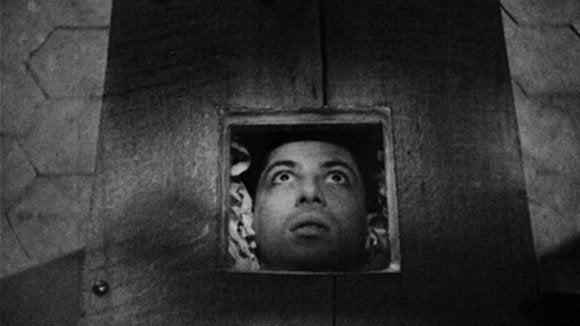 ★★★★★
The great Danish filmmaker Carl Theodor Dreyer was best known for masterpieces of world cinema like The Passion of Joan of Arc and Ordet, but he also made one of the world's greatest horror movies, Vampyr (1932). Layered with a white, dreamy, diffused look, the movie tells the story of an occult enthusiast, Allan Gray (played, under the stage name "Julian West," by Baron Nicolas de Gunzberg, a nonprofessional actor and film aficionado who helped finance the film). He checks into a mysterious hotel and begins experiencing a series of unsettling, nightmarish events. He receives a book on vampires and eventually realizes what he must do. Dreyer and cinematographer Rudolph Maté invented many incredible moody shots, such as a pool of light in front of a door; when a stranger slowly opens the door, the room grows darker and darker.
Night of the Living Dead
★★★★★
Because of a small printing error, George A. Romero's groundbreaking zombie movie Night of the Living Dead (1968) is in the public domain and can be streamed just about anywhere, but Hulu features the restored, remastered transfer. If Romero had held onto the copyrights, he might be a zillionaire today, with royalties coming in from all zombie movies. Regardless, his original creation is still a phenomenally effective character-driven creepshow. Film scholars have read volumes into the representations of the terrified, catatonic Barbra (Judith O'Dea), the natural born African-American leader Ben (Duane Jones), the belligerent Harry Cooper (Karl Hardman), and the others. But the zombie attacks remain hideously effective, their slow shambling still nightmarishly menacing, and the devastating conclusion remains a masterpiece of social commentary. Romero has since made five more "Dead" movies, all worth seeing.
White Zombie
★★★★☆
The great Bela Lugosi will always be known for his Dracula, and that movie's success let to Lugosi's acting in more than 40 other horror films throughout his career. Despite his thick accent and his general hamminess, Lugosi had incredible screen charisma, and few could steal a scene from him. White Zombie (1932) provided one of his finest roles, fresh from Dracula, albeit on a much lower budget. He plays the evil Legendre, who runs a mill in Haiti with the help of a crew of zombies. A local plantation owner makes a deal with Legendre to win the girl he loves away from her fiancé, but unfortunately the deal involves more zombies. This is the movie that Johnny Depp and Martin Landau watch on TV in Ed Wood (1994), discussing the indelible images of Lugosi's hypnotic eyes and strange hand movements. Victor Halperin directed and his brother Edward produced.
The Terror
★★★☆☆
The other big horror star of 1931, Boris Karloff (Frankenstein) had a similar career to Lugosi's but with perhaps a bit more dignity. Even so, at the end, he was mostly stuck in low-budget quickies like the strange Roger Corman movie, The Terror (1963). The behind-the-scenes story is far more interesting than the movie itself. After filming The Raven with Karloff, Corman realized he had the star for two more days. He ordered one of his writers to come up with some "castle" scenes for him, and these were delivered and filmed. Then, a whole crew of filmmakers, including Jack Nicholson, Francis Ford Coppola, Monte Hellman, and Jack Hill, were charged with figuring out how to make a movie out of them. What they came up with is—at best—amusingly campy. Nicholson plays a Napoleonic soldier separated from his unit who sees a girl that may be the ghost of the wife of a Baron (Karloff).
House on Haunted Hill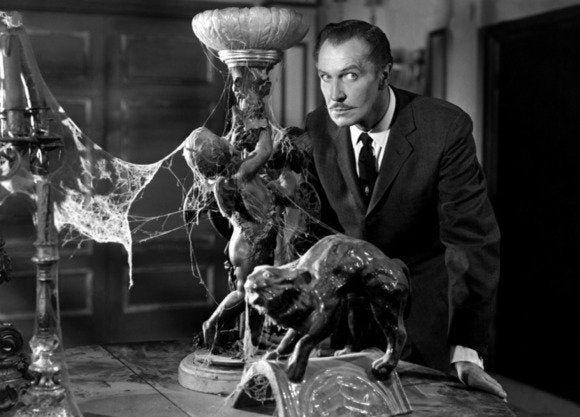 ★★★★☆
Vincent Price made a long career of being a milquetoast and a cuckold in Hollywood melodramas (his most famous part from that period is in Otto Preminger's noirish Laura). But in the early 1950s, he starred in House of Wax, and a new horror icon was born. The legendary William Castle, who was known for employing certain "gimmicks" in movie theaters, directed Price in the above average "B" movie House on Haunted Hill (1958), based loosely on the "ten little Indians" concept. An eccentric millionaire (Price) invites five guests to stay the night in his bizarre mansion. If they make it to morning, they get $10,000 each. Despite Castle's evenly-lit filmmaking style, he still manages some neatly spooky moments. The movie was presented in "Emergo," which meant that, during a specific shot, a fake skeleton slid down a rope into the audience. (It's also available in a colorized version.)
Horror Hotel
★★★★☆
Also known as The City of the Dead, Horror Hotel (1960) features yet another horror icon, Christopher Lee, who is still with us as of this writing. Like Lugosi, Lee gained fame for his interpretation of Dracula in Hammer Studio's Horror of Dracula (1958), a full-color update with more sensuality and blood. Lee has one of his best roles in The City of the Dead, an atmospheric black-and-white chiller about a female student who travels to a small Massachusetts town to write a term paper on witchcraft. Unfortunately a 300 year-old witch has been resurrected and requires young female students to be sacrificed. Lee plays the girl's professor who may or may not have more sinister plans. John Moxey directs.
From Beyond
★★★★☆
The pulp author H.P. Lovecraft has been more influential than any other horror writer, and yet few of his stories or novels has been successfully adapted to movies. Chicago director Stuart Gordon managed it, several times, by adding a certain measure of bizarre humor. His first success was Re-Animator, and its excellent follow-up was From Beyond (1986). Jeffrey Combs stars as Dr. Tillinghast, an assistant to a mad scientist that has invented a machine to re-awaken the human pineal gland, but has instead opened the door to a hostile universe. A pretty doctor (Barbara Crampton) and a bodyguard (Ken Foree, from Dawn of the Dead) accompany Tillinghast back to the lab to try and figure out what happened. The movie is filled with an incredible array of latex monsters as well as some strange sex scenes, yet it never forgets its sense of humor.
Evil Dead 2
★★★★★
Sam Raimi made a groundbreaking horror film in the early 1980s, The Evil Dead, which seemed to influence nearly everything that came after it that decade. It had a new wicked, goofy sense of humor and a smooth, quick, kinetic energy. For Evil Dead 2 (1987), which basically remade the original for a slightly larger budget, Raimi simply turned everything up a notch. Bruce Campbell stars as one of a group of friends that heads to a remote cabin in the woods for a fun weekend. They end up awakening an evil force that turns them into demons and kills them. Campbell is magnificently manic as a guy fighting with his own hand, and then strapping on a chainsaw to do battle. Raimi has gone on to make multi-million dollar Hollywood blockbusters, but his spirit remains rooted in films like this.
The Vanishing
★★★★☆
Not everything in the 1980s was goofy, as the Dutch import The Vanishing (1988), directed by George Sluizer, proved. While on vacation, Rex Hofman (Gene Bervoets) and Saskia Wagter (Johanna ter Steege) stop for gas and Saskia quietly disappears. Rex begins to look for her, growing more and more concerned. He continues to search, but years pass. Meanwhile, the film breaks all the rules by following the kidnapper and recording all the intricate methods to his madness. The result is devastating and unforgettable. Unfortunately, Sluizer succumbed to Hollywood's siren song and directed an English language remake (with Jeff Bridges, Kiefer Sutherland, and Sandra Bullock) with a happy ending!
Eraserhead
★★★★★
Arthouse movies often had the opportunity to be much spookier than mainstream horror movies, focusing, like David Lynch's Eraserhead (1977), on unreality and nightmare logic. Henry Spencer (Jack Nance) lives in a weird, humming, industrial city. He is invited to dinner at the home of his girlfriend, Mary X (Charlotte Stewart), where he learns that she is pregnant. He winds up taking care of a hideous, shrieking thing that doesn't really look like a baby. Meanwhile, strange things happen all around Henry, like a cooked chicken that moves and bleeds, and a lady in his radiator with ovaries on her cheeks. This was Lynch's debut feature, and aside from a mastery of sound design and mood, he also showed a rare affinity for the obscure ways that dreams and nightmares move and change. It's a highly disturbing, but strangely compulsive, moviegoing experience.