The Simpsons have done everything, even an episode about standup comedy. Remember "The Last Temptation of Krust," when Krusty the Clown rediscovers his standup roots? During part of the episode's setup, the Simpsons are in the mall, and the guy who asks Marge, "Do you like to laugh?" is promoting a comedy benefit called "Laugh Till You Care."
That scene popped into my mind watching Derek, the latest Ricky Gervais mockumentary, which just hit Netflix—it draws you in with humor but then really changes you. It's definitely worth checking out, and so are these other comedies starring big-name standup comics.
Derek
Ricky Gervais is the wackiest sure-thing in show biz. Whatever he's involved in, from The Office (the original U.K. version) to Extras to An Idiot Abroad, inevitably turns out intelligent, fresh, and hilarious all at once. Derek, on its face, is another workplace mockumentary like The Office and Extras. Gervais plays Derek Noakes, a 49-year-old nursing home worker, who's uninhibited and childlike. (In one episode, a judgmental council official suggests he be tested for autism, but in the end it's not made clear if he's disabled or not.)
Unlike The Office's David Brent, Derek is actually pretty amazing at his job, providing excellent care for the home's elderly relatives, and fitting in perfectly with the family-like staff—Karl Pilkington of Idiot is perfect as the grumpy handyman Dougie. So unlike The Office, the humor doesn't rely on cringe-inducing awkwardness as much, and from time to time it gets a little overearnest. But that's easy to overlook, since the message it's pushing is that kindness and caring are the most important things in the world. Even Jesse Pinkman thinks Derek is a must-watch:
If you haven't seen Derek you need to start now. It is beautiful. @rickygervais Thank you for your brilliance. #Netflix

— Aaron Paul (@aaronpaul_8) September 24, 2013
Maron
The best comedians do more than tell jokes—they stand up in front of people and really bare their souls. That's partly what makes Marc Maron's hit podcast so compelling, the way he and his guests are so open about their stories and honest about their insecurities. Anyone can relate. So when Maron's self-titled IFC show opens on Marc (playing himself of course) analyzing himself to a person just offscreen you imagine it's a therapist—nah, it's just the vet. And his cat's fine, but he makes another appointment anyway. Just in case he wants to talk, you know, between podcasts, no big deal.
Guest stars drop by the garage, but the episodes don't actually center around the podcasts being recorded. Instead, those segments take the place of the stand-up scenes in Louie, bookending the absurd, Curb-like situations Maron gets himself into in his everyday life in L.A. You can catch three episodes on Hulu Plus or IFC's site, but watch 'em quick—they expire September 30. Luckily, the show's been picked up for a second season, premiering in 2014.
The Cosby Show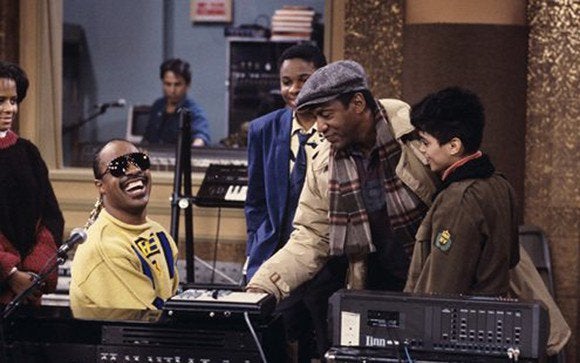 All 201 episodes of Bill Cosby's world-changing sitcom are on Hulu, and even if you've already seen each one multiple times already, chances are it's been a while. Luckily, the family-friendly comedy is as timeless as ever—my own repeat viewings unearth more jokes from the parents' point of view than I remember groking as a kid.
If you don't want to rewatch the entire run, why not a spin through some of the series' best guest appearances, including my favorites: Stevie Wonder as himself, Sammy Davis, Jr. as an illiterate boxer, and Gonzo the Great…surgeon.
The Daily Show with Jon Stewart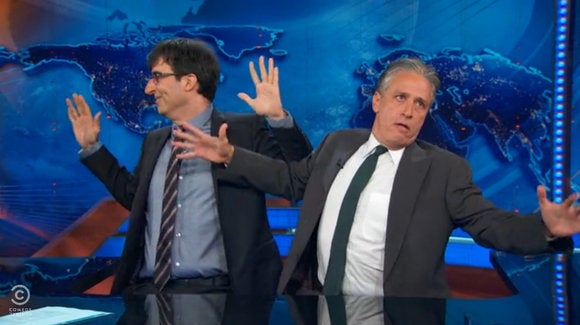 Jon Stewart is back from his summer sabbatical (John Oliver manned the show's pretend news desk so Stewart could direct his first film, Rosewater). His first night back was a little weird, like watching a kid who's had too much sugar just spin around in circles emitting a high-pitched squeal.
But a few weeks in, the show has really hit its stride, and remains one of the best reasons there is to subscribe to Hulu Plus. Yeah, yeah, full episodes also stream for free on the show's website, but Hulu's video quality is markedly better—just like The Daily Show now that Stew Beef is back.
The Bernie Mac Show
Comic genius Bernie Mac's self-titled sitcom ran for five seasons on Fox, and while it predates Louie, the premise isn't all that different. Just like Louis CK, Mac plays a version of himself, a standup comic struggling with the Sisyphean, often bewildering task of raising children. Unlike in Louie, the kids in Bernie aren't meant to be Bernie's actual children; they're his sister's kids, and Bernie and his wife take them in when she goes to rehab. (You might remember this story from The Original Kings of Comedy.) But like Louie and The Cosby Show both, Bernie's show really gets the children's characters right. The kids do have to be funny—after all it's a sitcom, right? But they still act and talk like normal kids, not overly precocious or sassy or cookie cutter. It's nice.
Plus, since Bernie's character is, well, famous like Bernie, we also get a parade of celebrities guest-starring as his pals, like trash-talking Charles Barkley, fellow comic Chris Rock, and even Snoop Dogg (or is it Snoop Lion now?).
The Increasingly Poor Decisions of Todd Margaret
Finally, a show without the comedian's name right in the title! So I'll just tell you: The comedian in question is David Cross. In this British sitcom, he plays Todd Margaret, a total loser temp who's promoted pretty much by mistake and sent to the U.K. to sell energy drinks, even though he knows nothing about the country or its culture. He immediately falls into terrible situations (in the first season, he stands accused of terrorism, and in the second, he's got his finger on the missile-launch button of a foreign military base), and the show flashes back to how he got there.
Cross, whom you hopefully know and love from Mr. Show, its spinoff movie Run Ronnie Run, and of course Arrested Development, created, wrote, and produced the series as well as stars in it, so expect to be surprised—his brand of comedy is biting satire, and the weirder the better.
More funny men and women
We've written about a few of these before, but don't forget that The Sarah Silverman Program, a sketchy, sitcommy exercise in inappropriateness, is streaming on Netflix too. And the king of self-titled sitcoms starring a standup, Seinfeld, has 10 episodes streaming free on Crackle. Also on Crackle, you can relive the truly hilarious, much-missed NewsRadio, starring a genius ensemble including Dave Foley, Phil Hartman, Andy Dick, and Stephen Root (but hurry, it expires soon). The Dana Carvey Show is there too, featuring Carvey and also a very young-looking Stephen Colbert.