The fall TV season starts soon, and you can be forgiven for having a little deja vu. When we went looking for pilots and season premieres streaming early online, we found a good handful on the networks' websites and apps, not to mention good old Hulu. But even the brand-new series feel awfully familiar—from straight-up remakes to "homages" that just feel like remakes. Still, familiar isn't necessarily bad, and these shows are pretty darn entertaining.
All of these streaming previews are only available for a limited time, so check them out soon to decide if you'll want to add the shows to your Hulu queue…or just seek out the source material for a dose of nostalgia.
Ironside
Ironside stars Blair Underwood as a cop in a wheelchair. This might sound like a fake show they'd watch in another show (like Night Boat, the Knight Rider ripoff adored by the Simpsons), until you find out it's actually a remake of a detective show starring Raymond Burr that also ran on NBC from 1967 to 1975.
While there was some controversy over casting the able-bodied Underwood as the paraplegic detective Robert T. Ironside, the pilot does use some flashbacks to before his injury, to show that his tough-guy, whatever-it-takes policing strategy hasn't changed much in the two years he's been confined to his wheelchair. The scene that shows Ironside being shot is the most suspenseful, dramatic part of the pilot—even though you know it's coming and I haven't spoiled anything by telling you it happens—and Underwood acts it well. The good-looking team of plainclothes police around him shines too, especially Pablo Schreiber (who also played Nick Sobotka from The Wire and Pornstache in Orange Is the New Black) as the loose cannon Virgil. Sprinkled liberally with overemotional speeches, the pilot makes Ironside seem like just another police show—but it could be a good one.
Ironside premieres on October 2 on NBC. You can watch the pilot now in the NBC app for iOS, as well as on NBC.com and Hulu. It's also a free download on iTunes.
Welcome to the Family
Start with a little Modern Family and add a dash of Raising Hope and the resulting milkshake might taste a little like this. Welcome to the Family is about the Yoder family's underachieving daughter, Molly, who is graduating high school (but just barely) to the delight of her parents, who can't wait for their nest to empty. Molly is secretly dating the Stanford-bound Junior Hernandez, a Latino overachiever who made valedictorian at another school. On their shared graduation day, Molly announces she's pregnant, and all hell breaks loose—with comedic results. Now both kids are skipping college and getting married, blending their reluctant families forever.
Hopefully this will improve as the season progresses, but the pilot is a little hokey—for example, when Junior says earnestly, "I'd like to ask you for Molly's hand in marriage," Dr. Yoder replies sarcastically, "Sure, take her hand. You've already had all her other parts."
Welcome to the Family premieres October 3, but you can already watch the pilot on NBC.com, in the NBC iPad app, on Hulu, or download it free from the iTunes Store.
The Mindy Project
The first season of Mindy Kaling's sitcom The Mindy Project saw some significant shuffling of the supporting cast, while our gynecologist heroine goes to hilarious lengths to find love, and winds up moving to Haiti with her minister boyfriend Casey for a year. At the beginning of season two, she's still there, claiming to not miss New York, but penning letters back to her will-they-or-won't-they coworker Danny every week, while he and his ex-wife Christina (the sublime Chloë Sevigny) attempt to reconcile, even attending sex therapy with James Franco, who's replaced Mindy at her medical practice.
The Mindy Project is right up there with New Girl as having some of the funniest dialogue on TV—when Casey takes Mindy out to view a romantic Haitian sunrise, she admits, "It looks like a douche ad," and that's a compliment. When she thinks he's about to propose, she nearly pushes him out of the tree they're sitting in, Elaine Benes–style, quipping, "Are you kidding? I want to Vine this!" And it just gets better from there.
Check out the season premiere on Fox next Tuesday, or online, on Hulu, or as a free download from iTunes right now.
Back in the Game
This one is a little like Eastbound and Down crossed with The Bad News Bears, only the coach of the misfit baseball team is a lady, and the Kenny Powers character is her dad.
Terry was once an all-star softball player, whose career didn't amount to much once she got pregnant and lost her college scholarship. Now her marriage is over, she's between jobs, and forced to move back home with her son Danny—who just happens to be of Little League age. They live with Terry's crusty old dad, "the Cannon," a washed-up former player himself (played by James Caan), whom Terry blames for ruining her childhood. The Cannon is excited that Danny wants to play ball too, Danny is just out to impress a girl, and Terry gets reluctantly roped into coaching his team of rejects. It's not nearly as adult as HBO's Eastbound and Down—or as funny, which so far is a strike against it. But one strike doesn't make an out.
Back in the Game premieres on ABC on September 25, and for a limited time you can see the pilot on ABC's site and on Hulu, as well as in the free Watch ABC apps for iOS and Android.
Trophy Wife
ABC's sitcom Trophy Wife is kind of The New Adventures of Old Christine from New Christine's point of view: Kate is a party girl who does karaoke with her best friend after either of them has a breakup—OMG so fun, giggle, giggle! She meets her next husband by accidentally clocking him with a karaoke mic, breaking his nose. In the ER, she meets both his ex-wives (the first one is the doctor, and the second is a New Agey type) and his three kids, and she still gets involved with him anyway. I mean, he asks her out right there, with gauze hanging out of his nose and everything. And he's not even hot.
Once you suspend your disbelief over that, the pilot tips its hat to Julia Roberts in Stepmom, as Kate boasts about sneaking vodka into a long-ago Lollapalooza by smuggling it in water bottles, so her stepkids will think she's cool—and then naturally, Kate busts the family's teenage daughter, Meg, doing the exact same thing. Will Kate turn in Meg to her mother, or cover for her—even if another ridiculous situation compels her to heroically chug all the warm vodka inside? (I would tell you but you might not care.)
Trophy Wife premieres on ABC on September 24, and the pilot is currently on ABC's website, not to mention Hulu and the Watch ABC apps.
The Goldbergs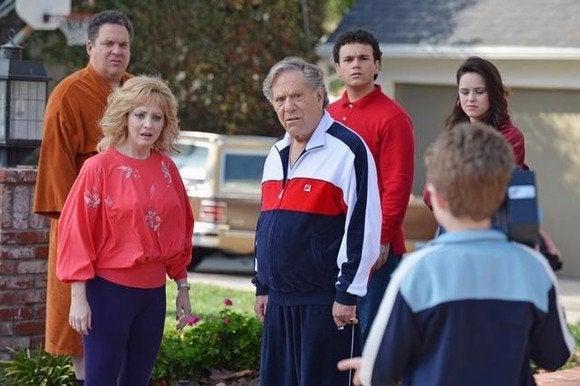 It's just like The Wonder Years but in the 1980s instead of the 1960s, and narrated by Patton Oswalt instead of Daniel Stern! Nerdy little 11-year-old Adam Goldberg (played by newcomer Sean Giambrone) was the first kid on his block to get a video camera, back in 1985, and he sets to work chronicling his suburban family.
Jeff Garlin plays Adam's schlubby dad, Murray, and Wendi McLendon-Covey from Reno 911 and Bridesmaids steals every scene as his overbearing mother. Adam's also got a big brother and sister—yes, exactly like The Wonder Years—and George Segal is hilarious as the inappropriate grandfather. The outfits are awesome, the hair is teased, the acting is big without being over the top, and of course you'll get some funny 1980s lines like, "The only one who understands me is Flavor Flav!"
The Goldbergs was created by screenwriter and producer Adam F. Goldberg, and it's based on his real family, and real-life events that he videotaped growing up. It debuts on ABC on September 24, but you can already watch the pilot on Hulu, in the Watch ABC apps, and online.