Ditching your hefty cable bill sounds great on paper, but one glaring issue has prevented scads of would-be cord cutters from flipping the all-digital switch: The lack of live sports. While Netflix, Amazon Prime, Hulu, and their ilk carry a cornucopia of TV shows and movies, none cast live sports, and the scant few streaming options offered directly by professional sports leagues tend to be expensive and limited to a handful of devices. And the NFL—the most popular sport in the U.S.—is the worst of the bunch.
Enter Aereo.
The streaming service that broadcasters love to hate recently expanded to the Boston area —including southern New Hampshire, my stomping grounds—as part of a nationwide expansion push. With Aereo, you can stream local broadcast stations such as FOX and CBS to your Internet-equipped devices in real-time, and the $8 monthly fee includes DVR capabilities and a channel guide.
The vast majority of NFL games (and more than a few NHL, NBA, and MLB games) air on channels broadcast over the open air, making Aereo a potential cornerstone to the cord cutting strategy, or at least a low-cost way to catch live football on your mobile devices.
So just before the Patriots kicked off at 1 P.M. E.T. Sunday, I signed up for the service with the hopes of using it to scratch my football itch. (I'm a cord cutter who can't easily place an antenna at my new house.) The final score: Aereo wasn't quite ready for football, but it came pretty close.
NFL on Aereo
When Aereo worked, it worked gloriously. Comcast's 20Mbps residential Internet service had no problems handling Aereo's gorgeous 720p "high" video feed, and there was nary a stutter to take you out of the game. You could easily forget you were streaming a video rather than watching a direct broadcast of the game.
At least until the second quarter kicked off.
While the first quarter of Sunday's games streamed flawlessly, things got hairy after about 45 minutes. For about an hour, Aereo's live stream stopped to buffer every 30 seconds or so, rendering the entire second quarter and part of the third quarter virtually unwatchable. Halfway through the third quarter, the issues cleared up, and the rest of that game—as well as the afternoon Packers vs. 49ers game and the late-night Cowboys vs. Giants game—streamed without a hitch.
Missing the entire second quarter of my team's first game of the season was a major bummer, though, and I wasn't the only one suffering.

Here's what Virginia Lam, Aereo's VP of communications, had to say:
I spoke with our engineers and it looks like we had a significant surge of demand over the weekend, which caused some of the issues you experienced with the "stream not found" issue and variable stream quality. We are adding capacity, which will resolve these issues in the future… In the future, once we've brought on board additional capacity, you shouldn't be seeing these types of issues .
In other words, I wasn't the only one tuning in to the Pats game on Aereo—and I probably wasn't the only one who signed up for the service at the 11th hour for just that reason. Lam wouldn't directly attribute the surge to the NFL season's kickoff, but c'mon now.
Minor miscues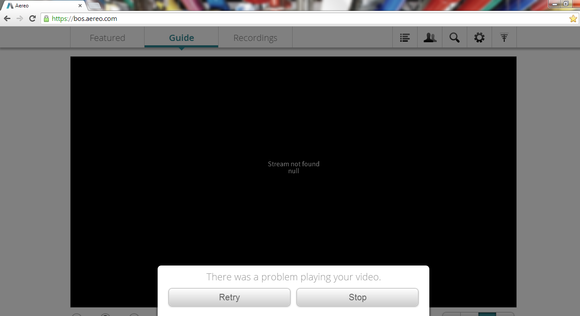 I stumbled across a few more minor quibbles Sunday. First and foremost, while Aereo works just fine on PCs, iOS devices, Roku, and Apple TV, it doesn't play nice with Android yet, which put the kibosh on my attempt to stream the game on my Nexus 7 while I was outside barbecuing with the family. Aereo promises that Android support is coming, though; if it's crucial to you, you may want to hold off subscribing for now.
When it does land, the ability to play live NFL games on my phone and tablet will be nothing short of wonderful. Apple devotees can already do so.
@BradChacos Android support is in the works! Keep following for updates!

— Aereo Support (@AereoSupport) September 9, 2013
Another minor issue: The games stopped streaming at their scheduled hour, even if they weren't done. Lam told me that Aereo doesn't offer "continuous streaming"—instead, you tune in to a specific program when you press "Watch." Since the Pats game was scheduled to end at 4 P.M. E.T., the stream ended at 4 P.M. sharp.
Restarting the feed was as simple as selecting the show that was supposed to be airing at that time. The game started right back up. Fortunately, Lam says Aereo is currently working on a solution to offer continuous viewing, as super-duper minor as the irritation is.
A solid contender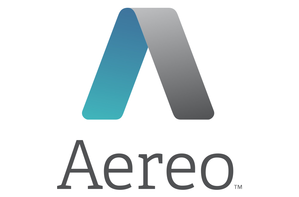 Aereo isn't ready for NFL prime time just yet, but it's on the brink of being a cord-cutting star.
The service held up admirably enough that I plan to leave my subscription intact. Aside from the stuttering during the initial half of the first Pats game of the new NFL season—no doubt a time of extreme volume for service, which is still in the fledgling stages in the Boston area—it has worked flawlessly. Aereo tackled most of the day with complete confidence, streaming live NFL games in high-definition without a hitch. Monday morning TV was just as sterling.
The buffering issues in the second quarter were severe enough to send the pigskin fans in my house into fits, though. If you're a hardcore football buff, you probably shouldn't rely on Aereo to reliably deliver your home team's big games until that extra infrastructure capacity is added.
But beyond that, the promise of live streaming sports (without breaking your budget) is finally here! I'm already sold on Aereo, and once the service beefs up its backbone and adds Android compatibility, it has all the makings of a true All-Pro.