Sony may soon take on Apple TV, Roku, and Google's Chromecast in the U.S., but first the company is planning an initial run in Japan with a newly announced set-top box, the PlayStation Vita TV.
Similar to other cheaply priced home entertainment devices, PS Vita TV offers Web browsing and video streaming content from mainstream services such as Hulu. Sony's new device will also offer compatibility with more than 1,300 games for PS Vita, PSP, and PSOne classics.
In the coming months, the PS Vita TV will also remote stream PlayStation 4 gameplay, so if your PS4 is wired up in the living room, you can stream a game to the PS Vita TV in the basement to play games downstairs.
The bad news is it's not clear when or if the PS Vita TV will go on sale in the U.S.
On Monday, Sony said the PS Vita TV will launch in Japan on November 14 "prior to any other region." That suggests the company hopes to bring the PS Vita TV to other parts of the world, but not just yet.
For its Japanese launch, the set-top box will come in two bundles: a stand-alone box for around $100 (9,954 Yen), or a gaming bundle that adds a DualShock 3 controller and an 8GB Memory Card for about $150 (14,994).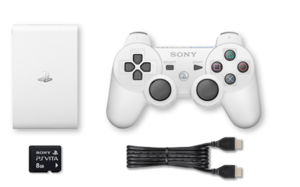 Given how popular the set-top box market is right now, it's hard to believe Sony wouldn't eventually launch the PS Vita TV in the U.S. Hulu is one of Sony's launch partners in Japan, which bodes well for a potential Vita TV debut stateside.
Beyond Hulu, an American version of the PS Vita TV would also need to offer entertainment apps such as YouTube, Netflix, MLB.TV, NBA League Pass, NHL GameCenter, and Amazon video on demand. Since most of those features are already on the PlayStation 3, it shouldn't be a huge hurdle to bring the content to the PS Vita TV as well.
The PS Vita TV measures 2.56-by-3.94 inches and is around half-an-inch thick. That's a little slimmer than the Apple TV, and should take up just a little more room on an entertainment unit (lengthwise) than its iOS-based rival.
The PS Vita TV uses the same basic hardware and software as the PS Vita handheld gaming machine. The set-top box comes loaded with a quad-core Cortex A9 processor, PlayStation Vita card slot, expandable Memory Card slot, HDMI Out, Bluetooth 2.1 EDR, 802.11b/g/n Wi-Fi, Ethernet, and one USB 2.0 port. The PS Vita TV supports resolution output up to just 1080i—a restriction is probably a result of reusing the Vita innards for a set-top box. Hopefully, the Vita TV will get a 1080p resolution bump before a prospective introduction in the U.S.
For now, however, Sony fans in North America can only watch in envy as the company's home crowd gets to enjoy the PS Vita TV first.