Much to the disappointment of kids—and much to the relief of parents—everywhere, summer is over, and school has begun. To celebrate, or to commiserate, here's a list of movies streaming on Hulu Plus that take you back into the classroom, as well as into a syllabus of various subjects. Consider it homework, if you will, but at least there's much pleasure to be had in these lessons.
Children of Heaven
★★★★☆
Iranian director Majid Majidi, who is a good deal less challenging and more lightweight than his contemporaries, made Children of Heaven (1998) the first Iranian film to be nominated for a Best Foreign Language Film Oscar. It's easily his best film, and a sheer delight. A young boy, Ali, and his sister Zahra are so poor that when they lose Zahra's pink shoes, they must share Ali's sneakers for school. They set up a system in which they race through the streets, meeting each other before and after classes, to swap the footwear. Happily, a footrace with prize money for the winner could be the answer to their problems. Majidi's movie emphasizes realism, but the movie is not cruel or harsh. It captures a wonderful youthful invention as well as sweetness and honesty. It's even good enough for kids who can read subtitles.
I Was Born, But…
★★★★★
The great Japanese filmmaker Yasujiro Ozu made the masterpiece I Was Born, But… (1932) in the years before Japan made the switch to sound cinema, and it's one of his warmest and most satisfying movies. Two boys learn that their father is actually a subordinate to his bullying boss, which changes their standing at school. Angry and humiliated, they attempt a hunger strike. Though told mostly from the boys' point of view, Ozu and his co-screenwriter Akira Fushimi weave these themes of power and behavior with beautiful subtly and poetry, leaving room for silly playfulness, and even hope. Ozu told a similar story, with some modifications, in Good Morning (1959).
The 400 Blows
★★★★★
Francois Truffaut's legendary feature debut The 400 Blows (1959) is one of the great coming-of-age movies, as well as being the movie that kicked off the famous French New Wave movement. Poor 12 year-old Antoine Doniel (Jean-Pierre Léaud) quits school, gets thrown in jail, and then enters a center for troubled boys. Nothing he tries ever seems to work out, though he does have his small victories. The school sequences are among the most harrowing ever filmed, full of humiliation and cruelty; Antoine is falsely accused of plagiarism and can do nothing about it. After all of it, though, Truffaut ends the movie on a mysterious magical freeze-frame. It is one of the most memorable shots in all of cinema, potentially hopeless, potentially hopeful, all compelling.
Mouchette
★★★★★
If Antoine Doniel's story is grim, then poor Mouchette's story is positively wretched. In Robert Bresson's Mouchette (1967), the title girl (Nadine Nortier) lives with her dying mother, her drunken father, and a new, neglected baby. She becomes an outcast at school, and then things get worse when she has an unfortunate encounter with a poacher in the woods on the way home. In his earlier movie Au hazard Balthazar (1966), Bresson used the suffering of a donkey to explore spirituality. Here Bresson uses his story to explore existential issues of sex and death, but he gives us a reward: In one sequence, an old lady gives Mouchette a coin to ride the bumper cars at a local carnival. It's the one carefree moment, and it offers a key into the movie.
Picnic at Hanging Rock
★★★★★
Trying to describe the great Australian director Peter Weir's second feature film Picnic at Hanging Rock (1975) usually involves the word "haunting." It's a beautiful, mysterious movie about a group of students at an all-girl's school in 1900. They take a day trip to Hanging Rock, and after a dreamy afternoon, several of the girls and a teacher can't be found. If you like your movies tied up in a neat bow, better skip this one. Like many 1970s movies, this one is about more than just its plot. Weir has often made films about characters that are at odds with their environment in some way, and this one remains one of his best and most fascinating. Look for the future Oscar nominee Jacki Weaver in a small role.
The Lucky Ones
★★★★☆
The events of 9/11 and the war in Iraq inspired many movies, and barely anyone saw any of them. Neil Burger's The Lucky Ones (2008) was one of the better ones, and also more touching and entertaining that you might expect. Three soldiers—Cheaver (Tim Robbins), Colee (Rachel McAdams), TK Poole (Michael Peña)—are on leave, and wind up road-tripping together when their flights are canceled and there's only one rental car left. Each has a specific quest. Cheaver needs to raise money for his son's college tuition, TK is worried about seeing his fiancée after sustaining an injury, and Colee hopes to return a guitar to her dead boyfriend's family. Their journey is by turns revealing, funny, and heartbreaking.
The Best of Youth
★★★★☆
The Best of Youth (2003) is best known for being six hours long. It ran as a TV mini-series in its native Italy, but in 2005 it showed in two three-hour segments in American theaters, and was actually a small-scale hit. Spanning the years 1963 to 2000, it focuses on two brothers—Nicola Carati (Luigi Lo Cascio) and Matteo (Alessio Boni)—one liberal and one conservative. This device allows director Marco Tullio Giordana to explore a huge chunk of Italian history, but as the movie goes on, it's the characters that rule the day, especially the wounded, beautiful Giorgia (Jasmine Trinca).
Rob Roy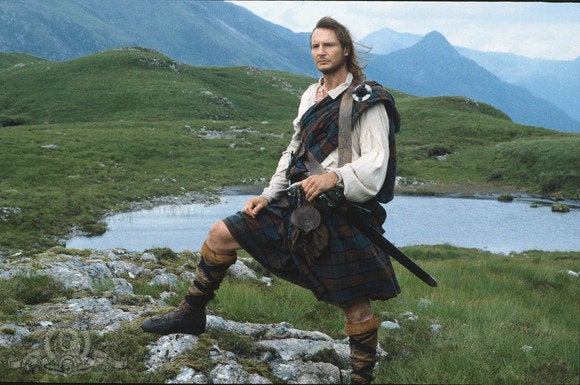 ★★★★☆
Most people know Braveheart (1995), but very few people remember Rob Roy from earlier the same year, even though it's markedly superior in many ways. Rob Roy MacGregor (Liam Neeson) is a historical Scottish figure, a cattleman who tangles with wealthy landowners over a stolen loan. Director Michael Caton-Jones shot the movie entirely in Scotland and much of it in the beautiful highlands, although the focus is on grimy realism. One memorable sequence depicts a sword fight between Rob Roy and evil henchman Archibald Cunningham (Tim Roth). As the fight rages on—unaccompanied by a musical score—the men grow tired, and the swords seem to grow heavier. Roth received an Oscar nomination for his nasty character. Jessica Lange co-stars, looking ravishing with little or no makeup, as Rob Roy's wife.
Hamlet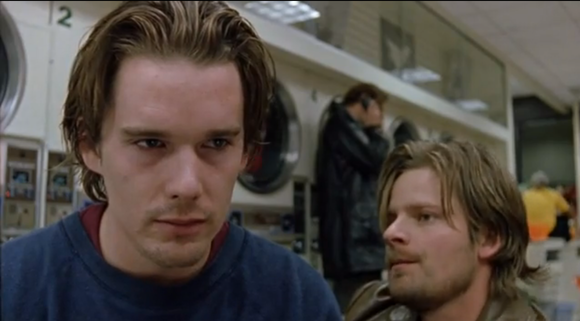 ★★★★☆
Shakespeare's play, probably written in 1603, has been filmed many times, with Laurence Olivier, Mel Gibson, Kenneth Branagh, David Tennant, and others taking on the title role. Michael Almereyda's terrific Hamlet (2000) is coolly modern, with Ethan Hawke starring as the youngest of the big screen Hamlets. Set in New York City of 2000, kings are now corporate CEOs, and the landscape is littered with advertising. Rather than writing a play to expose his mother's murderous second husband, Hamlet now makes an experimental film. Almereyda films with both 16mm film and his trademark "Pixelvision" (a toy camera), resulting in a moody movie with smeary colors. The great supporting cast lends even more color, especially Diane Venora as Hamlet's mother Gertrude, Bill Murray as Polonius, and Steve Zahn as Rosencrantz.
The Graduate
★★★★☆
Mike Nichols' comedy The Graduate (1967) struck a chord with audiences and became the highest-grossing movie of the year. It also earned a Best Director Oscar for Nichols, as well as six other nominations. Nonetheless, it's very much a product of its time, as well as a perfect melding of a combination of talents (no one artist contributed to its success). Screenwriters Calder Willingham and Buck Henry adapted Charles Webb's book with a collection of memorable one-liners, Simon and Garfunkel's songs gave the movie a brainy, melancholy mood, and Nichols kept the humor dry. Dustin Hoffman and Anne Bancroft give very sharp performances, though their co-star Katharine Ross gets slightly less interesting lines. It's less a timeless masterpiece than a very good comedy, but it still seems to please audiences today. Look for Buck Henry, Elaine May, and Richard Dreyfuss in small roles.
What's new on Hulu Plus
Bad Lieutenant
Clerks
Get Shorty
Mr. Arkadin
Persona
The Public Enemy
The Secret of NIMH
Southern Comfort
This Is Spinal Tap
The Way Back
While She Was Out
What's new on Netflix
Doctor Dolittle (1967)
Dredd
Fear and Loathing in Las Vegas
50 First Dates
Frenzy
Godzilla: King of the Monsters
Great Directors
I'm Gonna Git You Sucka
Jade
Men in Black
Open Water
Our Idiot Brother
The People Under the Stairs
The Possession
The Purple Rose of Cairo
Quadrophenia
Requiem for a Dream
Saturday Night Fever
The Seven Year Itch
Six Degrees of Separation
There Will Be Blood
Tuesday, After Christmas
WarGames
Zoolander