In a concerted effort to combat the Canon-Nikon DSLR juggernaut on the consumer market, Sony has released a pair of mirrorless interchangeable lens cameras—the Alpha 3000 and the NEX-5T—specifically for the step-up consumer and advanced photo crowd. Both are midlevel models, loaded with features for hobbyist shooters, at competitive prices.
In recent years, the general public has gravitated mostly to smartphones and occasionally to entry level point-and-shoot cameras to capture images on the go. But enthusiasts still pine for compact, lightweight cameras that will yield better image quality and offer more control over their shots—note the enduring popularity of sub-$600 models like the Canon Rebel T3i and Nikon D3100.
Sony has positioned the new Alpha 3000 to compete directly for this class of photographers, while the NEX-5T is additionally designed with entry-level or advanced DSLR users in mind, who seek to eliminate the bulk and weight of a mirrored camera, or who desire a second, lighter camera for everyday shooting.
Sony has equipped both cameras with E-mount lenses, broadening the lens collection for both the Alpha and the NEX lines as well as other Sony cameras. Both have APS-C sized sensors, as do most entry-level DSLRs.
Alpha 3000
The 20.1-megapixel Alpha 3000 is a mirrorless interchangeable lens camera (a DSLT, which features a fixed translucent mirror). It shares the same Bionz processor as Sony's high-end A99, and offers an ISO range of 100 to 16000 with area-specfic noise reduction for low-light shooting. Videographers get to shoot HD 1080/60i with an option for shooting 1080/24p with ISO up to 3200.
While not a pocket-sized camera (unless you have extremely large pockets), the Alpha weighs in at about 10 ounces with approximate dimensions of 4 by 2 by 1.5 inches. Sony's E-mount design and autofocus operation benefit traditionally minded beginners, and the Alpha is fast and easy to use without a learning curve, Sony says. Using the camera's onscreen controls, you can change the menu system and see real-time effects applied via Live View. The camera is built from the ground up using Live View, so the scene is the same whether you're looking at the LCD screen or through the viewfinder.
One big difference between advanced and step-up shooters is that the latter are accustomed and even prefer to focus and frame their shots with a high-resolution LCD screen as opposed to a viewfinder. The Alpha 3000 accommodates such Live View composition via its 3-inch, 230,400-dot LCD. Sony is not neglecting the electronic viewfinder, though, and for those who want to use it, there is 100 percent scene coverage though the EVF with QVGA resolution.
Scene modes include Portrait, Landscape, Macro, Sports Action, Sunset, Night Portrait, Night View, Hand-held Twilight, Anti Motion Blur, plus 15 picture effects including Mono, Toy Camera, Soft High-key, Soft Focus, HDR Painting, Rich-tone Mono, and Miniature.
The camera supports auto object framing to detect and crop human subjects, digital zoom, and the ability to use an assortment of flashes, mics, and tripods. An English-language menu system offers a set of controls that lets shooters choose what they want to do, putting the camera in charge of the actual settings. A menu system like Photo Creativity lets you specify Defocus or Crisp or Brighter or Darker in order to have the camera set the aperture or EV levels, while you see the effect in real time directly in the Live View.
The Alpha 3000 is $400, including an 18-55mm kit lens, and is available for pre-order now. It should be on the shelves in early September.
NEX-5T
Sony has integrated the NEX-5T compact interchangeable lens camera smack in the middle of its current compact system camera lineup, beside the NEX-6 and as a replacement for the NEX-5R. The audience for this unit, in addition to step-up customers, is entry-level DSLR users who understand the advantages of large sensors and seek to downsize from the heavy DSLR beast while maintaining image quality—or use it as a second camera in addition to their DSLR. The target audience for this model tends to be a bit more geeky, technically aware, and motivated to use the new communication technologies.
The NEX-5T is similar to Sony's NEX-5R in many ways. This 16.1-megapixel model provides plenty of resolution and an ISO of up to 25600. In addition to the control dial and function button, there is a touchscreen with a 180-degree tilt for stills and video, and a new 16-50mm power zoom lens, which is about half the size of the 16-50mm lens of the previous model.
It features Fast Hybrid Auto Focus (combining phase-detection with contrast-detection AF) offering high speed AF with continuous tracking.
New NFC (near field communication) networking functionality joins the 5T feature set in addition to Wi-Fi, unlike the previous model. Many hobbyists now use NFC to control their cameras remotely from tablets and smartphones. The NEX-5T allows you to connect the camera and the smartphone by simply touching the two devices together, skipping the multipart password sign-in procedure in other devices. Sharing an image takes place in playback mode while controlling the camera via the remote device is done in shooting mode, giving you the same Live View as on the camera.
For devices without such capabilities, such as an iPhone, you can wirelessly transfer images and videos via Wi-Fi and Sony's PlayMemories Mobile app for iOS and Android.
As with the 5R, there's an assortment of apps such as Time Lapse, Portrait Lighting, and Motion Shot to broaden shooting results.
The NEX-5T with kit lens is available in black, white, and silver and costs $700—$50 less than the previous NEX-5R, or is available body-only for $550. It goes on sale in early September.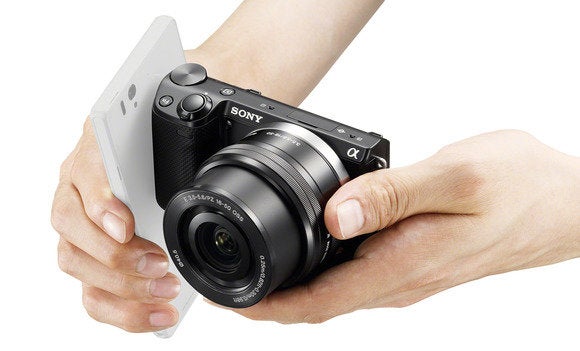 Lenses
In addition to the two new cameras, Sony is introducing three additional lenses for a total of 18 lenses in the E-mount family, or a choice of 33 E-Mount lenses, if you use adapters. Third-party adapters extend that range further to Canon and Nikon lenses.
One new entrant is the Carl Zeiss Vario-Tessar T 16-70mm F4 zoom lens (24-105mm in 35mm equivalent), an optically stabilized premium constant aperture zoom lens for $1000, available in mid-September. There's also a new Sony E-PZ 18-105mm f/4 G OSS lens (full frame equivalent 27 to 157.5mm) for $600 with a 5.8X zoom, which Sony envisions for video. It will be available in early December. The Sony E 50mm f/1.8 portrait lens now comes in black for $300, and will be available in mid-September.
More information about these cameras and lenses is available on Sony's website.