Oof. That was the sound of Detroit Lions defensive tackle Ndamukong Suh laying out another quarterback. It may also be the sound that cable and satellite TV executives made last week when they heard news that Google is talking to the NFL about buying the rights to the NFL Sunday Ticket package, and that ESPN has been talking directly to several online video players (likely including Apple) about licensing ESPN shows.
This news comes just a couple of months after another scary hit on the cable and satellite operators—when Verizon announced it would be delivering live, home-market pro football games to its smartphone customers, through a $1 billion deal it made directly with the National Football League.
Direct content deals between powerful sports leagues and Silicon Valley upstarts could produce career-ending injuries for the Comcasts and DirectTVs of the world, since their businesses depend in large part on long-held sports broadcasting rights agreements.
In fact, we might be witnessing the beginning of the end of Monday Night Football as we know it. Ten years from now, NFL games—TV's biggest cash cow—might come riding into the living room on a broadband pipe (maybe wired, maybe wireless), and not via a cable or satellite link.
Is the technology in place to cut the cable and satellite providers out of the equation? Does Google have the juice to line up head-to-head with big players like the TV networks and Comcast? And are the NFL and other sports leagues powerful enough to cut out the middlemen entirely?
TV industry insiders think so. "Yes, NFL and MLB and other leagues do have this kind of clout," says media consultant Richard Doherty of the Envisioneering Group. "They want audience, and if they can get $5 a stream on their own, they will—on the way to trying for $50 a stream."
But before we get too excited about à la carte football games, let's take a look at what you can and cannot do with Verizon's service for the 2013–2014 NFL season.
Football on the phone
Verizon Wireless customers who buy the NFL Mobile app can already watch Sunday, Monday, and Thursday night games—and starting in 2014 they'll be able to watch live coverage of their local team's games. The app works only on select smartphones, however, not on tablets. The television networks retain the exclusive right to broadcast local games on TV, and cable and satellite operators retain the right to stream game coverage to tablets and laptops.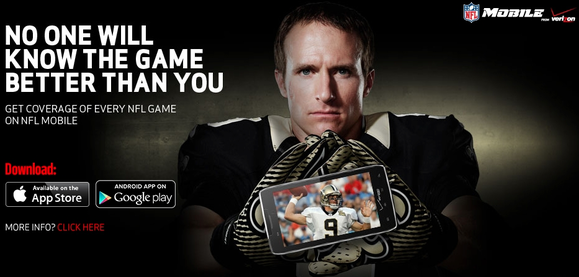 Verizon Wireless customers will also get the league-owned channel, NFL Network, and its NFL RedZone show (featuring the day's touchdowns), along with postseason games, including the Super Bowl. They can watch this programming over a 3G, 4G, or Wi-Fi connection, Verizon says. Of course, gorging yourself on football via a 3G or 4G connection can quickly chew up your plan's monthly data allotment. Verizon customers should plan to stream sparingly.
Verizon and NFL execs don't expect NFL Mobile to cannibalize living-room TV viewers. Why, they reason, would anyone who can watch the NFL on a big screen in the living room opt to watch it instead on a tiny smartphone screen? To this extent, the NFL Mobile app targets people who want to catch games when they're nowhere near a big-screen TV.
NFL Mobile on Verizon doesn't create a cord-cutting opportunity either. To reiterate: All home games that will be available on NFL Mobile for Verizon next year will also be shown on local network and pay TV. So there's no reason to try to stream Sunday Ticket games to your TV set from your smartphone.
Still, the NFL's deal with Verizon shows what can happen when a premium content owner goes directly to an Internet company for distribution. Sports leagues have long partnered with cable and satellite operators in a lucrative marriage, but now their mutually affirming bonds are eroding.
What would Google do?
The NFL's deal with Verizon was crafted to respect the turf of cable and satellite players, but the old guard of TV content distribution is unlikely to maintain its stranglehold on football broadcasting rights forever.
Last Tuesday, AllThingsD reported that the NFL suits were at Google talking to CEO Larry Page and YouTube programming boss Robert Kyncl about the possibility that Google will become the new owner of the NFL Sunday Ticket package. (The current owner, DirectTV, loses its exclusive hold on the all-you-can-eat package at the end of 2014.)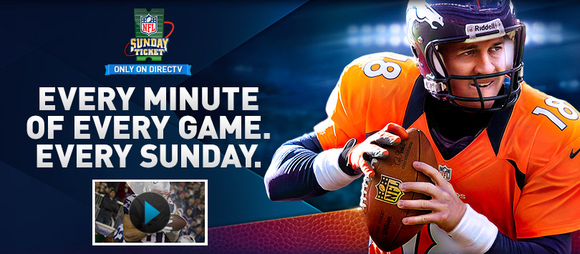 When you buy the package from DirectTV today, you pay a base price of $45 for five months, with the option of moving up to the $60 "Max" tier, which enables you to stream the video to your laptop, phone, or tablet.
If Google/YouTube bought the rights to NFL Sunday Ticket, it might get creative about offsetting the price of the programming with advertising. And even if Google charged viewers the same price that DirectTV does, it might provide a better overall experience for football fans.
"With their mobile device and the Chromecast [Google's tiny USB streaming stick], the user could take the Sunday Ticket to every 'dumb' television anywhere—in their home, at a hotel, at a friend's home, etc.," writes Albert Lai, CTO for media and broadcast solutions at the Internet video platform company Brightcove, in an email message. "Additionally, Chromecast enables a true second screen experience, enabling additional game information on the device (e.g., social dialog, real-time stats, real-time picture galleries, fantasy rosters, etc.) that enriches the experience."
This increased functionality is attractive to programmers, and may end up being a game changer. "The programmers could start to go directly to consumers, offering a pure digital experience that may be better than what you get on pay TV," Lai notes.
Apple TV troubles
Reportedly Apple has also been talking with various content providers this summer, and sports programmers are undoubtedly among them. Apple originally tried to acquire premium content streams for its Apple TV product through cable and satellite services. But having made little progress with that strategy, Apple is now talking directly to content providers, according to a report on Quartz.
According to that report, Apple has been speaking with Disney's ESPN, Time Warner's HBO, and Viacom (which owns MTV Networks, Nickelodeon, and Comedy Central). ESPN execs confirmed that they've been talking to various Internet video providers, but didn't name names.
The biggest problem with the Apple TV product (and potentially with the rumored Apple television, as well) is that you can't use it stream live feeds from programmers like ESPN and MTV. If Apple ends up signing agreements with the content providers, the situation would change, and the content would be delivered in much the same way it is on cable or satellite service today.
But the content owners aren't likely to give the Internet companies a better deal on the content than what they give to the cable and satellite guys. They will also require Apple to buy everything they offer, not just single channels. "We're not going to offer one-offs," ESPN president John Skipper said, according to a Bloomberg report. Apple, for example, would have to buy a bundle of ESPN channels, including ESPN Classic, ESPN2, ESPN News, and more.
So we may be entering a world where video services from Apple, Google, Intel, and Sony provide "virtual cable" services that cost just as much as (or more than) the Comcast and DirectTV services we buy today. The content owners—sports content owners, in particular—hold the bargaining power to make it so.
Sports TV has the juice
For the Comcasts and DirecTVs of the world, dedicated sports channels represent four of the top ten subscriber fee earners, with ESPN the leader by a large margin.
Given that kind of juice, sports programmers like the NFL are a force to be reckoned with in licensing negotiations. The Wall Street Journal reports that the NFL and other sports leagues took an average 40 percent fee increase in recent renewals of their four-year contracts with network and pay TV operators.
Their power and influence in the market enable sports programmers to play the field in choosing distribution partners,as the NFL's recent visit to California to meet with Google vividly demonstrates.
Lee Berke, a sports media consultant who's worked with Verizon Wireless on past sports deals, says the space is ripe for disruption. "You can look at it as [the sports programmers] offering a [TV] signal, and they can offer that signal to whatever hot new technology medium that comes down the road, whether that's Google Glass or a watch phone, or whatever," Berke told TechHive. "They keep on moving to screen after screen, and they are definitely trying to pick winners."
To sports fans who subscribe to cable TV only to watch football, such a sea change could be very good news. Here's why.
By the time the 2014 NFL season rolls around, Google or some other Internet TV player may have forked over the cash to the NFL to stream a few seasons' worth of pro games. The NFL may be one of the few content owners that's willing and able to license premium content that could then be sold à la carte. A larger content owner like Viacom, for example, might require that a large group of its channels be sold in a bundle, as they now do on cable.
So while an NFL Sunday Ticket purchased from a Silicon Valley powerhouse like Google probably wouldn't be that much less expensive than the $45 to $60 that DirectTV charges now, the fee would still be less than the $75 (and higher) that most people pay for cable.