Let's put everything else aside for a moment and get out your martini shaker and your waterproof wristwatch that fires tranquilizer darts. Ready? Seventeen James Bond movies are expiring from Netflix on September 2, so it's time to get serious. Sure, there have been better movies in the history of cinema, but no series has run as long (50 years!) and as frequently as the Bond series, and no series has so perfectly combined action, suspense, exotic scenery, beautiful women, great pop songs, weapons, cars, gizmos, and clothes—plus a suave, tough, supercool secret agent with a license to kill. We'll start with the best ten, in descending order of (my) preference.
Dr. No
★★★★★
Directed by Terence Young, Dr. No (1962) was the first movie in the series. It had yet to settle into a formula, and everything about it feels tight and lean. Sean Connery is superb as Bond, dispatched to Jamaica to investigate the death of a fellow agent. There, he meets the lovely Honey Ryder (Ursula Andress) in an unforgettable white bikini, as well as colleague Felix Leiter (Jack Lord). Eventually he must face off against the evil Dr. No (Joseph Wiseman). Lois Maxwell and Bernard Lee make their first appearances, respectively, as Miss Moneypenny and "M," and would return to the series many times. There's no title pop song in this one, but the music by Monty Norman and John Barry includes the immortal James Bond theme.
Goldfinger
★★★★★
For many fans, the third film, Guy Hamilton's Goldfinger (1964), was the pinnacle of the series, wherein every element clicked into place with satisfying perfection. Bond (Connery) must stop the title bad guy (Gert Fröbe) from robbing Fort Knox. He meets the ultimate Bond girl, Pussy Galore (Honor Blackman), and the ultimate evil henchman, Oddjob (Harold Sakata), with his deadly hat. The dead girl, suffocated and covered in gold paint, is one of the indelible images of the entire series. This movie features some of the best lines ("I must be dreaming" and "No, Mr. Bond, I expect you to die!") as well as one of the very best songs, Shirley Bassey's "Goldfinger." It won an Oscar for Best Sound Effects.
From Russia with Love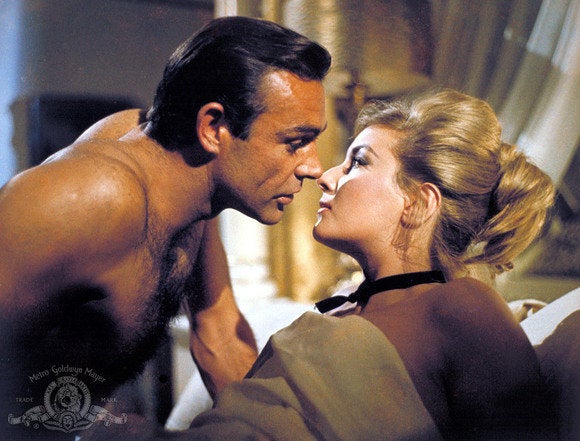 ★★★★★
The first three movies in the series are still considered to be among the best, and are also the shortest. Perhaps good storytelling doesn't necessarily need to drag on past the two-hour mark. In the second entry, From Russia with Love (1963), Bond (Connery) tackles the sinister organization SPECTRE (SPecial Executive for Counter-intelligence, Terrorism, Revenge and Extortion), which is out for revenge after the defeat of Dr. No. Italian-born Daniela Bianchi plays Bond girl Tatiana Romanova (though her voice was dubbed by Barbara Jefford). Robert Shaw plays an assassin who fights Bond on the Orient Express. This one features the first appearance of the recurring bad guy Blofeld, as well as the first pop song over the title sequence (performed by Matt Monro). Terence Young directs.
GoldenEye
★★★★☆
Pierce Brosnan always seemed like a logical choice to take over the James Bond role in the 1980s, but due to various contractual, legal, and timing issues, he didn't make his debut until Martin Campbell's GoldenEye (1995). The movie features some of the silliness of the Roger Moore era, but still clocks in as one of the best and most exciting of the series. It seemed to recharge the old hero, and was also the most successful entry in many years. In this one, Bond tackles the Russians, led by a rogue agent (Sean Bean), who intends to rob the world's banks by wiping out all computers. Izabella Scorupco plays the good Bond girl, and Famke Janssen plays the sadistic one, Xenia Onatopp. Best of all, Judi Dench takes over the role of "M," bringing a fresh perspective and some unique byplay. Look for Minnie Driver in a funny little cameo, as well. Tina Turner performs the title song, written by Bono and the Edge of U2.
On Her Majesty's Secret Service
★★★★☆
Most Bond fans agree that On Her Majesty's Secret Service (1969) was based on the best of Ian Fleming's novels, and that the movie comes together fairly well—with one major exception. George Lazenby seems to have been cast due to a vague resemblance to Sean Connery, but he lacks all of Connery's charisma and was completely wrong for the part. However, it does benefit from Diana Rigg as the Bond Girl, and Telly Savalas as Blofeld. This is the one in which Bond actually gets married! Louis Armstrong sings the theme song, "We Have All the Time in the World." Former editor Peter R. Hunt was promoted to director for this one.
Thunderball
★★★★☆
Terence Young directed for the final time on the Bond series, with this adaptation of Ian Fleming's 1961 novel. In Thunderball (1965), Bond (Connery) goes to the Bahamas, trues to prevent the malevolent Largo (Adolfo Celi) from taking over the world with some nuclear warheads, and steals Largo's girlfriend, Domino (Claudine Auger). This movie is much bigger and longer than its predecessors, and includes a lengthy underwater sequence that, frankly, drags a bit. Nonetheless, this was the most popular Bond movie of its day, and remains among the highest-grossing of the series. It won an Oscar for Best Visual Effects. Tom Jones sings the title song. It was remade, more or less, as Never Say Never Again (1983).
For Your Eyes Only
★★★☆☆
Like Connery, Roger Moore also played agent 007 seven times, and though he is far less beloved than his predecessor, some fans appreciate him for his lighter, less aloof approach. Certain of Moore's movies are among the worst in the series, but others, like For Your Eyes Only (1981), are loads of fun. In this one, Bond is charged with recovering a lost communication device before it falls into the wrong hands, specifically the villainous Kristatos (Julian Glover). The long-haired French beauty Carole Bouquet (Melina Havelock) is the main Bond girl, one of the best, though the casting of pro skater Lynn-Holly Johnson as the bubble-headed blonde "Bibi" was a mistake. (Even Bond turns down her advances.) John Glen directs, the first of five Bond films for him, and Sheena Easton sings the beautiful title song.
The Living Daylights
★★★☆☆
Roger Moore was nearing 60 when he made his final Bond film, and so Timothy Dalton was chosen as his replacement for The Living Daylights (1987). Some effort was made to inject some darkness back into Bond's character, and Dalton is appealing, but a fresh director should have been hired as well. John Glen's work was growing lethargic at this point, and the movie gets pretty silly and sluggish in spots, including the notorious "cello case escape" sequence. Moreover, Bond girl Maryam d'Abo was a little bland; in an effort to keep Bond modern in the era of AIDS, she was his only partner in this movie. Jeroen Krabbé and Joe Don Baker are the bad guys, though Baker returned in a different role, as a good guy, for later movies. The Norwegian pop group a-ha performed the title song.
Diamonds Are Forever
★★★☆☆
Diamonds Are Forever (1971) was Sean Connery's final Bond movie, at least until the "unofficial" Never Say Never Again 12 years later. (Did Connery actually say "never again" after making Diamonds Are Forever?) Though it reunited him with director Guy Hamilton, it was the silliest of the Connery films. Some of the stranger bits involve the hippie henchmen "Mr. Wint and Mr. Kid" and Bond's escape from the bad guys in a moon buggy. Sausage king Jimmy Dean plays a Howard Hughes-like entrepreneur. Blofeld returns, played by Charles Gray, smuggling diamonds and cooking up more wicked plots. Jill St. John and Lana Wood are the Bond girls, and Shirley Bassey returned to sing the title song.
Moonraker
★★★☆☆
Moonraker (1979) was the highest-grossing of the Roger Moore Bonds, clearly inspired by, and benefiting from, the success of Star Wars. (Ian Fleming's 1955 novel of the same name had nothing to do with space.) In this movie, Bond battles the malicious Drax (Michael Lonsdale), who plans to use a deadly toxin to kill everyone on earth while he hides out on a spaceship, breeding a new super-race of people. Metal-mouthed henchman "Jaws" (Richard Kiel) returns from the previous movie (The Spy Who Loved Me) to terrorize Bond some more. The Bond girl is Lois Chiles, and some have criticized her lack of chemistry with Moore. It's not one of the sharper entries, but fans often cite the top-notch design and effects as the reason for watching it. Lewis Gilbert directs, and the great Shirley Bassey returned for the third and final time to perform the theme song.
And here are six more Bond movies also expiring on 9/2: You Only Live Twice (1967), The Man with the Golden Gun (1974), Never Say Never Again (1983), A View to a Kill (1985), Licence to Kill (1989), Tomorrow Never Dies (1997), and The World Is Not Enough (1999).
What's new
Antiviral
Arbitrage
Arthur and the Invisibles
Attack of the Crab Monsters
Best Worst Movie
Born on the Fourth of July
The Breakfast Club
Clockers
Days of Thunder
Desperado
Do the Right Thing
Down in the Delta
Fear and Loathing in Las Vegas (coming 9/1)
Fear City
Flesh and Bone
Frenzy (9/1)
Get Over It
I Am
I'm Not Scared
The Intouchables
Lady Frankenstein
The People Under the Stairs (coming 9/1)
Piranha
Pretty in Pink (9/1)
Prozac Nation
Psych-Out
Rollerball [1975]
Running Scared [1986]
Saved!
Stargate
Swimming with Sharks
Tabloid
Titanic
Tristana
Waking Ned Devine
You Only Live Once
Zack and Miri Make a Porno
Zodiac
Zoolander (9/1)
Expiring soon
F/X (9/1)
The People vs. Larry Flynt (9/15)