At a Glance
Expert's Rating
Pros
Impressive 21X optical zoom
8GB internal storage plus accepts micro SD cards up to 64GBs
Capable Android device
WiFi connectivity
Easy-to-use HD video mode with real time zooming
3.7 volt Lithium Ion battery holds up well thanks to conservative power management
Compatible with 8 music formats
Includes Bluetooth and GPS
Surprisingly good camera performance indoors
Performance can lag at times
Strict power management results in quick sleep mode
Large size (5.07 wide by 2.79 inches tall) makes it not really a compact camera
Cons
Auto white balance performs better indoors than outside
Autofocusing generally good, but can become confused
Difficult to compose shots in bright sunlight
Current $450 price tag puts it in the investment category
There are a couple ways to look at the Samsung Galaxy GC110 digital camera. It's either an all-in-one device, or for some, it may be all-in-none. Its unique capabilities—blending a capable zoom-lens compact with the brains and display of a smartphone—could make it the only device you need to pack. Or, it could be just too bulky to serve as a compact camera, and its lack of cellular connectivity hamstring it as a tablet or phone replacement. Either way, it's worth a closer look.
Cross a (semi) compact camera with a (tiny) tablet
As a camera, the GC110 houses a 21X optical zoom with a range from 23mm on the wide end to a 483mm telephoto, and its 16-megapixel CMOS sensor provides plenty of resolution. It includes settings you'd expect from a high-end compact, including PASM (program, aperture priority, shutter priority, and manual) exposure modes, a variety of metering patterns, ISO sensitivity from 100-3200, auto focus, optical image stabilization, HD video, scene modes, a pop-up flash, and even 8GB of internal storage.
But the camera is only half the story. The entire back of the device is consumed by a beautiful 2.34 x 4.16-inch LCD—perfect for reviewing images, reading mail, browsing the Web, perusing Instagram, posting to Flickr, checking the weather, or running just about any Android app.
The entire operation is powered by a 1.4GHz processor and Android 4.1.2 (Jelly Bean). The GC110 includes Wi-Fi and Bluetooth for connectivity, but not cellular. Over weeks of testing, it had no problem connecting to networks in hotels, coffee shops, or at home. If you already own an Android device, you'll probably feel comfortable with this Samsung.
Image quality
The GC110 is a good camera. It excelled in indoor lighting, providing excellent exposure and sharpness. In midday contrasty conditions, it was prone to slight overexposure, but well within acceptable quality.
Generally, tones are a bit on the cool side when using auto white balance outside. And switching to one of the white balance presets didn't necessarily improve results. The Daylight preset was a bit too warm, and Cloudy had an orange cast.
Casual shooters might be satisfied with the Auto WB setting outdoors. But enthusiasts most likely will be disappointed with the presets. And since the camera captures in JPEG only, any color correction in post production will require recompression.
I was most impressed with the camera while shooting indoors with existing light. The Galaxy felt comfortable in that environment, and the resulting pictures were terrific.
Autofocusing and Smart mode
Under most conditions, focusing was swift and accurate, especially indoors. However, compositions with lots of texture sometimes confused the camera. Shots of deer in a grassy field or objects floating on water required a bit of patience to capture the image I wanted. But when shooting objects that are isolated, focusing was fast.
The Galaxy provides a choice of 19 scene presets in Smart mode that include night, panorama, action freeze, continuous shot, light trace, and macro. These are helpful for controlling the camera when you don't want to shoot in PASM or depend on auto-everything. The macro performance was particularly impressive.
Composing on the LCD
That big, colorful LCD is both good news and bad news. When working indoors or with flat lighting, it's a joy to compose your images on the screen. But once you're in bright sunlight, framing the shot and judging the camera's response to the lighting is very difficult.
Unfortunately, the GC110 lives and dies by its LCD—it has no optional viewfinders. So if you find yourself in midday lighting conditions on a regular basis, be prepared for a challenge. Of course, once you return indoors to view your images on that big, saturated LCD, all may be forgiven.
General performance
At times, you'll realize you're shooting with a multifunctional device and not a dedicated camera. On the plus side, the Samsung Galaxy remembers the last mode you were in, so if you were shooting pictures, it thankfully returns directly to camera mode. That's good.
At other times, however, the camera app just quits unexpectedly. It's not a huge hassle to relaunch into picture-taking mode, but it feels odd to have to do so on a camera. Also, after you take a shot, there's often a pause before the photo appears on the LCD to review.
Personally, I think it could use a bit more horsepower—it's juggling many processes at once. This by no means is a deal breaker. But over time, you'll probably notice a few performance hiccups too.
An Android device
If you've wanted to play with the Android OS, but weren't ready to dump your iPhone to do so, the Samsung Galaxy just might be the answer. As a multifunctional device with a crisp LCD, it's a blast.
Want to browse Instagram? Have at it. Is Flickr your thing? You'll love it. Ready to listen to music? The GC110 even has a headphone jack. I certainly enjoyed this side of its personality.
Moving pictures off the device
Your images are stored in internal memory or on an optional MicroSD card. Since you can view images on the device using the Gallery app, or edit them via the Photo Wizard software, it might be a while before you actually want to copy photos to your computer.
Once you're ready, however, you might be surprised that the GC110 doesn't show up as a camera when connected to iPhoto, Aperture, or Lightroom. At least not by default.
That's because it has two USB modes: MTP, which is as a Media Device, and PTP as a camera. MTP is the default USB communication mode that connects the device to Samsung's Kies software for Mac and Windows. Once the connection is made, Kies handles photos, music, videos, and general settings for the GC110 in much the same manner that iTunes manages an iPhone.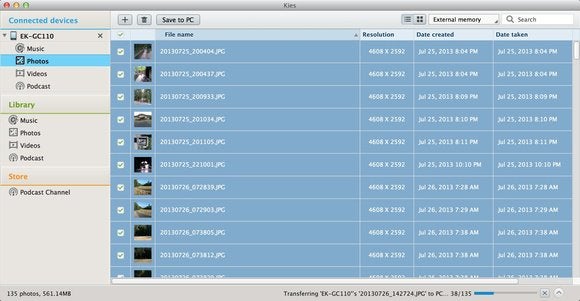 Finally, you could use a card reader to pull images off the MicroSD card, but that won't help you with images that are saved to the camera's internal memory.
All in one or all in none?
The Samsung Galaxy GC110 is an ambitious product. The camera takes good pictures—with a few nits concerning white balance and focusing—and has an amazing optical zoom. The LCD is beautiful, especially when using the GC110 as an Android device. But in bright light, it's hard to compose photos. And the touchscreen-only approach still isn't as convenient as well-placed buttons and dials. As a camera, it's definitely more urban than country.
I think those who come to love the GC110 will think of it as a multifunctional Android device first and an everyday camera second. It's most useful when Wi-Fi is within reach. If you don't want to tote an iPad or Android tablet, but you want the pretty screen and software capabilities, the Galaxy is a good choice. And when you do need to take pictures, you'll have a 16-megapixel sensor, 21X optical zoom, and plenty of bells and whistles to help you capture the moment.