The Primetime Emmy Awards ceremony isn't until September 22, but nominations came out a couple of weeks back, and it was a big year for streaming TV. Besides the usual suspects (Mad Men, The Big Bang Theory, pretty much everything HBO makes), the nominees list included Netflix original House of Cards, a nod to Jason Bateman for his work on the straight-to-Netflix Arrested Development revival, and even some of our favorite Web-based series. But the biggest news is that the best show on TV right now is coming back for its final eight white-knuckle episodes (dripping with tension, brutality, and Emmy nominations alike), and you still have time to catch up before the carnage continues.
Breaking Bad
★★★★★
Netflix, seasons 1 through 5 now streaming
Breaking Bad comes back on Sunday. This very Sunday. Of course, you probably already knew that, and if not, you obviously don't watch the show, because if you did, you'd know that Breaking Bad is a Really Big Deal, and this half-season we're about to see comprises the final eight episodes of the series, the end to one of the greatest stories ever told on basic cable—and a story that really can't have anything approaching a happy ending.
If you need to catch up before the Periodic Table-enhanced opening credits roll once again, the first half of the final season just hit Netflix. Three of its eight episodes were nominated for Emmys—"Dead Freight" and the chilling "Say My Name" for writing awards, and the half-season finale "Gliding Over All" for outstanding direction. Bryan Cranston, Jonathan Banks, Aaron Paul, and Anna Gunn are all up for acting awards, and of course it's nominated for Outstanding Drama Series. If you haven't seen any Breaking Bad, it's worth it to start at season 1, and watch Walter White's long, strange fall from cancer-stricken science teacher to murderous meth kingpin from the very beginning—I'm actually jealous of you for getting to witness it for the first time.
Top of the Lake
★★★★★
Netflix, entire miniseries now streaming
Elisabeth Moss is up for two Emmys this year—one for playing Peggy Olson, the best character on Mad Men, and another for her starring role in Top of the Lake, a seven-episode miniseries that played on the Sundance Channel and BBC Two in the UK. Moss plays Robin Griffin, a detective specializing in sexual assault cases who's called to a small New Zealand village after a young girl—12 years old and five months pregnant—tries to drown herself in the lake. Between the girl's despicable father, the New Age seekers squatting on their land in empty trailers, and reminders of Robin's own past traumas, this crime drama has plenty of haunting twists and turns.
Top of the Lake was the first-ever miniseries screened in its entirely at the Sundance festival—seven hours broken up by a lunch break and one intermission—but if it takes you more than a day to watch the whole thing, that's okay. Although it's so riveting that I can't blame you if you binge-watch it all the way through. The show got five Emmy nods, for outstanding miniseries, plus miniseries writing and direction, and acting awards for Elisabeth Moss and Peter Mullan.
30 Rock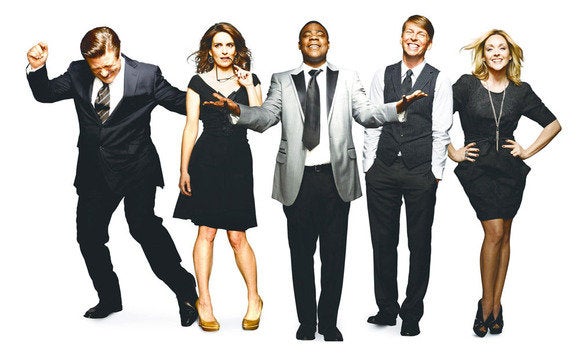 ★★★★
Seasons 1-6 streaming on Netflix, Season 7 partially streaming on Hulu Plus
The final season of one of TV's funniest sitcoms racked up nine Emmy nominations, from Outstanding Comedy Series to acting nods to Alec Baldwin, Tina Fey, Jane Krakowski, Will Forte, and Elaine Stritch. (Jack McBrayer, you was robbed!) The two-part finale episode was nominated for writing and directing awards, and it's streaming on Hulu along with four other episodes from the final season. (Just five? C'mon, Hulu. Blergh!) Luckily, you can turn to Netflix to get your fill of the first six seasons. You're sure to guffaw at some one-liners you missed the first time around—keep a list of all the messages on Frank's hats or something. (Oh, wait. Someone already did.)
And 30 Rock wasn't the only beloved comedy that exited stage right this year—the final episode of The Office is also up for an Emmy for outstanding writing, and it's streaming on Hulu for free.
American Horror Story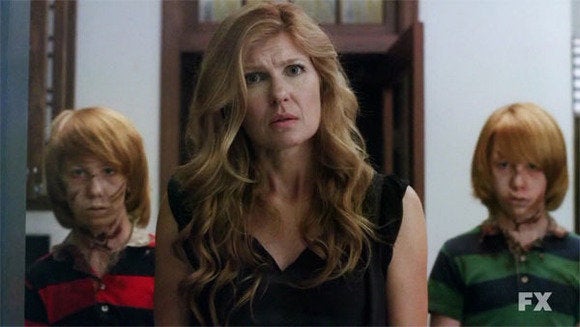 ★★★★
Netflix, first season now streaming
The best part about a horror movie isn't always the bloody climax, but the creepy build-up when nothing much is happening but the tension just keeps building. So American Horror Story's idea to make every season a self-contained miniseries works great—it's basically a 12-hour horror movie that keeps getting better and better.
Season 1, from 2011, is streaming on Netflix. It did pretty well at last year's Emmys, getting five nominations and earning Jessica Lange a trophy for Oustanding Supporting Actress in a Miniseries or Movie. Season 2, the 1964 story line Asylum, racked up five Emmy nods for this year: Outstanding Miniseries or Movie and four acting awards, including Jessica Lange up for a repeat win. Unfortunately, it isn't streaming on any of the subscription services or on FX's website, but Asylum is available for purchase on both iTunes and Amazon for $22 in SD and $32 in HD.
Modern Family
★★★★
Hulu Plus, season 4 now streaming
Modern Family kind of bummed me out in season 3 when they swapped Original Recipe Lily, of the sweet cherubic face and constantly deadpan stare, for New Coke Lily, a cute and precocious little girl who jumped ahead a few years thanks to TV's pesky Rapid Aging Syndrome. But this season, Gloria and Jay's brand-new baby brought some of that cuteness back, and the comedy remains as sharp as ever.
As usual, the ensemble cast cleaned up in the Emmy nominations, with acting nods for Jesse Tyler Ferguson, Ed O'Neill, Ty Burrell, Sofia Vergara, Julie Bowen, and Nathan Lane (Eric Stonestreet, you was robbed!), as well as a directing nomination for the episode "Arrested" and a chance to win Outstanding Comedy Series for the fourth time in a row.
Special shout-out to the "special" class
I'm not trying to be cute here—the Emmys really do have a special class, not only for actual specials like the Olympic Games opening ceremony and the Golden Globe Awards, but also to recognize cool Web series that you shouldn't miss. The nominees for Outstanding Special Class Short-Format Live-Action Entertainment Programs include a couple of hilarious must-watch shows: Between Two Ferns and Childrens Hospital. And Jerry Seinfeld's brilliant interview series Comedians in Cars Getting Coffee, nominated for Outstanding Special Class Short-Format Nonfiction Program, is available to stream free on YouTube and Crackle (along with a handful of Seinfeld episodes, which I just joyfully discovered).