The New York-based start-up Aereo continues its conquest of television airwaves in the United States, announcing three more regional debuts for September. In addition to a previously planned rollout to Chicago on September 13, Aereo will debut in Miami on September 2, the Houston metropolitan area on September 16, and the Dallas-Fort Worth region on September 23.
After launching in New York City in 2012, Aereo went live in Atlanta and Boston earlier in 2013, and will be available across the state of Utah starting August 19. With the newest additions, Aereo will be available in eight markets across the U.S. by the end of September, covering around 60 million people.
For $8 a month, Aereo offers a tiny antenna stored in one of its data centers that can grab local television broadcasts to watch live online. You can also use Aereo to record up to 20 hours of content on its DVR service for later viewing. Add an extra $4 a month and you can get a total of 60 hours of DVR recording time.
Aereo pushes ahead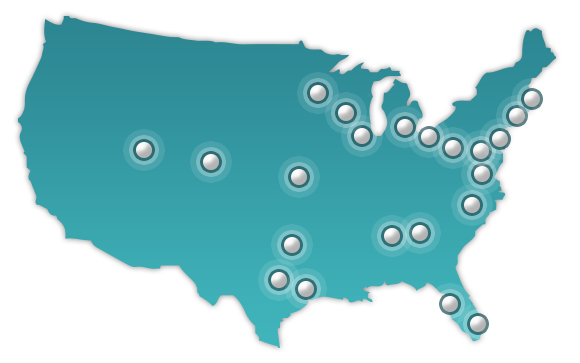 There should be more markets to come before we get to the end of 2013. Aereo announced in January that it planned to expand its service to another 22 markets in the U.S. before the calendar turned over to 2014.
In July, an Aereo spokesperson told TechHive the company was still on track to finish its 22-market roll out before the end of the year. Cities slated to get Aereo this year include Austin, Baltimore, Birmingham, Cleveland, Dallas, Denver, Detroit, Kansas City, Minneapolis, Philadelphia, Pittsburgh, Providence, Raleigh-Durham, Tampa, and Washington DC.
Litigious target and corporate pawn
You may have noticed that Aereo's expansion plans don't include any regions further west than the service's Utah debut later in August. The reason for the company's reluctance to go west is most likely tied to a December ruling by the United States Court of Appeals for the Ninth Circuit.
At that time, the court granted an injunction against an Aereo copycat named Aereokiller that forbid the company to offer services in any territory covered by the Ninth Circuit, including Alaska, Arizona, California, Hawaii, Idaho, Montana, Nevada, Oregon, and Washington State.
Aereo is also being used as a political tool in Time Warner Cable's continuing feud with CBS over retransmission fees. In mid-July, Time Warner said that if the two companies couldn't come to an agreement the cable provider would tell its New York City customers looking for CBS content to subscribe to Aereo, according to The New York Times .
Urging users to subscribe to Aereo is guaranteed to irk CBS Corp. as the content creator is one of several major broadcasters suing Aereo over its services. But Aereo is also a threat to cable providers like Time Warner since Aereo's service is significantly cheaper than its larger rivals.
Of course, with Aereo you only get channels that can be grabbed from the airwaves with an antenna. But combine Aereo with a Netflix streaming subscription, add Hulu Plus for good measure, throw in a few movie rentals from Amazon or iTunes and you're still paying less than $50 every month for a wide range of content—all available via the Internet.
With so many cheaper options Time Warner is loath to overpay for the rights to broadcast CBS content and then push those higher costs onto its customers.
By playing the pawn in the Time Warner-CBS contest, Aereo is already changing the dynamics of America's broadcast television business. But whether Aereo continues to disrupt in the long term depends on its ability to survive the legal challenges from broadcast networks that are sure to mount as Aereo expands across the U.S.