Every amateur shutterbug knows Shutterfly. That's the place where you send away for prints from your digital camera—not to mention order a legion of photo-based novelties, from mugs to fleece blankets to photo books. But none of those items could talk. Now, a new iPad app called Shutterfly Photo Story lets you use your tablet to create both online and hard-copy photo books, complete with your own audio narration.
The Shutterfly app is so easy to use that I created several photo books in an afternoon without even a glance at the documentation. Just follow the prompts, and produce a stylish photo book. The manual is there if you need it.
Of course, if you want a real book with actual pages to hold in your hands, you'll have to wait, though not for long. Photo Story hard-copy books come in three sizes and three cover types (soft, hard, and padded), and Shutterfly can deliver them in a day—for a price.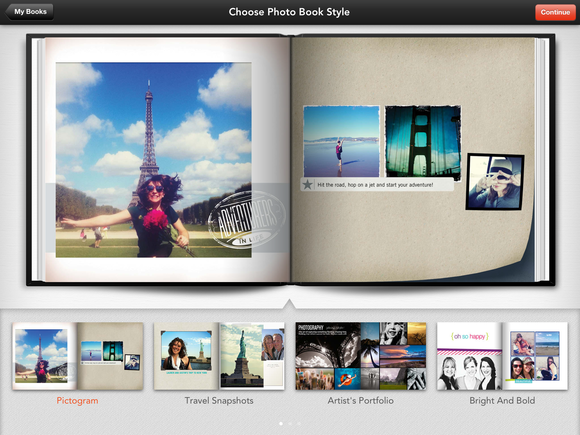 Decide and conquer
Shutterfly Photo Story uses images stored on your iPad to compose your book. The opening screen has settings and help icons that walk you through the process.
In the Create panel, you make major design decisions about what the book will look like, starting with its theme (Shutterfly Photo Story offers ten major themes). Your next choice involves the size of the book: If you order a hard copy, its size determines its price. Both the size and theme are immutable—once you choose, you can't change your mind without starting over.
A small (8-by-8-inch) book is priced at $30, a midsize (8-by-11-inch) book is $40, and an oversize (12-by-12-inch) book is $60. Each book contains 20 pages by default. The two smaller books let you add pages for $1 each, and extra pages for the oversize book cost $1.50 each. The larger the book, the greater the number of artistic choices you get with regard to page color, page layout, and background. In addition, each theme offers contextual layout and design options.
You can include up to 500 photos in your book, derived from social networks like Facebook, Instagram, or Shutterfly (natch). You can also use photos residing on your iPad or import photos from your hard drive via iTunes. If you're already a Shutterfly member, you can access all of your previous albums and projects by logging in.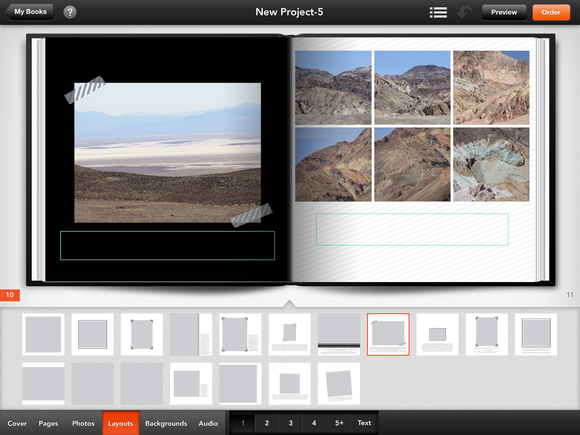 Get the party started
After navigating to the photos you want to use, you can choose specific images to include, or import an entire album into the program and pick from there. For a printed book, it helps to do your prep work beforehand to choose and edit the best images from your batch.
The Edit menu gives you some choices on how to populate your pages, and a way to add pages and audio to your book. A handy Autofill feature automates the process, and can be very convenient if you took photos in sequence and want to show certain scenes together. I was impressed with the automated results from the 100 photos I chose from my Death Valley shoot. If you place the whole batch, Shutterfly will automatically look for duplicates and similar images and refrain from adding them.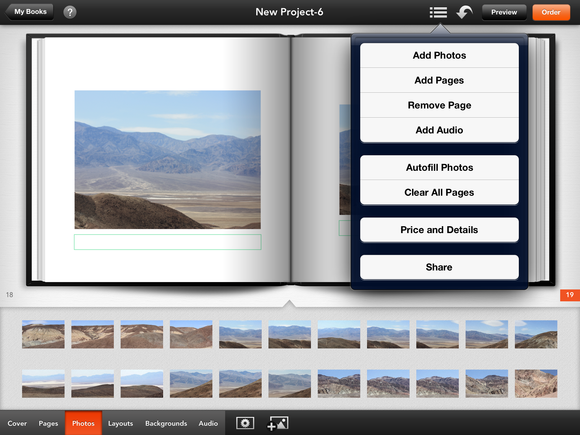 A blank book displays a menu at the bottom of the screen and lets you choose photos, layouts, backgrounds, or audio.
Drag your image to the open slot to position it, and then tap for more options. The first option lets you add special effects such as Sepia, B&W, Vibrant, Vintage, and Sunshine. You also get a Loupe and a rotate function. The Rotate button doesn't automatically rotate but conveniently lets you use a slider to straighten the image. You can also resize the image in the window and reposition it. When it looks the way you want it to, tap Apply and then the Done button. There's no obvious Save button, but the program automatically saves every few seconds.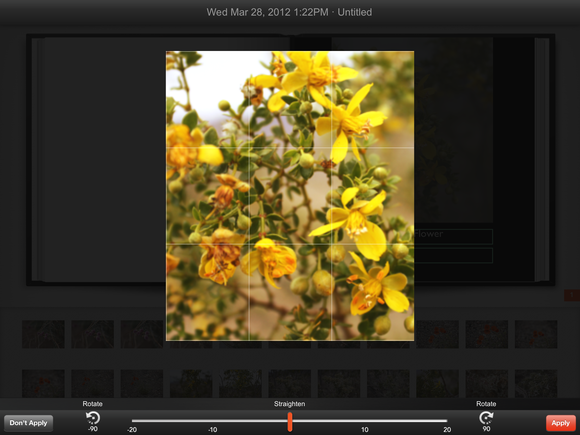 Text and audio
You add text directly within the layout's text fields. As you tap a text field, the menu drops down to reveal a choice of fonts, which you can change the color and size of. The program doesn't remember your last choice, but rather reverts to its own default so that you can vary the fonts among pages. A speech-to-text function enables you to add text to the pages.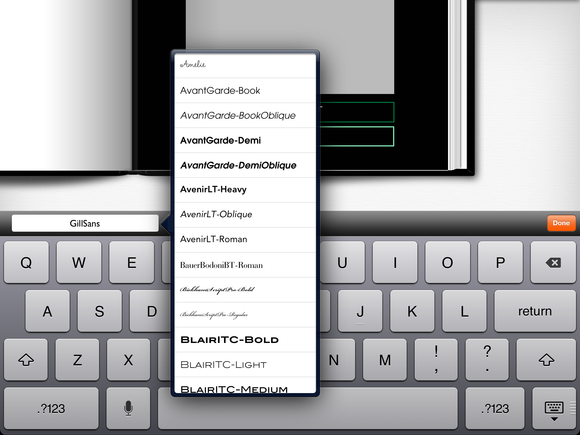 This is where Photo Story differentiates itself from other photo book services: You can record a 30-second clip of narrative for each page of your book. Recordings play back in the app, online, or via a QR code embedded in the printed book. To pick up the audio from print, readers need only download a QR code reader on their mobile device to scan the code. (Your reader doesn't have such a device? Well, it's a picture book after all.)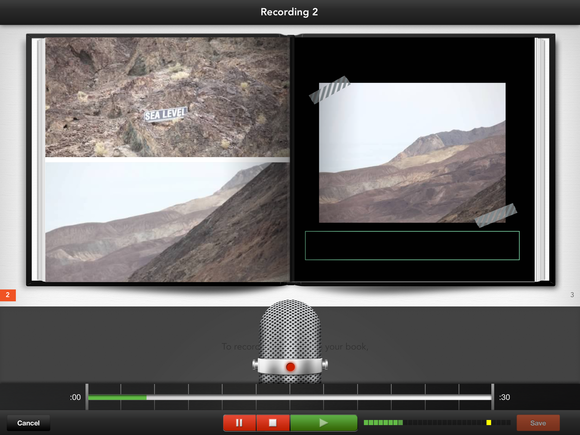 Pricing and shipping
My book of 100 images cost $85.48; and with shipping and handling, the total cost came out to $105.57, with standard delivery in 3 to 7 days for $12. Next-day delivery costs $30, which is expensive, but a great option to have if you ever need it.
As you start the order process, Shutterfly Photo Story lets you review your book for problems and points out any issues it sees, giving you the opportunity to go back and revise pages that need attention.
In addition to ordering hard-copy books, you can share your photo book via email or Facebook free of charge. Your viewers don't need to have the app to see your book. Shutterfly Photo Story works on the iPads from version 2 and with the iPad mini, and it runs on iOS 6.