Spotify's music discovery chops just got a big shot in the arm with the introduction of Browse, a playlist-focused listening tool.
If you want a detailed explanation of Browse, we took a deeper look at the feature when it first appeared to a limited set of users last week. Browse is basically a rebranded version of Tunigo, a music discovery app Spotify acquired in May.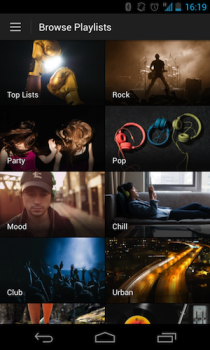 Browse, like Tunigo before it, offers a large collection of human-curated playlists for a wide range of genres, occasions, and moods. You can find playlists for daily routines such as cardio workouts, the day at the office, morning commutes, road trips, or an intimate evening at home.
There are playlists for moods—yes moods—such as angry, happy, melancholy, and relaxed. Browse even provides playlist selections to accompany current events such as Sunday's birthday celebration for President Obama or the recent revelation that Mumford & Sons wants to create its own brand of whisky. (Something designed to warm you up during those winter winds, no doubt.)
Browse also marks the return of a "What's New" section, which was sorely missed after it was removed from the desktop version of Spotify several weeks ago in favor of the new Discover feature.
Eventually, Browse will be available across all of Spotify's platforms, but for now it will be a mobile-only feature using the Android and iOS apps.
A Spotify representative confirmed to us that even though Browse first appeared on Spotify's Web-based player it won't be seeing a wide release on the Web until after the mobile rollout. It's unknown if users who were testing the feature will continue to see the new tool or if it will disappear in the coming days. We've asked Spotify to clarify this point and will update our story once the company responds.
Three-dimensional music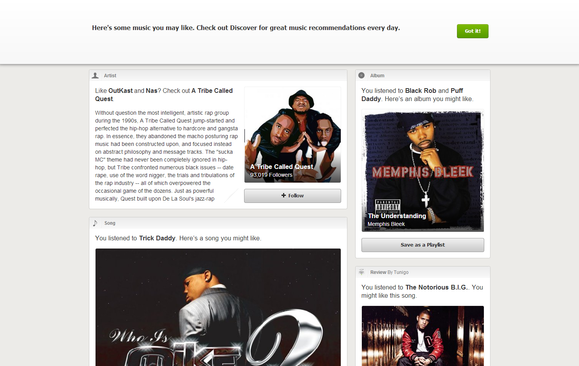 Spotify bills Browse as the final addition to the service's "three-dimensional approach to music discovery." The first "dimension" was Spotify's social features, first announced in late 2012, which included the ability to follow and get music listening updates from your friends and other Spotify users, as well as artists.
Then in May, Spotify rolled out the new Discover feature that is basically an infinite scroll of music recommendations based on your past listening habits. Discover also lets you quickly follow new artists and find out when your favorites would be performing in a venue near you.
"Our three-dimensional approach now combines the human touch with strong social features and unique technology from over five years of experience," Gustav Söderström, Spotify's product chief said in a statement.
The fact that Spotify offers three different ways to discover new music is a great boon to music fans who will inevitably have different preferences for how new music is surfaced. Some people love finding out what other people are listening to and then creating their own playlists from there. Personally, I like scrolling through the Discover feed to see which artists Spotify suggests would be a good fit for me. My editor, on the other hand, loves to use Tunigo (soon to be Browse), because it's great for finding new artists and well-curated playlists that remove at least some of the need to manually manage your music listening.
While the three-dimensional argument makes for good marketing, it also leaves out a fourth dimension of Spotify music discovery: apps. Spotify's app catalog is, after all, where the new Browse feature originally came from when it first appeared as Tunigo. But there are plenty more apps you can use to find great music and recordings, such as Billboard magazine's top charts, Rolling Stone recommendations, album reviews from The Guardian, and Spotify's own new comedy app .
No matter how many dimensions you're talking, Spotify pretty much has you covered when it comes to music discovery. (And for anyone who is missing the "What's New" section on Spotify's desktop player, which has yet to receive the Browse update, check out the Tunigo app, which features a new releases section.)