Yesterday, I introduced you to the Zero Home: The first single-family smart home to be certified as net-zero energy-efficient in Climate Zone 5, meaning that all the energy the home consumes is produced on site via renewable resources. Today, I'll take you on a deep dive into the systems and building practices that made this feat possible.
The 4300-square-foot Zero Home is the result of a partnership between Vivint (a fast-growing company best known for home-security and home-control systems) and Garbett Homes (a residential development company that builds between 400 and 600 homes per year). Both companies are based in Utah, and the Zero Home was built in the Salt Lake City suburb of Herriman.
The Zero Home defies the home-of-the-future stereotype of being too impractical for large-scale implementation: "This home is designed to be replicated on a mass basis," said Garbett Homes marketing director Rene Oehlerking. "It costs about $150 per square foot to build a home like this—the same amount it costs our competitors to build conventional homes."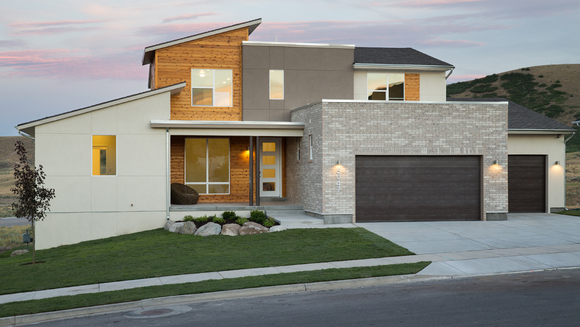 Climate Zone 5 consists of regions of the country that experience warm summers and cold winters. That includes Utah, where the home is located and where both Vivint and Garbett Homes are headquartered. The Zero Home has also earned a HERS rating of zero. (The acronym stands for Home Efficiency Rating System, which is an index for measuring a home's energy efficiency. Think of it as an MPG rating for houses—but with this index, the lower the number, the better the rating.)
Construction basics
While giving me a tour of the Zero Home on Tuesday, Oehlerking explained that the first step to building a supremely energy-efficient home is to use unconventional framing techniques. Whereas the building code requires at least 2×4 studs for the home's frame, Garbett used larger 2×6 lumber. This design provides more room for insulation between the exterior and interior walls. But since studs act as conduits that draw warm air into the house during the summer, and cold air into the house during the winter, Garbett engineered the house to be framed on 24-inch centers (meaning the center of each stud is 24 inches apart) instead of the more conventional 16-inch centers.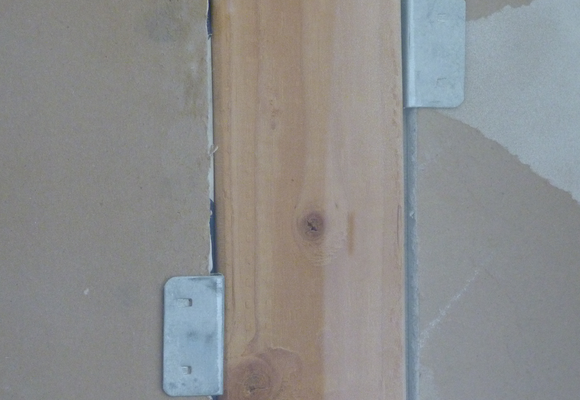 And although the typical house is framed with additional studs in its corners, Oehlerking explained that these studs don't serve any structural purpose—they exist only to provide anchor points for the interior drywall. So to the corner studs, Garbett attaches clips that serve as backing for the drywall. Using fewer studs for the framing not only reduces the number of places where unwanted temperature transfers occur, but also reduces the cost to build the house.
Once the framing was complete, the builders wrapped the exterior of the house in DuPont Tyvek—a water-resistant but breathable material—to provide a moisture/vapor barrier. That's a typical construction practice, but Garbett further insulated the Zero Home by applying a bead of Dow EnergyComplete sealant at every point in the framing where wood touched wood, forming an air- and moisture-proof gasket.
Next the crew sprayed foam insulation on the interior side of the exterior walls, and then blew in fiber insulation. Oehlerking said this technique is superior to using bats of insulation, because bats succumb to gravity over time and fall down inside the walls.

I know that glass is a poor insulator, so I was surprised by the number of large windows in the Zero Home. I had expected the house to be relatively dark inside, but it was delightfully bright, even in the basement. Oehlerking explained that all of the windows are dual-pane, with a layer of argon gas between the layers of glass. That said, I noticed that most of the windows couldn't open. After hearing how airtight the home was, I asked how the homeowner would get fresh air into the house. Turns out I gave Oehlerking the perfect transition to explain the Zero Home's heating and air-conditioning system.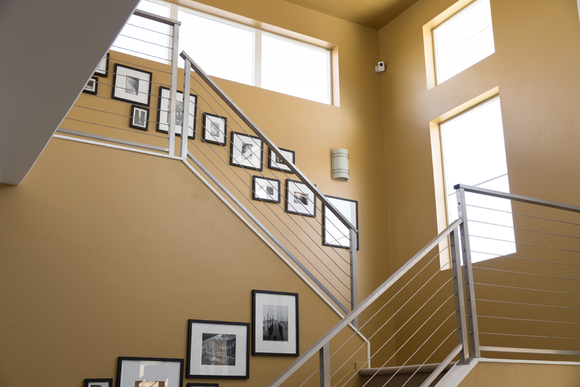 The HVAC and water-heating systems
The Zero Home is equipped with a furnace and an air conditioner that are both 95 percent efficient. This means 95 percent of the energy the systems consume is converted into warm or cool air. Despite that very high efficiency, Oehlerking said the furnace and air conditioner will operate on standby most of the time, with each system needed for just a few days of extreme temperatures each season.
The device that conditions the air the rest of the time is known as an energy recovery ventilator. The ERV combines a heat exchanger with a ventilation system that continuously replaces the air inside the house with air from outside the house, removing the need to open windows to let in fresh air.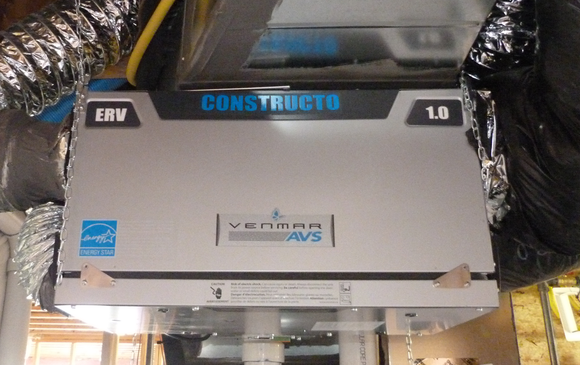 During this process, energy transfers from the outgoing air to the incoming air, cooling it in the summer (when the air inside the home is cooler than the air outside) and warming it during the winter (when the interior air is warmer than the air outside). HEPA filters continuously scrub the air to remove pollen and other airborne contaminants. "The air inside the Zero Home is as clean as it would be in a hospital operating room," Oehlerking boasted.
Conventional water heaters are one of biggest energy wasters in the typical home. They keep 40 to 50 gallons of water piping hot 24/7, even though you might need hot water only in the mornings and evenings to bathe and to wash the dishes. The Zero Home uses the sun's energy to heat 40 gallons of water to 86 degrees by circulating it through a pair of solar panels mounted to the home's roof.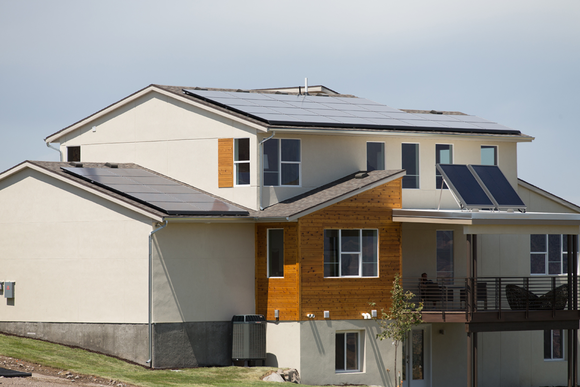 When you want hot water to take a shower or to wash your clothes or dishes, this prewarmed water is pumped from a 40-gallon tank into tankless water heaters, which use natural gas to boost the water to 104 degrees as it passes through on its way to the spigot. So the on-demand water heater consumes energy only when it's actively heating the water you need.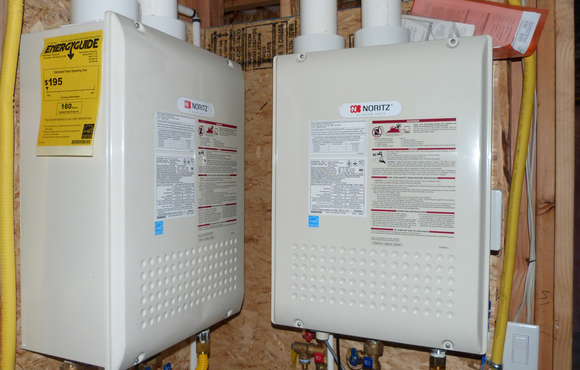 Next page: The photo-voltaic system
The photo-voltaic system
"A net-zero home can have a HERS rating as high as 20," Oehlerking explained. "To get to a zero HERS rating, we turn to renewables." That's where Vivint enters the picture. Vivint Solar mounted 40 solar panels to the Zero Home's roof to provide 10 kilowatts of electrical power. Although Vivint Solar currently has a presence in only six states, it has become the second-largest solar-panel provider in the country thanks in part to its business model.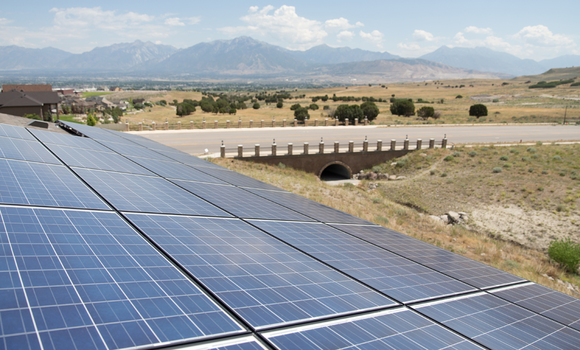 Rather than selling solar panels to homeowners at an up-front cost of $30,000 to $40,000, Vivint Solar secures an easement to the homeowner's roof, installs the panels at no cost, and retains ownership of the panels. In exchange, the homeowner agrees to purchase from Vivint all the electricity that the panels generate, at a cost that's about 20 percent lower than what the local public utility would charge.
The home remains tied to the grid, so the homeowner can purchase additional power from the public utility, if necessary. By the same token, Vivint sells any excess power to the utility. You can read more about solar-power purchase agreements on the EPA's website. (Interestingly enough, the state of Utah does not allow such arrangements, so I assume that Vivint is selling the power from the solar panels mounted on the Zero Home to the local public utility, and that the homeowner would then buy the power from the utility.)
The home-control and security system
Vivint developed an all-new control panel sporting a 7-inch, capacitive touchscreen (with a native resolution of 800 by 480 pixels). In addition to providing security and lighting controls, the new panel features real-time energy analytics that inform the homeowner as to how much energy the home is producing and consuming.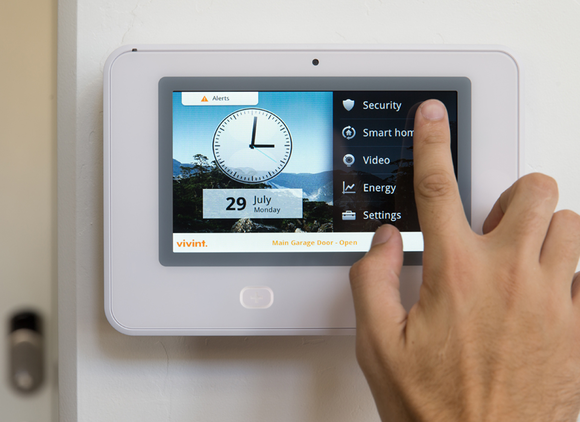 The self-contained panel is outfitted with a cellular radio for communicating with a central-office monitoring service, a Wi-Fi access point, a Z-Wave transceiver (for communicating with the lighting controls, entry locks, thermostat, and other Z-Wave devices), a video camera, and an optional 1TB hard drive. The hard drive serves to store up to 120 days of recorded video (30 days for each of the four additional security cameras). Rather than record video clips in response to triggers, such as a motion detector going off or a door or window opening, the system records video continuously.
In addition to its real-time display, Vivint's control panel will send the homeowner alerts on how much energy is being consumed at any point in time. "The system closes the loop on consumption," said Vivint's vice president of innovation, Jeremy Warren. "It will generate messages such as 'You're using X percent more energy than you did last year at this time.' Or 'You're probably wasting $10 per month to heat your home. Hit this button, and we'll fix it for you.' The industry pats itself on the back for creating remote controls. We think it's important to move beyond that. We want to give the homeowner information in an actionable format."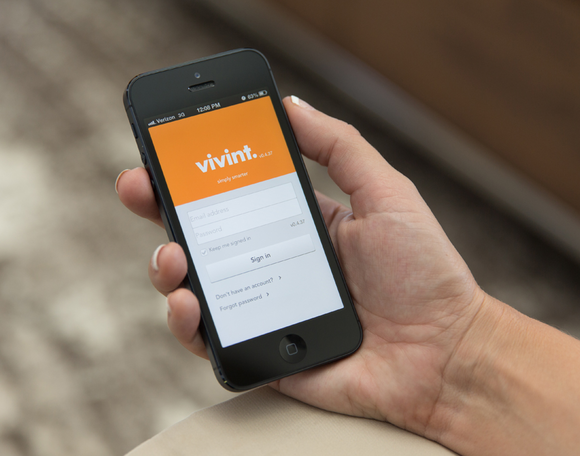 Vivint's system is currently based on rules, according to Warren. It operates on "if this, do that" logic. "In the near future," Warren said, "we'll have features such as pattern recognition, facial recognition, and geolocation capabilities. If you leave home without arming the system, and you travel far or are away for a long time, the system sends a message to your smartphone, prompting you to arm it. When you come home to an armed system, you'll need only to stand in front of the control panel to disarm it, because the camera will recognize your face."
The home-control elements in Vivint's system remain relatively basic. The Zero Home has Z-Wave lighting controls and entry locks, for instance, but it doesn't have scene controllers that can manage the lighting in multiple zones, and it's not tied into the home's A/V system at all. When I asked Warren whether these enhancements were also in the works, he demurred.
"We're not trying to sell just to the top 5 percent or just the early adopters," he said. "We're not going after a niche market. Our objective is to save you money. We can do some things for you, or nudge you to take action that will save you money, but you don't have to do it all yourself."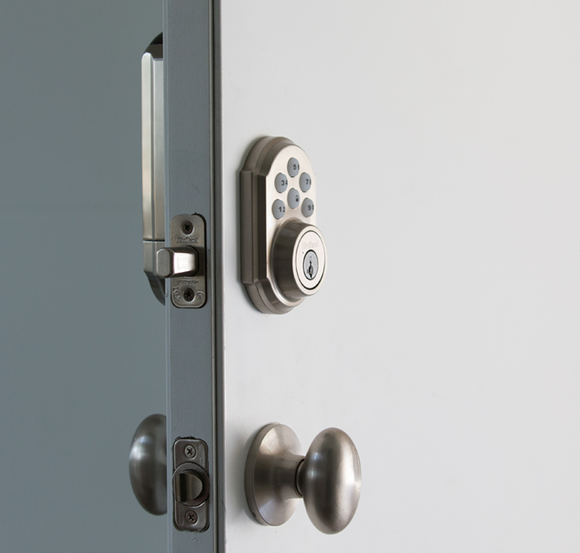 Warren also pointed out that although Vivint's system isn't as sophisticated as what manufacturers such as Control4 and Crestron install in million-dollar celebrity homes, it does provide basic lighting control, door and window sensors, security cameras, and entry locks. And now it can inform homeowners as to how much energy they're consuming.
"Lighting controls aren't a great value proposition from an energy-savings angle," Warren said. "You'll save more money by replacing your incandescent bulbs with fluorescents, and we do provide those with our installations. We will get there [with more-advanced lighting controls], and it will be in the model homes that we develop. But when we install systems in existing homes, we'll generally rely on Z-Wave plug-in devices, because they don't require our technicians to be licensed electricians."
Garbett Homes' Rene Oehlerking echoed Warren's thinking. "In our mind," he said, "Vivint is an energy company. They understand energy management and how to communicate that information to consumers. With Vivint's system, the consumer can see in real time how much energy they're consuming, and they can change their behavior accordingly. This element of information technology has been missing for a long time."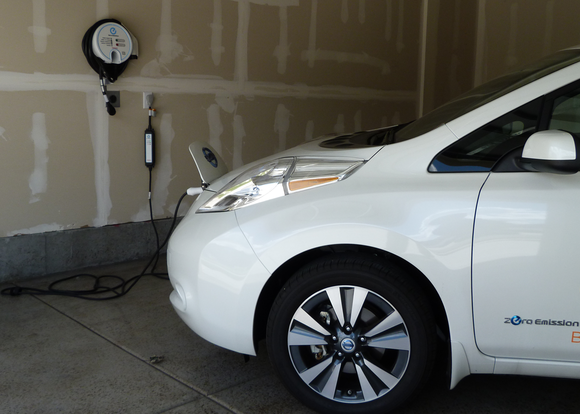 Would you buy a Zero Home?
Vivint and Garbett Homes have proven that it's possible to build a home that generates as much energy as it consumes, even in a climate with warm summers and cold winters. They've also demonstrated that a supremely energy-efficient home needn't cost a fortune, look boring, or have the interior vibe of a cave. So, would you park your electric car in this home's garage? (Yes, it does have a charging station).
Note: When you purchase something after clicking links in our articles, we may earn a small commission. Read our affiliate link policy for more details.