The problem with the proverbial Home of the Future is that it's usually just that: A dreamy concept that we'll all live in some day, but that's just too expensive and, well, conceptual to be practical today.
But on Thursday, Vivint, one of the biggest names in home automation systems, and Garbett Homes, a Salt Lake City-based property developer with more than 3,500 homes to its credit, unveiled a new smart home that boasts an energy rating of net zero.
Dubbed the Zero Home, this house is so efficient that all the energy it needs is produced on site using renewable sources. This is no mere concept. The Zero Home is finished and will be on the market soon—complete with a charging station in its garage for your electric car. The kicker is that this house didn't cost a penny more to build than a conventional home would have.
"Utah is not a tree hugger state," said Garbett Homes marketing director Rene Oehlerking. "Everyone wants to go green, but no one wants to pay to go green. We're a small builder, but we're not a custom builder. Our business model is to build production homes."
The Zero Home is certainly no shack: It's a split-level, single-family home with five bedrooms, 3.5 bathrooms, and a four-car garage. It's expected to sell for around $400,000, a price the companies describe as within the reach of an upper middle-class family.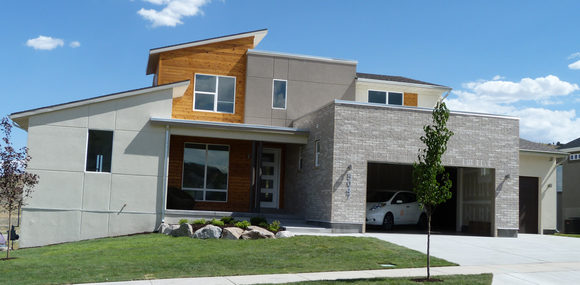 Buyers won't need to take Garbett Homes' or Vivint's word for the home's energy efficiency: It's been independently certified by the International Code Council. The organization publishes a building code known as the International Energy Conservation Code (IECC), which divides the United States into eight climate zones.
Utah (where the home is located) and several other states that experience warm summers and cold winters are classified as Climate Zone 5. The Zero Home is the first to be certified as net zero in Climate Zone 5. The home has also earned a HERS rating of zero. (The acronym stands for Home Efficiency Rating System, which is an index for measuring a home's energy efficiency. Think of it as an MPG rating for houses, but with this index, the lower the number, the better the rating.)
Most homes in Climate Zone 5 rely on a furnace for heating in the winter, and an air conditioner for cooling in the summer. According to Vivint and Garbett, the typical utility bill for a home in Herriman, Utah, where the Zero Home is built, is about $300 per month. The Zero Home does have a furnace and air conditioner, but because the house is so energy efficient, those systems are expected to be needed only three to five days each year. The rest of the time they'll operate in standby mode, leaving the homeowner with a monthly utility bill near zero.
The Zero Home has also been designated a U.S. Department of Energy Challenge Home, an EPA Indoor Air Plus Home, and an EPA Energy Star home. Its energy-efficiency and indoor air-quality gains spring from a combination of new construction materials, improved building practices, and high-tech infrastructure components: roof-mounted solar panels, tankless water heaters, a new type of HVAC (heating, ventilation, and air conditioning) system, and a host of Energy Star appliances.
As the builder, Garbett Homes contributed the design and construction expertise. Vivint's contributions include the 40 solar panels that generate the 10 kilowatts of electrical power the home needs. The home also features the home security and control system that Vivint is best known for today. Vivint has designed an all-new touchscreen control panel that includes real-time energy analytics. The homeowner will be able to see just how much energy the house is generating and consuming at any moment in time. Vivint also deployed a new 50-mbps wireless Internet service that the company is developing.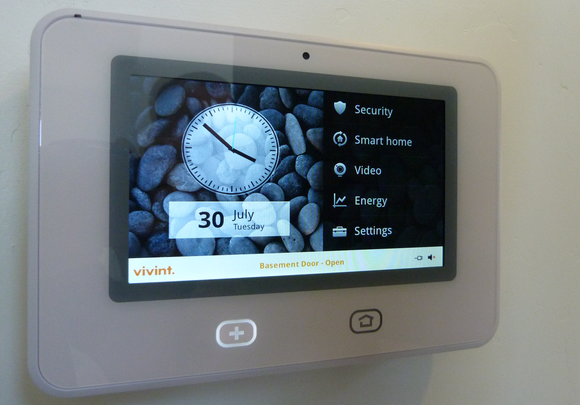 The home-control system delivers more than security and convenience. Since the thermostat is tied into the security system, for instance, sensors on the doors and windows can send the homeowner a text message if they've been left open while the heater or air conditioner is running, allowing the conditioned air to escape. "By integrating lots of sensors," said Vivint's VP of innovation, Jeremy Warren, "the system can automatically make decisions for you—or at least nudge you into making decisions. Everyone [in the home-control industry] is patting themselves on the back for creating remote controls. We think it's important to move beyond that."
We only scratched the surface of what these companies have accomplished in Utah in this story. Read this follow-up for a much deeper dive into the Zero Home.