Staying in shape is difficult enough when you've got a routine down. So it's no wonder that when you travel—be it for business or pleasure—working out often becomes priority number 528, right below "getting up at 6 a.m."
But there are plenty of reasons to work out when you're on the road. Not only will you look and feel better, healthier, and more energetic, you won't have to worry about that dreaded return visit to the gym when you arrive home. You know, the one where you walk on the treadmill for approximately three minutes before you start gasping for air.
Working out on the go doesn't have to be difficult, however, and the recent boom of fitness tech devices has made it even easier. We've found some of the simplest gadgets, apps, and Web services to help you stay fit and on track, whether you're in the air, on the ground, or flitting from city to city.
Apps for the plane ride
In transit? That's no excuse! In fact, if you're traveling on a plane for several hours, you should definitely be moving around as much as possible to avoid deep vein thrombosis and generally achy muscles. If you're traveling by bus, boat, train, or car, well, it's still not a great idea to sit for extended periods of time.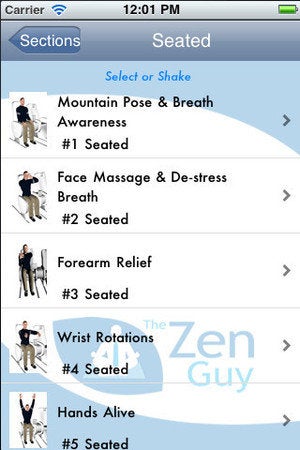 Sure, you can try to remind yourself to stand and stretch every few hours, or you can do some Airplane Yoga. This popular iOS app promises a "Zen-like" flying experience (for $4). It features 24 standing and sitting yoga poses that you can easily perform on a plane (either in your seat or standing in the aisle), complete with photos, text descriptions, audio cues, and videos. Airplane Yoga also has some neat extras, such as planning tips, packing lists, and a checklist of ways to "relax en route to the airport."
If you're traveling on a form of transportation where you have even less mobility than you do in an airplane seat provides—such as a bus or a car—you may want to check out aStretches instead. This $1 iOS app offers sitting stretches for specific body parts, with pictures, text descriptions, and background music for each stretch. aStretches includes targeted stretches for your neck, back, wrists, hands, hips, legs, ankles, shoulders, and elbows.
Tracking fitness around the world
It's pretty common to get a "walking workout" when you're traveling, especially if you're visiting a pedestrian-friendly city. It's also common to assume that, because you walked so much more than you usually do, you can now eat three desserts with every meal.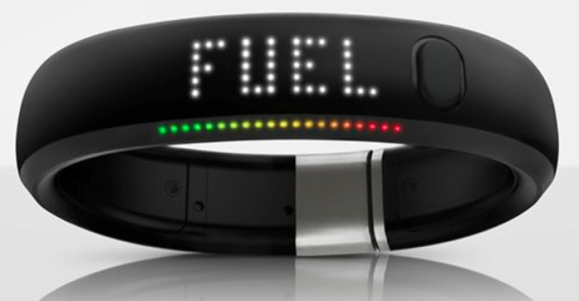 Not so fast. Just how many calories are you really burning when you're trekking through Manhattan or sightseeing in Paris? A smart pedometer, such as the $149 Nike FuelBand or the $130 Jawbone Up will be able to tell you.
The FuelBand and the Up are ideal fitness trackers for travelers, compared to less-expensive options such as the Fitbit Zip and the Omron Activity Tracker, for a couple of reasons. First, both the FuelBand and the Up are slim, rubberized bracelets—stylish enough to wear with any outfit (making them less likely to get lost or stolen as well). Also, both devices track sleep patterns, which can be helpful if you're also battling jet lag. The FuelBand has a slight advantage over the Up in that it has a built-in USB plug, which means you can log activity and charge the device without carrying around an extra cable.
If you'd rather not spend money on a smart pedometer, you can always go with a free pedometer app such as Activity Tracking by Striiv for iOS or Runtastic Pedometer for Android. These apps use your smartphone's built-in accelerometer to track steps and calories. They're not 100 percent accurate—they can't track elevation gain from trudging up hills or stairs, for example—but they're good enough to help you stay on track.
Personal training, wherever you are
Generally, I'm not a big fan of personal trainers, but I was surprisingly impressed with Wello, an online service that brings affordable personal training right into your home—or your hotel room, as the case may be.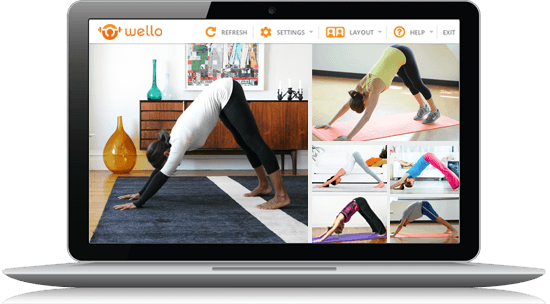 Wello starts at just $10 an hour for a group session (with five participants max) and $35 an hour for an individual session. What's awesome about Wello is that, because it's an online service, you can schedule a workout for any time (I managed to schedule one at 2 a.m. Pacific time when I reviewed the service) and for anywhere. The Wello trainers are also prepared to work with whatever space and equipment you've got, whether you want to work out in a fully loaded gym or a tiny patch of hotel room floor. All you need is a laptop with a webcam and an Internet connection.
Personal trainers aren't for everyone, but they can be helpful if you're finding it difficult to get motivated to work out when you're out of your element. My suggestion: Schedule a Wello session or two for the beginning of your trip, and then you'll have a custom-built workout tailored to your space.
Tablet yoga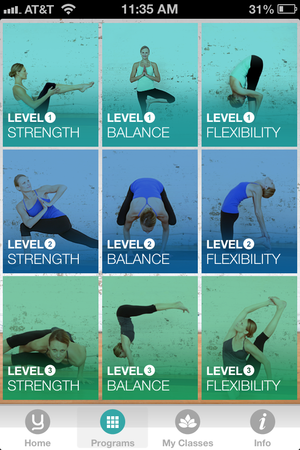 One of the greatest things about a yoga practice is that you can do it literally anywhere: on a mountain, on an airplane, on the floor of a hotel conference room, you name it. But if you're not a seasoned yogi, you might not know exactly what to do in order to get the best workout. If you want to take your yoga workout on the go, or start a practice, there's an app for that. Okay, there are hundreds of apps for that. But here are some of the best places to start.
For beginners, Simply Yoga is a simple $3 app for iOS and Android that walks you through timed workouts. In Simply Yoga, you can choose to do a 20-, 40-, or 60-minute workout, which is perfect for travelers with tight schedules. For more intermediate students, Yogify is a free iOS app that offers 35 hours of full yoga workouts. The first five workouts in Yogify are free; the rest cost $2 per session, $4 per level, or $10 for the entire collection. What's nice about Yogify is that the sessions are classified by category—strength, balance, and flexibility—so you can tailor your workout to your weaknesses.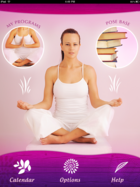 For more advanced yoga practitioners, All-in Yoga is an excellent choice. This $4 app has everything including full workouts, a pose library with over 300 poses, and a calendar for tracking your workouts. All-in Yoga doesn't hold your hand as much as the aforementioned apps, so it's better for people who are looking to build their own workouts on the go.
Work out anywhere
Sometimes, you just need a gym—I get it. For those days when you just can't motivate yourself to do a prison-style workout in your cramped hotel room, you'll need to venture out into whatever city you're in and find a dedicated workout space.
Gym Finder is a free iOS app that helps you locate nearby gyms and health clubs. The app uses Google location data to help you find chain gyms (such as 24 Hour Fitness, Gold's Gym, and Curves), as well as Pilates studios, yoga studios, and swim and racquet clubs. For Android users, the free Health Club Finder app helps you find gyms, fitness centers, and yoga studios around the globe.
If you're looking for something a little more tailored, you might want to download Lululemon's free Om Finder app, which helps you locate yoga studios and look up class schedules. Runners, joggers, and cyclists can use an app such as Map My Run (free for iOS and Android) or WalkJogRun ($4 for iOS) to find jogging trails favored by the locals. Windows Phone users should check out free options in Run the Map or RunBuddy.
If you're in a relatively large city and you want a cheap workout option, never underestimate the power of a local deals site, such as Groupon or LivingSocial. These types of sites usually have great introductory fitness deals, such as a week's (or a month's) worth of yoga, CrossFit, Zumba, Pilates, or boot camp classes for up to 90 percent off—plus you can check out more-fun, less-traditional workout options like kayaking, surfing, or rock climbing. Sure, these deal sites are designed to bring in locals who will inevitably get hooked, but they're also perfect for visitors looking to get some exercise while enjoying vacation time.