Google's new Chromecast device wants to make it dead-simple to play Internet video on your TV, using a huge range of phones, tablets, and laptops as your controller.
The experience is like using AirPlay to beam content from an iOS device to an Apple TV. Tap the Chromecast button on your phone or tablet, and poof—the video starts playing on your TV. But unlike AirPlay, Chromecast isn't streaming the content from your device itself, but rather straight from the Internet, at the highest resolution available. That means you can still use your device to multitask without interrupting the video. In fact, it works like the Plair, only more reliably and for less money.
These are early days for the Chromecast, and not all of its features worked quite as effortlessly in our office as they did for Google in the company's Wednesday demo. But considering the impulse-buy price of $35, Chromecast is still a worthy purchase—especially since it includes three months of Netflix streaming, a $24 value. [Update: On Thursday, just one day after announcing this limited-time promotion, Google has pulled the plug on it, citing "overwhelming demand."]
Simple setup
The Chromecast is a small HDMI dongle that plugs into any available HDMI port on your HDTV. But because HDMI doesn't provide any power, the Chromecast needs constant power from a USB port as well. That can be a USB port on your TV if it has one. If no port is available, you'll need to connect the included USB cable to the bundled power adapter and find a place to plug it in.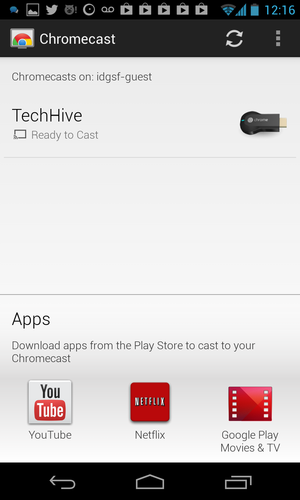 After you've inserted and powered the dongle, Chromecast directs you to visit a URL on an approved device to finish setup. But when I fired up the Chrome browser on an iPhone 5 to do just that, I was greeted by an error message directing me to use an Android phone, or the Chrome browser on a Mac or Windows laptop. So, while you can use iOS devices to control your Chromecast, your initial setup requires other hardware.
I tried again from a Nexus 4 running Android 4.2, and the URL directed me to grab the Chromecast app on the Play Store. That app automatically detected the Chromecast device and let me name it and add it to my Wi-Fi network. So far, so good. Now the Chromecast was viewable by my iPhone and Mac as well as my Android phone and tablet.
Uh-oh, it's (not) magic
Google's demo started with the TV off, and when product manager Rishi Chandra sent a video to Chromecast by tapping the friendly Chromecast button in the YouTube app for Android, the TV obediently flicked to life. "Chromecast is turning on my TV, switching it to the right input, and now playing YouTube in HD on the TV," he boasted, but that trick didn't work at the TechHive office.
I thought maybe this was because I had plugged Chromecast into the TV's USB port, and it wasn't getting power with the TV off. Not so, apparently. When I plugged Chromecast's power adapter into the wall instead, the TV-on trick still didn't work. The YouTube app for Android saw the Chromecast and let me cast to it, but I had to turn the TV on myself (like a caveman!) and select the proper input to see the already playing video.
While a video is playing, you control it with your device the same way you would if it was playing on that device—meaning, I could mash the volume buttons on my Android phone and see a volume indicator on my TV. If you max out that volume slider, you see a message telling you that if you still need it louder, you'll have to turn up your TV itself. So while you can control playback from your phone or tablet, plan on keeping your TV remote handy too.
What works
But aside from those niggles—and some intermittent crashing back to the "ready to cast" screen, which might be the result of an overcrowded Wi-Fi network here at the office, the other features in Google's demo worked as advertised.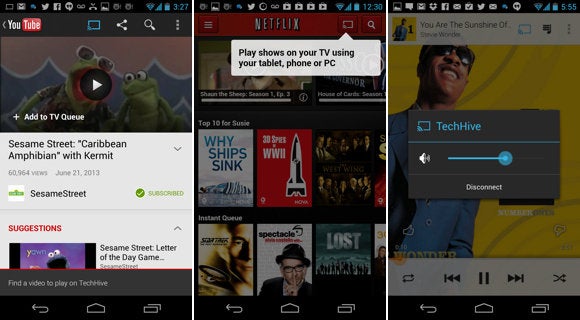 Playing videos from the YouTube apps on Android and iOS was a cinch—just tap the Chromecast button, and select the Chromecast device. YouTube even lets you add additional videos to the TV queue—an obvious "Add to TV queue" pops up on the Android app when you browse to another video, and the same option appears on iOS, but it's slightly hidden under the Share menu.
The Chromecast button appears in Netflix for iOS and Android too, and works like a charm. Once a video is playing, you can put your phone or tablet to sleep to save battery life, and still pause the playback from the lock screen, or pick up the controls from another device on the same Wi-Fi network.
The Play Music and Play Movies & TV apps on Android are also supported and let you cast content you've bought or rented from the Play Store. I was unable to play the Yeezus album that I'd sideloaded in to Play Music, and volume control lagged a little and worked only when I was in those apps. I could put the phone in sleep mode and get forward/back and play/pause controls on the lock screen, but the volume controls didn't work there either.
Brain freeze
Chromecast can also display content from a tab in Google Chrome on a Mac, Windows machine, or Chromebook Pixel, although that particular feature is still in beta. Once I downloaded the Google Cast app for Chrome, the Chromecast button appeared in my browser's upper-right corner, next to the URL bar. Casting a tab worked, although the playback lagged behind what was shown in the browser, and I was unable to adjust the volume with my Mac's volume buttons.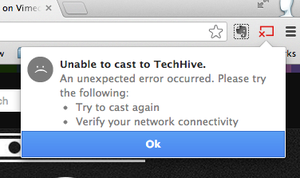 Still, I successfully played videos from Vimeo, Hulu Plus, and BravoTV.com. Chromecast strips out the view of your desktop and the browser's menu bar to focus on the content itself, which is a nice touch. I still had to go full-screen on my Mac to get a full-screen view on the TV, which meant I couldn't do other things on my Mac, unless I pressed Command-H to hide the Chrome app, or parked some other Mac apps in another Desktop space. Closing the tab on the Mac halts the playback on the TV.
As expected with anything marked beta, the tab-casting feature crashed a few times. Playback would freeze, attempt to buffer, and eventually return to the Chromecast's "ready to cast" start screen—once with a sheepish error message that said just "Brain freeze."
Still, with an SDK to let more developers add in-app support, a low price, and cross-platform compatibility, the Chromecast has a lot going for it. A full review is coming soon.