At a Glance
Expert's Rating
Pros
8X optical zoom lens
Excellent image quality over a broad ISO range
Tilting screen for creative compositions
Solid movie mode with a dose of creativity
Built-in WiFi with mobile companion app available for free
Digic 5 process for snappy performance
Cons
$299 price tag makes it an investment, not an impulse buy
Low battery warning doesn't provide much lead time
Small size can make it difficult to hold securely
LCD controls most functions, very few buttons
Wi-Fi will disconnect quickly when pictures are not transferring
The Canon PowerShot N will fit in your pocket—just about any pocket, in fact. But so will an iPhone. So why would you capture your next Facebook posting with the PowerShot N instead? That's the $300 question. And the answer may lie within its features.
Beneath the clean design of this diminutive point-and-shoot, Canon has packed a fair amount of horsepower. It has focused on areas where smartphones typically don't excel, such as optical reach, video options, and an articulating screen. Thanks to those features, combined with a large dose of creative functions, the PowerShot N carves out a niche in mobile photography. It's hard to say at this point how wide its adoption will ultimately be. In the meantime, though, let's take a closer look at the camera's strengths and see where Canon has placed its bets.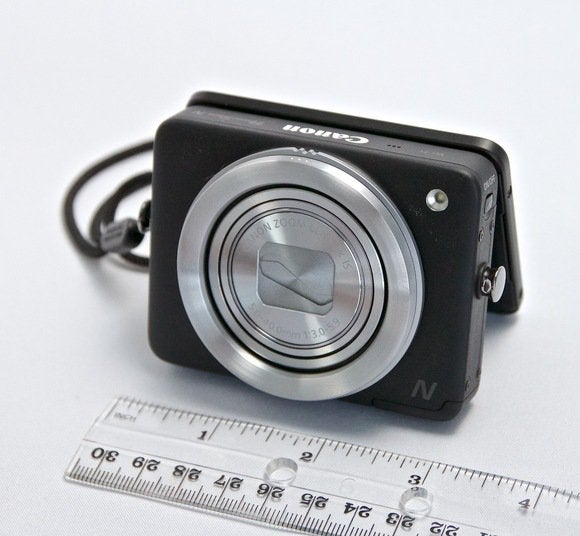 Optics
Canon designed an 8X-optical-zoom lens that provides an equivalent focal range of 28mm to 224mm. The lens can focus as close as 0.39 inch, plus it's stabilized with Canon's excellent IS technology. When you push the zoom all the way out to maximum magnification, you can capture distant objects better than with an iPhone, or practically any other mobile device of this size. Optical magnification means clearer, sharper results compared with those from the digital-zooming function found on some mobile devices.
ISO sensitivity
Even though the image sensor is a small 1/2.3-inch CMOS, it's coupled with Canon's Digic 5 processor. One of the by-products of this tandem is a healthy ISO range, from 80 to 6400. Better yet, image noise remains well controlled up to ISO 1600. This is surprisingly good performance for a compact camera.
Tilting LCD
The 2.8-inch touchscreen LCD is the command center, viewfinder, and viewing screen for the PowerShot N. With 461,000 dots, it displays enough detail to meet all of those needs. The touchscreen has plenty of sensitivity, which allows for easy operation of the camera via finger taps.
The screen truly shines, however, for composing images at unique angles. Both the zooming control and the shutter release take the form of metal rings positioned around the zoom lens, thus enabling you to compose and fire from nearly any angle.
Hold the camera high over your head, place it on the ground, or extend your arms out sideways; you can take pictures from any of those angles. And the variety of vantage points really spices things up.
Creative Shot mode
Effects filters are not new to photography—we've been using them in photo apps such as Instagram and Flickr. Canon's twist on this concept is that when you put the PowerShot N in Creative Shot mode, you don't know exactly what you're going to get.
The camera provides you with five variations that shuffle elements such as exposure, point of focus, tints, and white balance. You pick the ones you like and discard the rest. Shoot the scene again, and you'll probably see a different set of images than before.
Purists might scoff while noting that it's the camera being creative, not the photographer. And to some degree, that's true. But after a bit of experimentation, you begin to see shots that take advantage of this mode. At that point, creativity becomes more of a partnership.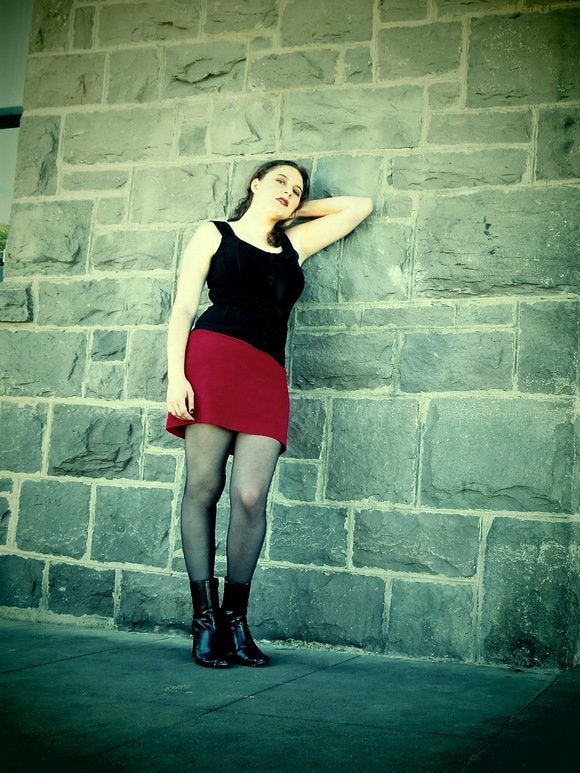 Wi-Fi connectivity with mobile devices
No camera can compete with a smartphone if it can't quickly post images online. Once you pair the PowerShot N with a mobile device, such as an iPad mini, via the free Canon Camera Window app, it will connect to the device with just the push of a button on the side of the camera.
All of the images from the PowerShot N appear on the mobile device. Pick the shots you want and save them to the Camera Roll, where you can fine-tune and share them.
It's still a two-step process. What would be even better is if the mobile device could read from the camera as if from Photo Stream, enabling users to see the camera's images in their Instagram, Flickr, or Facebook app. That's easier said than done. But if you're going to compete with a smartphone, these are the types of things you have to do.
What the PowerShot N does do is automatically look for local Wi-Fi networks. If one isn't available, it will create its own access point. I tested this function in the busy Oracle Arena in Oakland, California. The free AT&T Wi-Fi network there was congested prior to a playoff game. After about 30 seconds of trying to connect, the PowerShot N automatically created its own network to complete the image transfer to my iPad mini.
The Canon Camera Window app itself is quite basic, but it handles transfers smoothly. And I anticipate that its feature set will expand in coming versions. It's available for both iOS and Android.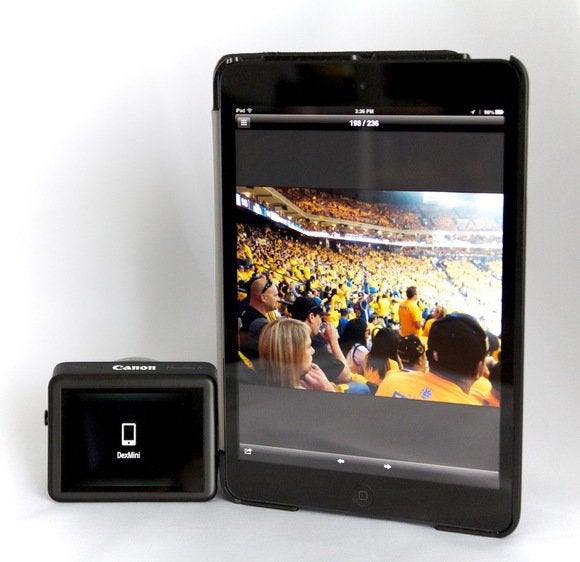 Movie capture
If you like taking video too, this camera presents some interesting options. It features a variety of resolutions ranging from full HD to standard definition, including 1920 by 1080 (24 fps), 1280 by 720 (30 fps), 640 by 480 (30, 120 fps), and 320 by 240 (240 fps). The 240-fps capture is labeled Super Slow Motion Movie; by recording the footage at an accelerated frame rate and then playing it back at 30 fps, you end up with a true slow-motion effect. Don't get too excited, however—remember that the resolution for this mode is only 320 by 240.
Another interesting video twist is Hybrid Auto mode. In this mode, the camera captures video bits during the course of a day's shooting, and then builds a digest movie recapping all of the activity.
Much as with Creative Shot mode, you're not exactly sure what you're going to get. I've used it on two occasions, however, and I've been quite impressed with the results. The audio snippets are as interesting as the accompanying video.
Other features
The PowerShot N provides 12 megapixels of resolution, three metering patterns, exposure compensation, fast autofocusing, shutter speed from 15 seconds to 1/2000 of a second, an LED flash, a 2.3-fps burst rate, and a self-timer. It saves images and video to a MicroSD card. And it has a built-in stereo microphone and a mono speaker.
Bottom line
Is the Canon PowerShot N worth carrying alongside your mobile device? At $299, the PowerShot N is an investment, both in dollars and in additional pocket space. Many casual snapshooters will probably be happy sticking with their smartphone for their daily candids. And serious enthusiasts might be turned off by the PowerShot N's lack of raw-image capture and limited manual controls.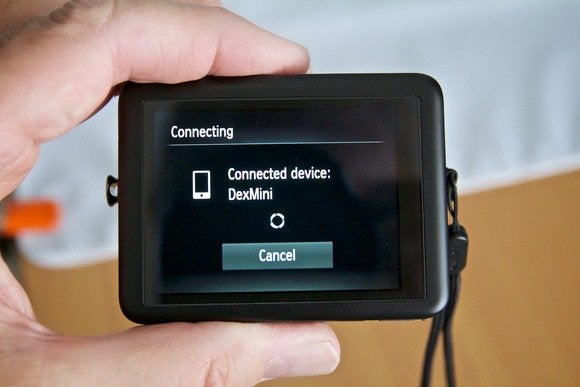 So who is this camera for? I think it's for creative photographers who want a device that helps them produce uninhibited (and sometimes unpredictable) images that they can easily transfer to their mobile devices. Clearly, this isn't a camera for everyone. In the right hands, though, it can breathe new life into everyday imagery. And for that reason alone, it's worth keeping an eye on.
Photos by Derrick Story. All rights reserved.