A couple of weeks ago, seemingly everyone on my Twitter feed was linking to Laurie Penny's thoughtful essay in the New Statesman, "I was a Manic Pixie Dream Girl." It's a great piece worth reading, a hopeful lamentation on the idea that "Men grow up expecting to be the hero of their own story. Women grow up expecting to be the supporting actress in somebody else's." I think that's true sometimes, but luckily this week's crop of streaming TV shows is crammed with strong female characters—badass main characters at that. These women can't be packed into neat, boxed-shaped archetypes like MPDG or any other, unless there's a box for "Criminally intelligent, and sometimes just criminal, shady ladies who are up to no good."
Orange Is the New Black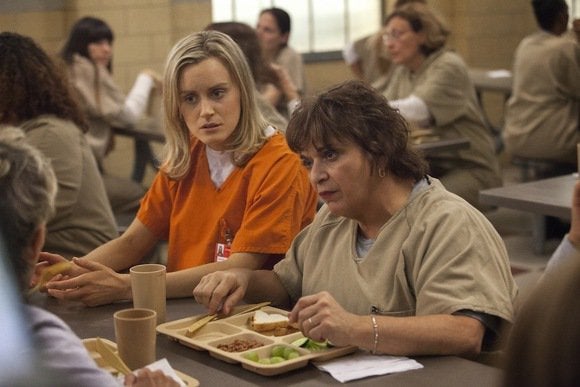 ★★★★★
Netflix, first season now streaming
Piper Chapman is a normal girl with a wild streak in her past, only instead of an ill-advised tattoo or nose ring, her youthful indiscretions resulted in a 15-month stint at a women's prison for helping a drug ring smuggle a suitcase full of money. In the grand tradition of "show, don't tell," we're dropped into the story on Piper's first day in prison, and a series of flashbacks fills in the blanks to how she got there. Each episode in turn reveals the backstory of another inmate, starting with Red, a Russian-accented Kate Mulgrew, who runs the prison kitchen and immediately puts Piper on a forced hunger strike. This isn't Oz (the warden even tells Piper exactly that straight-up when she arrives), but the show does deftly balance humor with some very adult drama, and the characters have real depth.
Co-created by Jenji Kohan, the mastermind behind Weeds, Orange Is the New Black is based on the memoir of the same name by Piper Kerman, played here to wide-eyed, naive perfection by Taylor Schilling. This 13-episode Netflix original series debuted (with all episodes at once, per Netflix's style) on July 11, perfect for summer binge watching—the sharp writing and diverse, talented cast make it easy to lock yourself in and throw away the key. (Sorry.)
Hit & Miss
★★★★
Netflix, first (and only) season now streaming
The protagonist of Hit & Miss isn't in prison, but she probably should be—she's Mia, a pre-op transexual working as a contract killer in Ireland. When her ex-girlfriend from years ago (when she was still living as a man) dies of cancer, Mia suddenly finds out she's the father of an 11-year-old son—and she's now guardian of the boy and his three half-siblings.
Even though Chloë Sevingy's attempt at an Irish accent can be a little distracting at first, the acting from the whole cast is superb—Mia's son Ryan (Jorden Bennie) is amazing before he even speaks. The sweeping, scenic countryside provides a breathtaking backdrop, and the complex characters are real enough to make the face-value ridiculousness of the plot that much easier to swallow. The 6-episode series debuted in the U.K. last summer, and recently found a new home on Netflix.
East Los High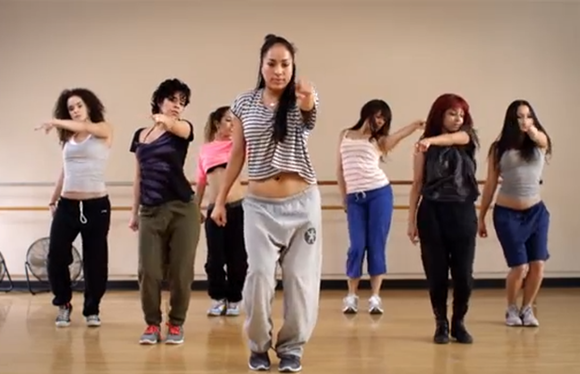 ★★★
Hulu Plus, first season now streaming
It might sound like just another teen drama, Degrassi meets Glee meets 90210, with shades of Friday Night Lights and The O.C. And in fact it does often feel like it's plucking archetypes and plot devices from the salad bar of all the other teen soaps. But even without a wholly creative premise, Hulu Plus original East Los High distinguishes itself with an all-Latino cast of talented young actors, and the female characters take center stage, with the boys playing second string.
Smart, geeky, good-girl Jessie likes the golden football star Jacob, but he's dating the rich queen bee Vanessa, who cheats on him at the big dance, and is caught on cell phone camera by Vanessa's frenemy Ceci, who sets up Jessie as the target of Vanessa's angry revenge. Got all that? Good, because the story is more than just mean girls and high school love triangles—Jessie's cousin Maya blows into town unexpectedly (as in, Jessie didn't even know she existed) with a brick of stolen cocaine to sell and a bad, bad man hot on her trail. The show veers into cheeseball territory pretty often—each 20-minute episode ends on a cliffhanger, for example—but that just makes them as easy to crunch through as a box of Cheez-Its.
Under the Dome
★★★★
Amazon Prime, first season streaming with new episodes added weekly
A clear dome dropped over an entire unsuspecting town with no way in or out—yes, the Simpsons did it, but so did Stephen King, in a 2009 novel that's now a TV show produced by Steven Spielberg. There's no escaping this dome—you can't even hear through it, which is hilarious when we see a scrum of reporters on one side screaming questions at a hapless police officer on the other who can only shrug helplessly. Kids are separated from parents, husbands from wives, the fire department is stuck outside, people are injured and killed, survivors are having mysterious seizures, and a cow is sliced clean in half. But that's just the backdrop to the real drama: Also stuck inside are power-hungry politician hiding a big secret, the police officer who's trying to stop him, and the politician's creepy, unstable son who's a little too comfortable with kidnapping. Oh, and don't forget the mysterious stranger, who we first encounter out in the woods nefariously engaged in SPOILER REDACTED, and the tough but vulnerable lady reporter who lets him stay with her, because she has no idea that EVEN BETTER SPOILER REDACTED.
The hit show is airing on CBS on Monday nights, but cord cutters can watch it exclusively on Amazon Prime. The first three episodes are up now, and a new one comes out every Friday, 13 in all. Fans of creepy sci-fi dramas like Lost and Heroes should definitely take a peek.
Downton Abbey
★★★★★
Amazon Prime, third season recently added
One of our favorite shows, period piece Downton Abbey's third season aired earlier this year on PBS—you probably remember everyone freaking out about the finale on Twitter, yes? Well, if you still haven't seen it, it finally popped up on Amazon Prime a couple weeks ago. And while the infuriating ending rudely steals all the attention like a boozy flapper cousin or a hottie kitchen maid, the season is solid all the way through. Upstairs, a fortune may be lost, unless the women of the family can save the day again, and downstairs it's just the usual struggles of ambition, backstabbing, flirting, and revenge. No big deal.
The fourth season is set to air in the U.K. this fall (and in the U.S. starting in January 2014), so make sure you see how everything falls apart, before it's time to watch the Crawley family attempt to pick up the pieces.