[Editor's note: After this story was posted, Boxee updated it's website to reflect the acquisition and explain that it will stop supporting its cloud functionality: "The beta Cloud DVR functionality we provided to certain Boxee TV users will be discontinued on July 10th. You will not have access to your existing recordings after that date. We realize many of you loved the service, and we're sorry it won't be available moving forward."]
Smart TVs might actually start to live up to their name soon. At least that's what we can hope after Wednesday's announcement that consumer electronics giant Samsung had bought streaming video startup Boxee.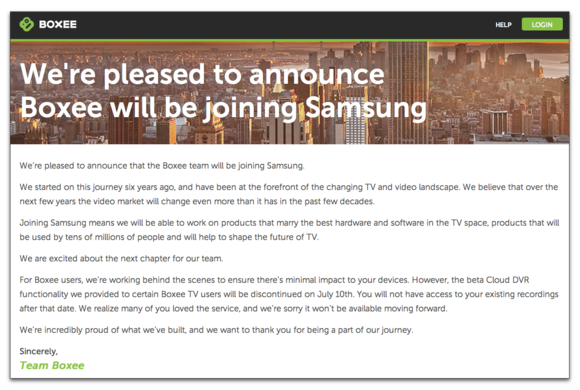 As first reported by Israel website The Marker (Google translation) and confirmed by The New York Times, the deal brings unspecified Boxee employees and assets to the South Korean electronics company.
In a statement to TechHive, a Samsung spokesperson said:
Samsung has acquired key talent and assets from Boxee. This will help us continue to improve the overall user experience across our connected devices.
Boxee began its life creating open-source media-streaming software built on XBMC before getting into hardware, partnering with D-Link for the curiously shaped Boxee Box.
Boxee's current hardware is the $99 Cloud DVR (previous known as Boxee TV), a set-top box for over-the-air TV content along with a cloud-based DVR (available in certain parts of the country) and the ability to stream to mobile devices. But it also provides apps such as Netflix, Vudu, Pandora, MLB.TV, and Spotify. Perhaps more important, Boxee's interface is cleaner and less confusing then what you find on most smart TVs. And as the owner of a Samsung smart TV who has had to struggle with a clunky interface, I can say that I think input from Boxee will be a good addition.