If you're a fan of Zooey Deschanel and a Netflix subscriber, your day just got a little bit brighter.
On Monday, Netflix announced it had signed an exclusive, multi-year deal to bring Fox's Deschanel-helmed comedy New Girl into the homes of Netflix streaming customers.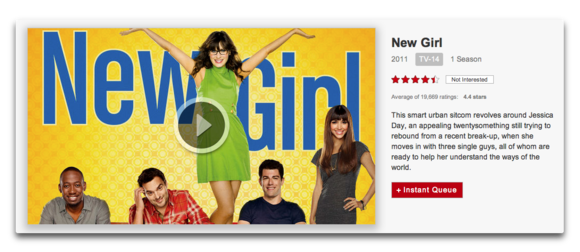 The first season of New Girl is now available, and Netflix says, "subsequent seasons of the Golden Globe nominated show will all be available to Netflix after the broadcast seasons." Which is somewhat confusing because the second season of New Girl actually ended on May 14. But there's still plenty of time to fill the gap before the third season begins airing on September 17.
Understanding that content is king, Netflix has invested in original programming such as House of Cards, Hemlock Grove, and Orange is the New Black; semi-originals like the Arrested Development revival; and hybrid deals with other companies as well. And after failing to renew a deal with Viacom in May, Netflix needs to strike more content deals like this one to stay on top of the streaming media landscape.