Pink Floyd's legendary tunes aren't exactly strangers to streaming music—Roger Waters' masterful lyrics have been gracing the likes of Pandora, Slacker, and Rdio for years now. But the band's catalog has been glaringly absent from Spotify, the 800 lb. gorilla in the streaming song arena. No more. At long last, the Pink Floyd brick is being added to Spotify's massive musical wall—but only if users wish for it.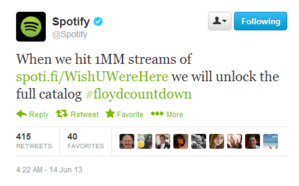 Rather than just dumping the band's catalog on the service and making a ruckus about it, the streaming music company is raising awareness of Pink Floyd's arrival with a cute and clever viral campaign: The discography won't be unlocked until the remastered version of the "Wish You Were Here" single (get it?) is streamed one million times.
Most hardcore Floyd fans have probably already ripped the CDs to their hard drive—I know I have—but the addition is a huge feather in Spotify's cap, especially after the service coaxed Metallica into jumping onboard the streaming bandwagon back in December.
So you think you can tell streaming heaven from streaming hell?
Pink Floyd's arrival on Spotify is a big deal for another reason: If you haven't ripped your old CD or bought digital editions of the band's music, listening to Pink Floyd online has been a pain unless you're willing to drop money. Tracks and albums have been available on Amazon and iTunes, as well as the recently launched Xbox Music service. The latter allows you to buy Pink Floyd tracks, but not stream them via its subscription service.
If you're more into renting than buying, Pink Floyd songs occasionally creep up on Pandora and Slacker's free radio stations, but those don't allow you to choose songs on-demand—meaning you can't tune in and zone out to Floyd's psychedelic sounds alone. A premium Slacker Radio subscription ($10 per month) unlocks full album access, however. You can also tune in via Rdio, though that service only provides a very limited number of gratis tracks per month.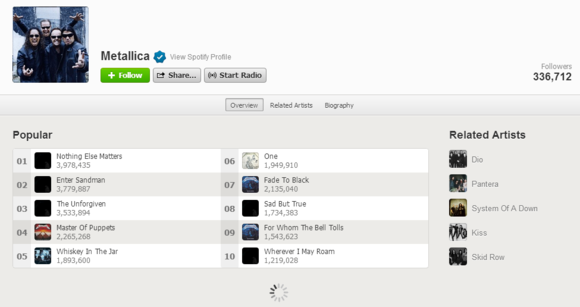 That said, here's hoping that Pink Floyd's newfound Spotify accessibility doesn't actually hurt the cause of streaming music subscriptions. Billboard reported that Metallica's holiday album sales were down as much as 35 percent after that band showed up in Spotify's digital halls.
While other factors may be to blame, fears about reduced album sales have prevented high-profile bands like The Black Keys from releasing their most recent work on Spotify. Tom Waits and Coldplay have also expressed qualms about allowing their songs on streaming music services in the past, though their works can now be found on Spotify.
But let's stop with the negativity! If enough people wish upon a Spotify, Pink Floyd can be music to all of our ears before long.