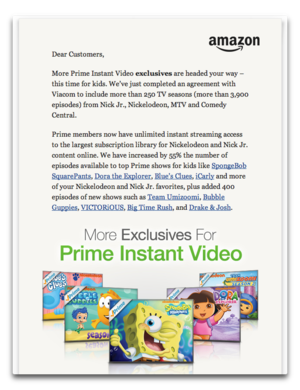 If you have young kids, you've probably noticed that their Spanish has gotten a little rustier since Dora the Explorer vanished from Netflix, as the streaming giant's deal with Viacom expired in May. Viacom's departure from Netflix took with it many kids shows, as well as other content from Nickelodeon, Nick Jr., MTV, and Comedy Central.
On Tuesday, Amazon swooped in and announced it has cut its own deal with Viacom to bring 250 TV seasons (that's 3900-plus episodes) to its Prime Instant Video service, which is a perk of a $79-a-year Amazon Prime subscription. Kids favorites such as Dora, Blue's Clues, and SpongeBob SquarePants are part of the deal, as are newer shows like Team Umizoomi, Bubble Guppies, and Drake & Josh.

With this new deal, Amazon claims to have increased episodes to top kids shows for Prime members by 55 percent. While Netflix may have been thinking "Swiper, no swiping. Swiper, no swiping. Swiper, no swiping!" since its deal with Viacom lapsed, Amazon Prime members are surely saying, "Yum, yum, yum, yum, yum. Delicioso!"
Note: When you purchase something after clicking links in our articles, we may earn a small commission. Read our affiliate link policy for more details.