You can use Spotify to easily swap playlists with your friends, check out the top charts, and find new music releases, but the streaming service has always lacked a great way to get personalized music recommendations. To overcome that deficiency, Spotify on Wednesday rolled out Discover, an "endless scroll" news feed similar to Facebook and Google+ that replaces the current "What's New" section.
Discover shows you music recommendations based on your past listening habits, playlists shared by your friends, and news from artists you follow. Spotify's new feature is rolling out slowly to Spotify's desktop and mobile apps, but you can definitely try it out right now using Spotify's Web player at play.spotify.com/discover.
Hands-on with Spotify Discover
In many ways, Discover is what iTunes Ping should have been: A social networking service centered around music that makes it easy to discover new artists and listen to albums, songs, and playlists.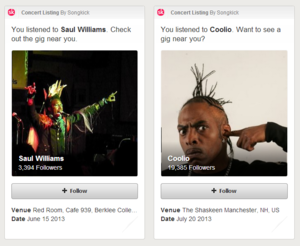 Discover features a series of Google Now/Pinterest-style cards featuring personalized recommendations for new music. Each card features an artist or cover art photo along with an action button to either follow an artist, add a song to one of your playlists, or save an album as a playlist.
Spotify's partners get in on the action, too. Some cards feature news from the music discovery site Tunigo.com, reviews from Pitchfork, and recommended concert listings from Songkick based on your location and musical preferences.
If you want to read up on the news or check out a review, Tunigo's stories show up inside Discover as an overlay, so you don't have to leave Spotify every time you want to read up on your favorite artists. The same goes for checking out Spotify artist or user pages: You'll never leave Discover unless you click on an item in the left-hand navigation bar.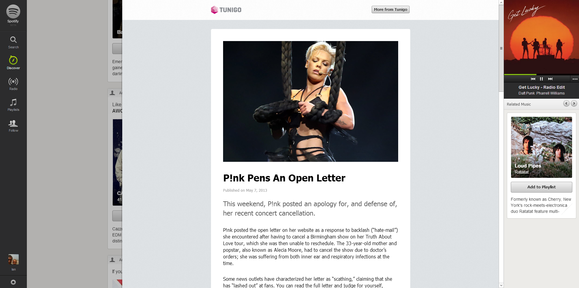 Discover also features a new preview feature that lets you quickly listen to recommended music without interrupting your current queue. Just hover over the photo on one of the Discover cards and then click and hold the play button. Your play queue briefly stops while you listen to the music preview. There are no time limits on the play preview; the only restriction is that you have to keep holding down the play button. As soon as you release it, the preview stops and your play queue resumes.
Spotify Discover impressions
During my brief time with the new service, I found Discover to be mostly superb. I did have a few minor quibbles, however, that will hopefully be improved over time.
For example, it would be nice if Spotify offered something similar to Netflix's experiments with multi-user profiles for single accounts. In addition to recommendations geared towards me, such as Daft Punk, The White Stripes, and Macklemore, my Discover feed also featured recommendations for artists popular with Raffi fans—one my two year-old son's favorite artists.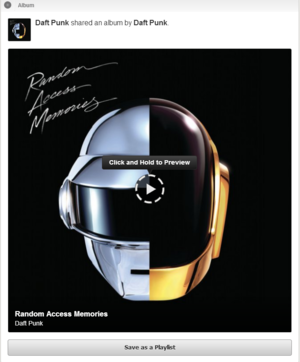 In general, the recommendations seem more focused on your recent listening habits than your entire Spotify history. My editor's Discover feed was filled with hip-hop recommendations thanks to a classic rap binge despite the fact that he historically tends to listen to a mix of rock and electronic music.
There's also no obvious way to share items in your Discover feed with friends in the Web app. The desktop version lets you click through to individual artist/playlist pages and share those normally, though you can't share news, reviews, and concert listings from Spotify's partners.
All-in-all, though, Discover is a vast improvement to Spotify's core service. I can definitely see myself spending a lot of time using it to plumb the depths of Spotify's music catalog.
PCWorld's Brad Chacos contributed to this report.