If you're someone who can appreciate the cameras of days past, you'll definitely enjoy one of James Guerin's DIY pinhole cameras. His newest custom build, the 8×10″ Pinhole Camera, shoots 20 images all at once using its 20 lenses and 20 different compartments. Twenty!
James built the camera after seeing various collages online, made of overlapped images from an entire roll of 35mm film. Of course, getting the overlapping, multiple-image effect from a single camera meant you have to consider the distance between each shot—a rather labor-intensive process.
"I wanted to create a camera that would recreate this overlapping effect while only having to take a single exposure," James explained to TechHive. "It's these two features that really make the camera a fun and creative tool, you can combine this 'lining up' and 'overlapping' effect to make some original photos."
Aside from the lenses, the entire camera is made from items you could find at a typical hardware store. All 20 150mm lenses attach to a PVC pipe that slides up and down in a cardboard grid. The lenses can focus in a concertina style due to the grid design, along with a little help from a ground glass made from Perspex and Scotch tape.
"The 'ground glass' is removed when focus is achieved and a standard 8×10″ film holder is put in place and exposed," James said. "As my exposures are in the region of about 10 seconds to three minutes a simple sliding plate shutter is all that's required."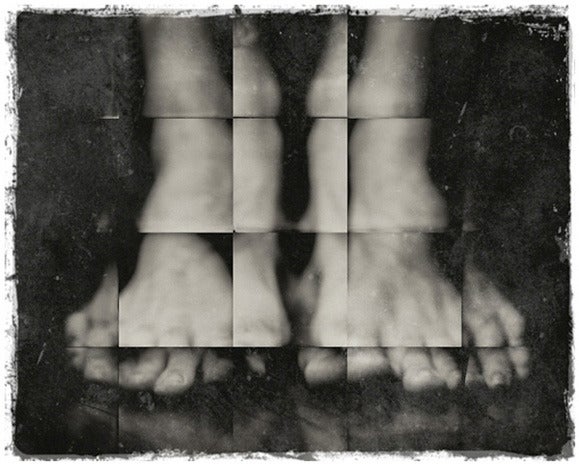 The camera also has a focus lock and focus scale, a place for film holders, and a tripod mount.
So far, the images from the camera are enough to make a good hipster or film photographer green with envy—obscure, grainy photos of feet, faces, household objects and more.
"I think the image of my feet shot from ground level is my best so far, even if it does make me look a little hobbit-esque! I think this image shows well how the camera can create a surreal image from a fairly ordinary view, I like the shallow focus and the subtle divergence of cells as you travel through the picture. The best is yet to come!"
Find out more about the 8×10" Pinhole Camera and James's other custom builds on his website.
Get more GeekTech: Twitter – Facebook – RSS | Tip us off