At a Glance
Expert's Rating
Pros
Beautifully machined camera that feels durable and precise
Excellent image quality
Fast f/2-2.8 zoom lens
Full complement of manual controls and custom settings
Excellent creative options to craft a variety of different looks
High quality optical viewfinder is a pleasure to use
Menu system well thought out
Fast autofocusing
Creative options for in-camera Raw processing
Accepts filters using optional lens hood (with built-in adapter)
Cons
Buffer can be slow to purge creating short delays in viewing pictures
Low battery warning doesn't really provide much warning
460K dot LCD should have more resolution for a camera in this class
Image noise begins to appear above ISO 800
No dedicated movie recording button
Premium price tag for a compact camera
Photographers use enthusiast compact cameras for a variety of reasons, and not just "they're photographers—any excuse to have another camera is a good one." Often they're attracted to the smaller form factors that are capable of producing high-quality output. These "all-in-one" cameras can serve as backups to DSLR counterparts, or as a way to lighten the load for vacation or business travel.
The Fujifilm X20 certainly meets those requirements. Its high-quality 28-112mm, f/2-2.8 zoom lens, coupled with the new X-Trans CMOS sensor, can capture high-quality raw and JPEG files, plus record full HD movies. Add to this a full complement of manual controls, a high-grade optical viewfinder, and manual focusing with focus peaking, and you have a camera that can handle most situations.
But there's more to the X20 than simply getting a good picture. Through my testing I've experienced how it can feed creativity as well. Options for a variety of film simulations, effects filters, multiple exposures, super macro, and even the ability to create soft backgrounds inspired me to use this camera in new ways. After a review of its basic specs, I'll show you a few examples of the X20's creative options.
Basic specifications
The X20 is built around a 12MP 2/3-inch X-Trans CMOS II sensor that is largish for a compact camera, but smaller than its mirrorless and DSLR counterparts. Pictures can be composed on the 3-inch, 460k dot LCD or via the advanced optical viewfinder with information overlay. It achieves fast autofocusing via its on-chip phase detection system, and provides focus peaking assistance when in manual focus mode. The zoom lens includes optical image stabilization and ranges from 28mm on the wide end with a maximum aperture of f/2, to 112mm for the telephoto at f/2.8.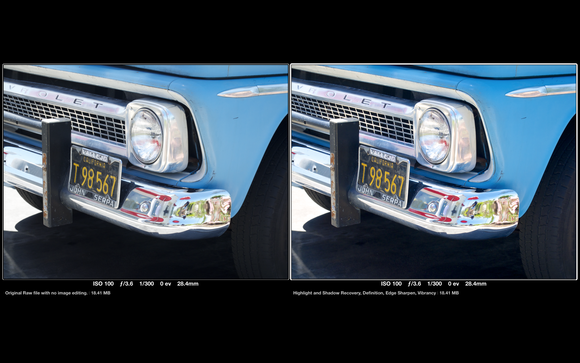 File formats include raw (.RAF), JPEG, and H.264 (for full HD video). Raw files can be decoded by the latest versions of iPhoto, Aperture, Lightroom, and Adobe Camera Raw. The X20 also includes in-camera raw conversion that allows you to apply over 10 different settings, such as sharpness, noise reduction, and film simulation, then save a copy of the file in JPEG format.
Film simulation
The X20 can present different interpretations of the same composition using its creative features. The camera uses film simulations and effects filters to create the variety of renderings.
If you've ever loaded a roll of Fuji film into a 35mm camera, you know how different an image appears captured on Velvia compared to Provia. The X20 allows you to "switch film" on the fly by choosing from a variety of simulated emulsions including:
Provia – standard color rendering for a variety of subjects
Velvia – saturated, vibrant reproduction typically used for color landscapes
Astia – soft color and contrast
Pro Neg Hi – designed for portraits with a bit of punch
Pro Neg Standard – for portraits with softer skin tones and gradations
B&W – standard monochrome rendering
B&W with Filters – choose between yellow, red, and green filters for monochrome
Sepia – toned monochrome
If you're not sure which look you want, you can set up a film simulation bracket and select three films to be applied to a single photo. With one click of the shutter, you receive three different looks.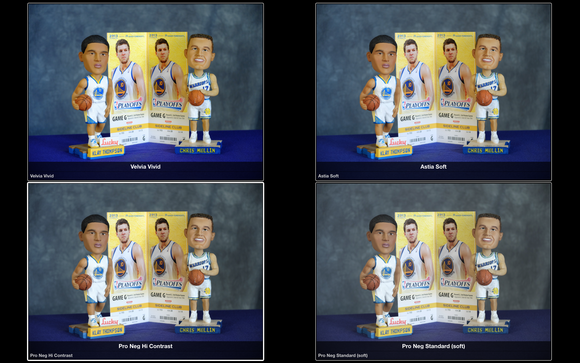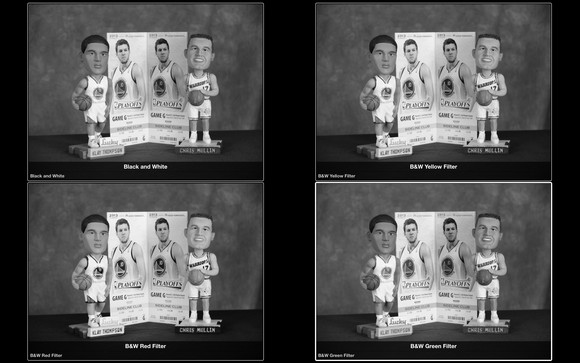 Advanced settings
Under the Advanced setting on the mode dial, you can choose from a handful of filters and shooting modes. Here's where sweep panorama is located, including options for 120, 180, and 360 degrees. The camera records the information and presents you with a finished product.
Pro Focus is one of my favorite settings for portraits because it softens the background, similar to the effect achieved with a long lens on a DSLR. This offsets one of the major shortcomings of small sensor cameras by providing a shallow depth of field rendering. You can even choose among three strengths of softness in this mode.
Pro Low Light configures the camera to record non-moving subjects in very low light. When you press the shutter button, it records a series of frames, then provides a single rendering of the scene based on that information. This expands the usefulness for using the X20 as an existing light camera, even in dim environments.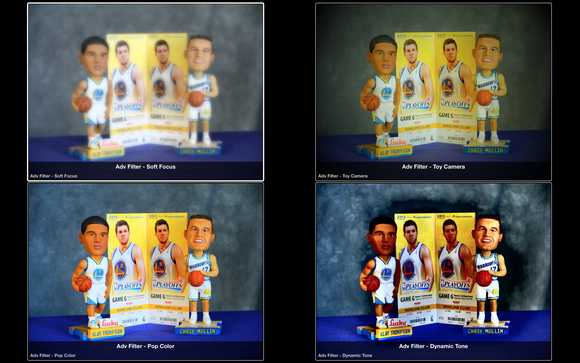 There's also Multiple Exposure that superimposes two frames into a single image. And Advanced Filters provides 13 options including soft focus, dynamic tone, pop color, and more.
Additional creative settings
The X20 includes three dynamic range settings that render the highlights and shadows with varying amounts of detail. You can also bracket these settings to get three different renderings from a single composition. Then just choose the one you like best.
You can also select from 14 scene modes such as Portrait Enhancer, Fireworks, and Underwater. If you want to let the camera choose the appropriate scene mode for the conditions at hand, move the mode dial to Advance SR Auto. All you have to do is compose and press the shutter button.
Custom settings
On the mode dial, along side the typical P-S-A-M markings, there are C1 and C2 positions. These custom options can be used to remember a group of settings to facilitate changing from one shooting style to another. For example, I have C1 set to Velvia film simulation with increased contrast and sharpness. My C2 setting is for B&W photography, using the B&W with red filter film simulation. So I can quickly switch from normal shooting mode to either of these specialty settings by simply rotating the mode dial.
Image quality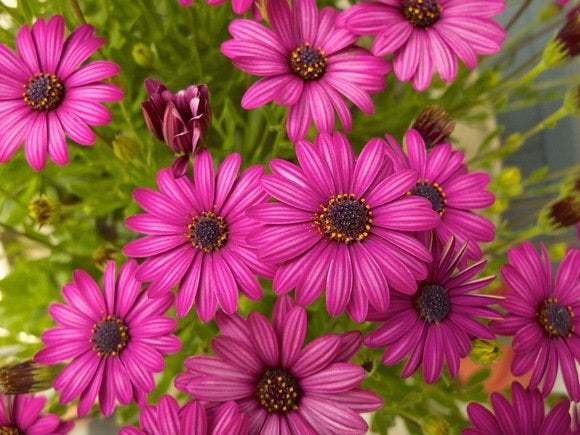 Pictures from the X20 are sharp and saturated. The X-Trans sensor doesn't need the optical low-pass filter that's required for traditional Bayer pattern sensors, and this gives the X20 a bump in resolution. In general shooting conditions, the photos are quite impressive. Image noise is well controlled from ISO 100-400, moderate at ISO 800, and noticeable from ISO 1600 upward, particularly in the shadow areas. Shooting in Raw provides the best scenario at higher ISO settings.
Annoyances
I've experienced very few bumps in the road with this camera. Its design and control layout makes me want to pick it up and take pictures. However, there were a few quirks.
Once the battery runs low, you get very little warning. I recommend keeping a spare cell on hand, because when the red light starts flashing, you have next to no time remaining.
When composing nearby subjects with the optical viewfinder, keep in mind that parallax will affect the framing. I didn't find this troublesome for general scenes, but I do switch to the LCD for composing close-up subjects. Also, you should know that you are viewing only 85 percent of the scene via the optical viewfinder. For full view, switch to the LCD. And when the zoom is set to its widest focal length, you will see the lens barrel in the lower right corner of the optical viewfinder.
And finally, I find it odd that such a well-specified camera only sports a 460K dot LCD screen. It looks good, but others in its class look better.
Highlights
The Fujifilm X20 is a handsome camera that uses high-quality materials with beautiful construction. It's a joy to hold. The fast zoom lens is sharp at all focal lengths. And having a bright optical viewfinder with data overlay is a blessing in sunny conditions.
But what I really like about this camera is the way it lets me explore photography. Even though the X20 is a responsive compact that can grab shots quickly, I often find myself experimenting with different options as I work a subject. The macro mode is fantastic, as are the advanced settings and film simulations.
I've also discovered that the Fujifilm X20 is a good infrared picture taker. Using the accessory Fujifilm Lens Hood (Mfr #16198744) to mount an R72 Infrared filter over the front of the lens, I can get an unique view of the world. Here's a vineyard and barn captured with this setup.
Bottom line
If you're a street shooter, set the X20 to B&W mode and marvel at how it quietly captures activity without drawing attention to itself. Even though it has plenty of "auto everything" modes, the more you know about photography, the more you can get out of this sophisticated camera.