It's not a groundbreaking feature, but nice to have nonetheless: Twitter has added a bunch of genre charts to its #Music discovery service to display the most popular songs and artists trending, in a bid to surface the most popular tracks on the social network.
The charts include ten musical genres, from rock to country and hip-hop, and there are also five additional charts for Superstars, Popular, Emerging, Unearthed and Hunted. The Superstars and Popular charts give you trending songs on Twitter, while the Emerging and Unearthed are meant to help users discover lesser-known artists.
The Hunted charts displays music popular in the blogosphere. Its very name is no doubt a tip of the hat to We Are Hunted, the chart-focused music discovery service recently acquired by Twitter.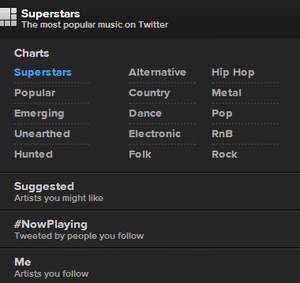 The charts use Twitter's data to surface tracks and artists most-listened by its users, and they are currently available only on the Web version of the service. The iOS Twitter #Music app has yet to receive an update to display the new charts, but it's likely this feature will be added in the coming weeks. On the Web, you can access the charts from the top left button on the Twitter #Music page.
You'll still need to have a separate Rdio or Spotify subscription to listen to full tracks on Twitter #Music, which remains one of the weak points of the service. Alternatively, you can listen to 90-second song previews and buy it from iTunes.
If Twitter #Music grows in popularity, it could become an important part of the music discovery and purchasing ecosystem, but we have to be honest: We haven't heard much about #Music since its high-profile launch a month ago, even on Twitter.
Spotify charts
Charts are the hot new thing in steaming music, apparently.
Twitter #Music rival-slash-partner Spotify has offered top song and album charts in-app ever since the service launched in the U.S, but this week it added a new feature to help you bring Spotify's popular tunes to your website. The feature, dubbed Spotify Charts, lets you embed widgets to play either the 50 most listened-to songs from the country of your choosing, or the "Social 50," which showcases songs most shared by Spotifty users on social media.