On a sweltering spring day in southwest Dallas I was standing outside my car, parked on a flat and near-empty stretch of urban road. The sun was quickly drying the cars coming out of the car wash across the street and I was playing with the OpenSignal app on my tester phones. Seemingly out of nowhere an old man was standing behind me. He looked like Morgan Freeman in The Shawshank Redemption, but on a very bad day.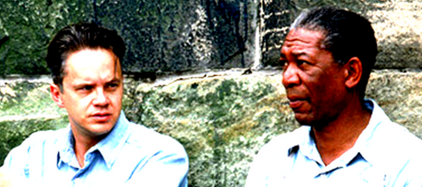 He said "Selling some phones, eh?" I've come to expect this. As I've mentioned before, many people ask me if I'm selling phones out on the street–presumably stolen ones.
I suppose it isn't too far away of a concept when a strange looking man (my mother may disagree) pulls up in a sedan and opens a case featuring an assortment of very nice mobile devices that are neatly labeled "AT&T, Verizon, Sprint, T-Mobile."
The fact is, smartphone theft has become a very big issue in the U.S. Numbers are on the rise, and the level of violence around such thefts is rising, too.
A few things have crossed my mind about this phenomenon, some personal, some more wide reaching.
Do I look like a thief?
I did forget to bring beard trimmers on this trip and I haven't gotten a haircut since I left New York in late March, but I was hoping there was a "type" of person who fences stolen electronics, and that that "type" did not look like me.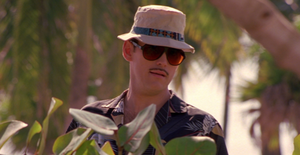 I thought you needed to "know people." I'll admit this is a vague concept in my head, but I was under the impression that if one wanted to acquire an "off-market" electronic device, someone in your social circle would pull you aside, maybe in a bar or at some secret-password dice game under a highway overpass and say something like "Look, don't let this get around, but I know a guy…" Having literally flown in to town for the first time less than 24 hours ago, I most assuredly do not "know people."
Stop! I have tattoos
Should I request an armed escort for next year's mobile carrier tests? I'm pretty sure that's not in the budget. I do sometimes get the feeling that I was chosen for this job partially for my abilities, and partially for looking like someone who might not get mugged. I assure you that is an incorrect assumption based solely on general size and tattoo prevalence.
Just as not all "trunk based electronics resellers" look like thugs, I've noticed that the people who are considering their options in buying phones are not a specific type. I've been asked about selling phones in nearly every city I've been in and I can tell you there is no type. They have truly been everywhere on the age, color and creed spectrum. I will say that I have not been asked by any little old ladies. In fact, women are underrepresented in the are-you-selling-phones phenomenon, but that could just be a statistical anomaly that means they have other venues available to them.
Welcome to the outside, I said
Back to Morgan Freeman. He shook my hand and went on to tell me about how he was just released from jail after 11 years. "Welcome to the outside," I said. I was rather proud of myself for that. Who knew watching television cop dramas would be so linguistically useful? But then he went into detail. He told me that he was in there for murdering his sister in-law with a Louisville Slugger. He seemed proud that he was man enough to not resort to gun or knife violence and described the situation in detail. He was clearly gauging my reaction.
I went on pressing buttons on the phones and pretended to be interested in the megabytes and kilobytes and downloads and uploads and not wanting to hide under the nearest available rock. From the corner of my eye, I saw him fish around in his pocket for something and then possibly decide I wasn't worth the effort. He asked me for some change. I pretended to check my pockets and told him I didn't have any. "I'm just out here on a job, I don't even have my wallet with me, man," I said. I went back to staring at the phones. I realized that I was a terrible liar and that he could easily see the outline of my wallet in my back pocket.
When I looked up again he was gone. My wallet was still there, all the equipment was still there and there was no Morgan Freeman coming at me from behind the car with a baseball bat. I finished up as quickly as possible and got the hell out of there. It was my last stop of the day and I was driving to Houston. I would be lying if I told you I did not check the back seat at least twelve times during that four hour drive because I was totally spooked.
Phone thefts becoming a 'thing'
I'm not sure why he decided I wasn't worth messing with, but it probably was just a matter of chance. Thefts and assaults involving mobile phones are rising. This map of mobile phone thefts in San Francisco should give you an idea of what we are talking about (put together by the folks at InfoWorld and powered by Leaflet and OpenStreetMap using data from SFPD – yay open data!).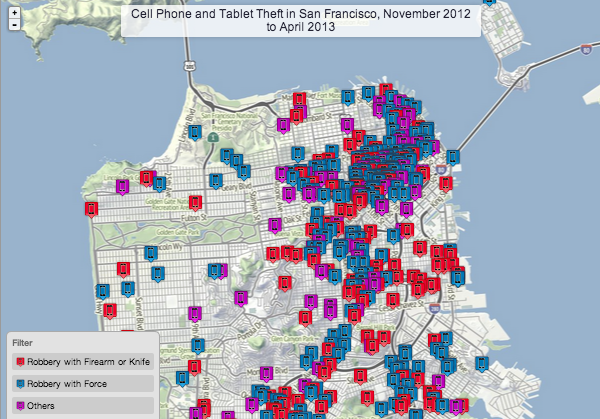 Anecdotally I've also noticed more brand recognition for iPhones, over the Samsung Note II's that I'm carrying. For a while I had an apple sticker on the front of my carrying case, but took it off when I realized it might be making me a target. At the Stonestown Galleria in San Francisco, I saw a teenage boy sprint past a table in the food court, swipe an older man's iPhone off the table as he watched a movie, and run swiftly toward the exit. It happened in an instant. The kid was tackled by mall security before he reached the outer exit, the food court erupted in cheers and hopefully the mall cop got a raise.
There are a lot of ways to prevent theft, but none are perfect. Phones are made to be used, and be conveniently mobile, which are exactly the attributes that make them easy to steal. For my personal devices, I'm a big fan of Prey but there's also Apple's preinstalled version, "Find My iPhone." Ben Boychuk (@benboychuk) at Macworld has some tips for keeping phones and other devices safe.
And if you are considering buying a smartphone, please don't ask me to sell you one. Also, it's not a good idea to buy one in a parking lot, because it's probably a block of wood.
You can follow my travels on Facebook (OpenSignal Gabe), Foursquare (OpenSignal) where I'll be checking in periodically. I'll also be blogging some more about my epic road trip here on the OpenSignal Blog.