Step aside, Spotify, there's a new streaming music game in town.
On Wednesday, Google threw its hat in the ring of suscription music services with Google Play Music All Access, a $10-a-month streaming service, launching immediately in the U.S.
Like Spotify and its ilk, All Access offers millions of tracks (although Google didn't say how many millions, or which music labels for that matter) for streaming on Android phones and tablets, as well as from a Web browser. And in the process, Google has also taking a big swing at its Android app partners like Spotify, Rdio, and Rhapsody.
The Explore section lets you browse those millions of tracks, offering personalized recommendations based on your listening habits, featured content, and new releases.
There are 22 top-level genres, each with curated playlists, as well as top and key albums from each genre. You can, of course, search for artists, and then access any of their music from All Access, as well as anything you've previously matched or uploaded to your Google music locker. But as with any respectable music service these days, Google also emphasized the discovery aspect of All Access.
"It's a music service that's about music, and the technology fades to the background," said Chris Yerga, engineering director for Android, during his unveiling of All Access during Wednesday's Google I/O keynote address.
After picking a song to play, All Access can turn it into a radio station with an endless mix of related tracks. You can view the playlist of upcoming tracks, and then reorder tracks or even remove them from the queue altogether.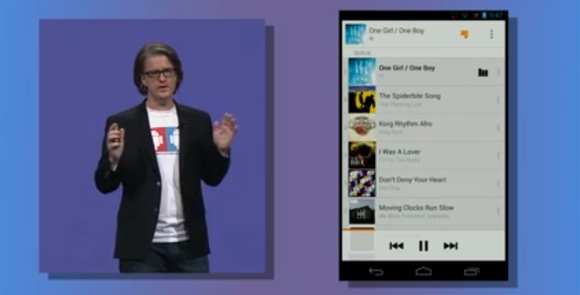 Finally, a Listen Now feature helps reveal music you'll like. It shows you your recently played tracks, new albums from artists you like, as well as pre-built radio stations.
All Access will cost $10 a month in the US, and offers a 30-day free trial. Google said the service will roll out to other countries soon. Those who sign up for the free trial by June 30 will be able to continue at only $8 a month.
Although the service sounds interesting, there are still several roadblocks to its possible success. While Google has hundreds of millions of Android owners, as well as every Web user, as potential customers for All Access, competing services are already well established in this area. And iOS users are (for now, at least) left out in the cold. Plus, Google made no mention of the connected devices (Roku, Sonos, HDTVs, and so on) that are popular ways to enjoy Spotify and other services now.
[Updated at 11:28am pacific with additional analysis.]