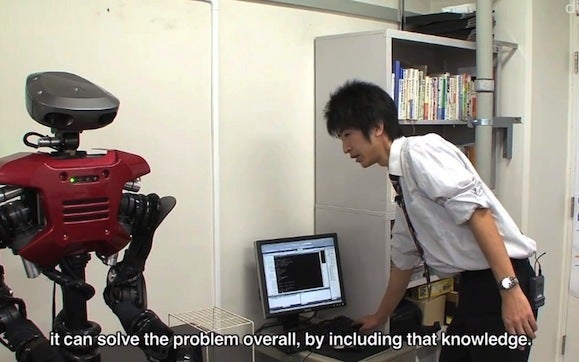 We constantly make jokes about how self-aware machines might one day rise up to destroy mankind. At this rate, who knows? It might happen. Hasegawa Group's Self-Organizing Incremental Neural Network (SOINN) is an artificial brain that can think like a human's. And this upgraded version also knows how to abuse the Internet to learn new things.
Announced in August 2011, Hasegawa Group's Self-Organizing Incremental Neural Network (SOINN) is what its makers call "an unsupervised online-learning method capable of incremental learning and does not require a predefined network structure." Technical jargon aside, this essentially means SOINN can learn new things little by little over time without any human intervention.
In previous experiments, a robot named HIRO, which operates on SOINN, could figure out how to pour you a glass of water without ever having been taught how. SOINN has gotten better since then, and the machine learning algorithm now has a few more tricks up its virtual sleeve. For example, even though it may not have seen images of a rickshaw previously, SOINN is smart enough to go online and make correlations between it and the features of a car in order to teach itself what a rickshaw is.
The research group in charge told Diginfo.tv that they might eventually be able to teach SOINN to make proper use of audio and video data.
Insert obligatory "Skynet is coming!" comment here. Again.
[Hasegawa Lab via Diginfo.tv]
Get more GeekTech: Twitter – Facebook – RSS | Tip us off
Note: When you purchase something after clicking links in our articles, we may earn a small commission. Read our affiliate link policy for more details.