In a move that will surprise precisely no one who's been paying attention to the state of streaming media, YouTube announced a pilot program Thursday that will herald a new age of subscription-based paid channels on the Google-owned video site.
The offical word comes only a few days after a report in the Financial Times that YouTube was about to embark on such a plan.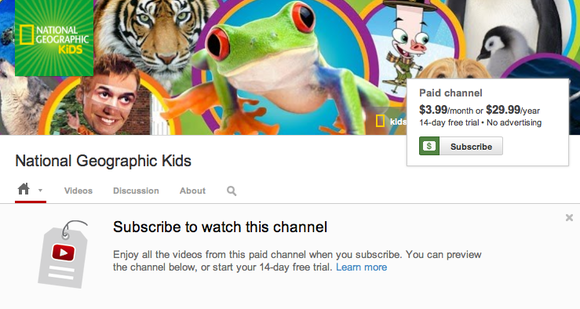 YouTube launched the program with 53 subscription channels ranging in price from $1 to $10 per month, some with discounts for yearly subscriptions. All channels offer a 14-day free trial as well.
The channels run the gamut from TV shows and movies to more niche programming focused on sports, cars, cooking, health/fitness, kids, and more. Channels include "Jim Henson Family TV," "National Geographic Kids," "UFC Select," "Comedy.TV," "Acorn TV," and "Cars.TV." (At least one channel, "Primezone Sports" with Deion Sanders, was listed as both coming soon and "unavailable in your country" when I browsed the list of channels.)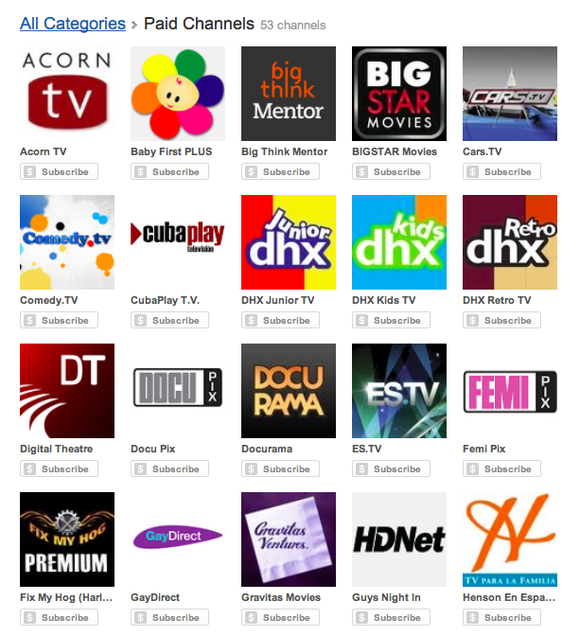 Judging by the current list, I don't think cable and satellite companies have much to worry about in terms of losing out to YouTube in the battle over paid content. Thursday's announcement does namecheck Sesame Street, however, which YouTube says will be offering full episodes on its paid channel when it launches at some point—a good indication that, as YouTube promises, "this is only the beginning."
What remains to be seen is how this move will impact YouTube's overall content mix. Will popular shows start throwing up paywalls and charging for content that has up to this point been free? And more importantly, will the viewers pay up or give up? Will new channels emerge now that money is to be (potentially) made? We'll see, but YouTube's move here was nothing if not inevitable so the interesting part will be where it goes from here.