Jawbone on Tuesday announced Up Platform, an API that allows health-focused services, apps, and hardware to connect with the company's Up wristband accessory.
The two-way API means that folks who wear an Up to track their steps and their sleep can now connect that data with a variety of third-party services. And Up wearers who use other services can access their data within the Up app, too.
Though Jawbone says it plans to one day make its API entirely open, right now, it's available by application only. (Interested developers can apply at Jawbone's website.) On Tuesday, the company launched with ten integrated partners: IFTTT, Sleepio, Wello, Withings, MyFitnessPal, RunKeeper, Maxwell Health, Lose It, Notch, and MapMyFitness. Within the Up app, users can now link their Jawbone accounts with one or more of those third-party services.
"Rather than make our users choose do they want to use one [fitness or sleep tracking servce] or the other, we're using a two-way API, so that you can get the best out of both experiences," said Brad Kittredge, director of product management at Jawbone. The API integration is available only on the Up app for iPhone at the moment, though the company promises Android support is coming soon.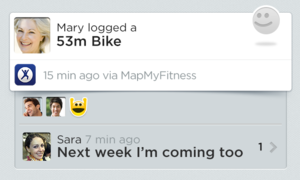 Kittredge sounded particularly enthusiastic regarding the IFTTT integration, suggesting several clever "recipes" that Up users could try with that service, such as: If I sleep too little, text me later in the day that I should go to bed earlier; if I log a certain number of steps, tweet about it; or each day, append my progress to a Google document.
Jawbone's goal, Kittredge said, is to empower users to "do what you want to do with your data … It's data about you, and we're really just stewards."
Users get full control over what data Up shares with third-party apps. And users can shut off third-party access at any time.
The Up Platform is available by installing the latest update to the Up app from the App Store.
Jawbone also announced early Tuesday that it had acquired BodyMedia, another company that makes fitness tracking devices. The acquisition will mean that Jawbone now owns "300 issued and pending patents around wearable technology," the company said in a written statement. The BodyMedia staff will join Jawbone's existing team.