While many people still choose to purchase all their music outright, streaming music services offer some distinct advantages. To begin with, unless your personal music library contains well over 10 million tracks, a streaming service offers the more extensive library. That means you can sample music you might otherwise miss. And unlike with music stored in an iTunes library, say, you can access streaming music anywhere you have a Wi-Fi or 3G/4G connection. You can play channels of music based on a favorite artist or genre. And streaming services offer social components that make it easier to find new music that you might enjoy.
The five major subscription-based music streaming services available in the United States each offer an ample music catalog; support for Macs and Windows PCs, as well as iOS and Android devices; and a price tag of around $10 a month. But which is the one most likely to please? For my money, Spotify takes the top spot.
Spotify is spot on
I prefer Spotify based largely on its social skills and music-discovery options. Having a gazillion tracks available to you is great, but with that much music to choose from, deciding what to listen to becomes a daunting task. The ability to glean good recommendations generated by a service—as well as have easy access to playlists, artists, and albums suggested by your friends—makes a subscription service infinitely more valuable.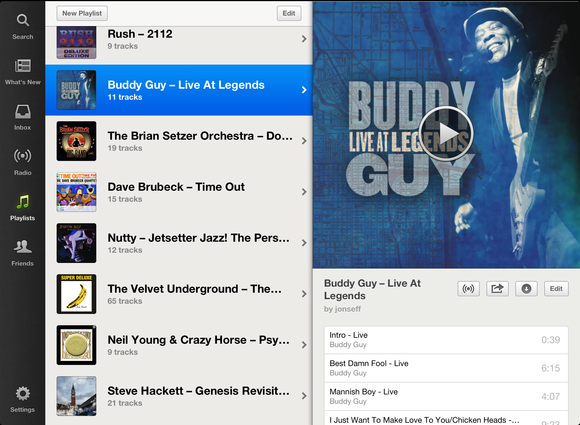 Other subscription services have many of these things going for them as well, but Spotify, once it hit U.S. shores, became the streaming service on everyone's lips. And this didn't go unnoticed by the likes of Facebook, which made sure to feature Spotify in a significant way when it launched its Facebook Music Service. Facebook users can embed links to the music they're listening to in their timelines, making it easy for their friends to follow along. Twitter has also recently added a music component called Twitter Music, that lets Spotify (and Rdio) members listen to full tracks embedded in tweets from friends and artists.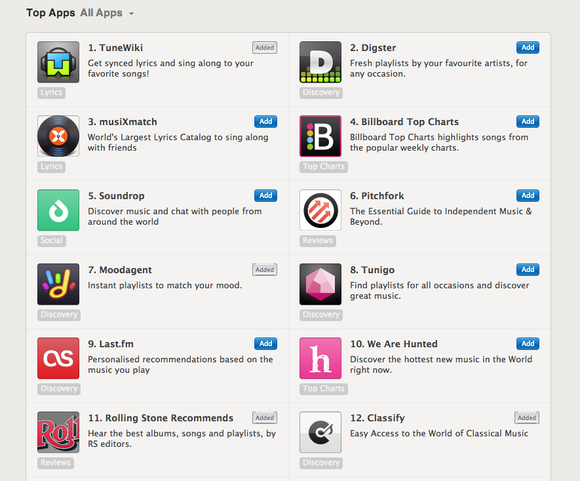 Spotify is no slacker when it comes to recommendations either. The Spotify application includes a plug-in architecture that allows you to add "apps" that help you discover new music. Add the Billboard Top Charts app, for example, and you can access links to Billboard's top 100, the Billboard 200, top R&B/hip-hop songs, top country songs, and top rock songs. Likewise, you can add apps for Rolling Stone recommendations, Pitchfork music, Last.fm, Digster, and TuneWiki (for getting synced lyrics). Its mobile service is solid, and Spotify makes it easy to share playlists.
You might also consider…
Spotify is good for all the reasons listed, but when you want access not only to a lot of tracks but also to a broad range of tracks, I prefer Rhapsody. Spotify's selection of popular music is hard to beat, but its catalog of other genres—jazz and classical, for example—is thinner than Rhapsody's. Also, Rhapsody's service is easier to search and navigate. And it offers a plan that allows you to play music on up to three mobile devices at the same time. The other streaming services limit you to just one.