Getting children interested in robotics is easier than ever these days. A number of platforms exist that provide an introduction to the subject and some—like the Thymio—are appearing inside classrooms.
The Thymio comes from Switzerland, where it was developed by Lausanne Federal Institute of Technology. It wasn't developed to walk, take over human tasks or entertain—at least not without kids writing the software first.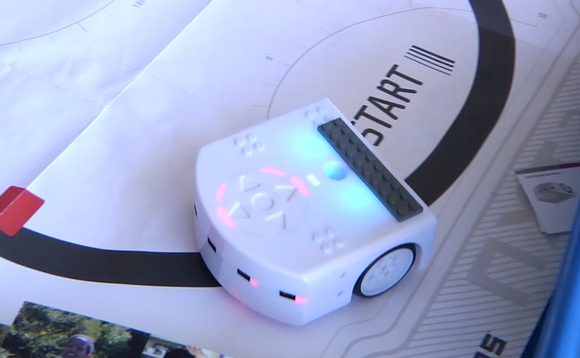 The programming is designed to be easy, but kids can get their hands dirty with actual code if they wish. "[Thymio] has its graphical language where it says 'if this happens do this' and it's literally drag-and-drop," says Sharon Marzouk, founder Techy Kids who uses Thymio at a Silicon Valley school. "You click, and it's a visual programming language. And behind it, you can actually see real code being created, and so you can learn how to modify and edit real code."
The Thymio comes with a microphone and speaker, accelerometer, temperature sensor, seven different proximity sensors, and 39 LEDs that can be used to signal back to the programmer or just entertain.