After getting heaps of hype last week from the likes of Ryan Seacrest and Jason Mraz, Twitter Music is finally launching for the common folk.
Both the Twitter Music iPhone app and the Twitter Music website are now live.
Unlike Pandora, Spotify, Rdio and the like, Twitter Music is aimed at music discovery, rather than lengthy listening sessions. The app's main attractions are a "Popular" list of artists based on what's trending on the social network, and an "Emerging" list for indie music. Each section shows a grid of artists, allowing you to play a single song from each one, or see which artists those musicians are following.
That's where things get a little tricky. The actual music comes from iTunes, Rdio and Spotify, but you can't listen to full songs without a subscription to either of the latter two services. Otherwise, all you get is small preview. Twitter says it's working to add other audio sources in the future, according to ABC News.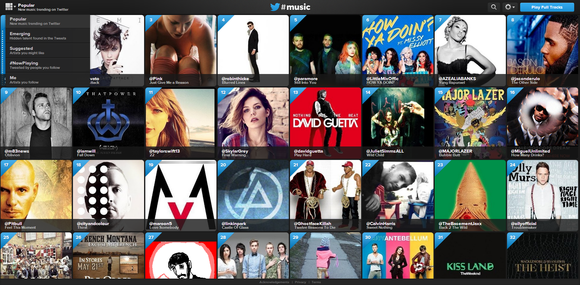 Twitter Music includes some more personalized types of discovery as well. If you follow artists on Twitter, the app will suggest similar ones to check out in the "Suggested" section. The app also shows a list of artists that your friends are tweeting about, dubbed "#NowPlaying."
The service is slick and easy to use, but it does have some irksome qualities. Most annoying is that there's no way to "follow" artists within Twitter Music without actually following them on Twitter. So if you enjoy a musician's soulful tunes but don't want their pointless status updates clogging your news feed, you're out of luck. Twitter Music could address this issue by supporting lists, but Twitter seems to have soured on the idea of lists in general—the feature is not even available in its Windows 8 and BlackBerry 10 apps—so this seems unlikely.
For a discovery app, Twitter Music isn't very helpful with remembering music, either. There's no way to tag artists for later listening or even view your personal listening history, short of tweeting about every single song you enjoy. And if you do subscribe to Spotify or Rdio, there's no way to jump directly into those apps to listen to an artist's full catalog or add them to your collection.
Twitter Music definitely has strong potential as a way to discover music, but right now it's too limited. Full songs only work with a couple of services, there's no way to keep track of the songs you actually like, and it requires you to clog your feed just to take full advantage of the service.
All of which makes you wonder why the celebrities and artists who were hyping Twitter Music last week were so excited. They may have musical talent, but their taste in apps is questionable.