It seems like nearly every new piece of technology comes with a built-in, high-resolution camera. Sure, anyone can take a photo, but what separates an everyday snapshot from a purposeful composition? Let us take your photos to the next level with TechHive's Digital Photography Superguide, now available on the iBookstore, Kindle Store, Nook Store, Google Play, and as a PDF.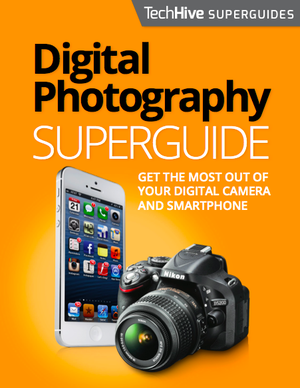 Any photographer will tell you that the best camera is the one you have with you. In the years since our editorial team released the last edition of this Digital Photography Superguide (through Macworld), smartphones have increasingly become that ubiquitous camera. Indeed, most of today's smartphone cameras have specs you might have found in a point-and-shoot a few years ago. But whether the camera in your hand is a smartphone or a $1000 DSLR, the focus of this book remains the same: to help you get the most out of your camera.
With this all new edition of the Digital Photography Superguide, we've tried to simplify some of the most complex photography concepts, and we've added picture comparisons and full-color diagrams to help explain how your camera works. We've also expanded our coverage of smartphone photography, offering a full chapter on taking, editing, and sharing great pictures with the latest versions of iOS and Android, as well as Windows Phone 8. We also provide photography app recommendations and a guide for a tablet as an aid for professional photographers.
The only surefire way to become a better photographer is experience. Luckily, digital photography allows you to make as many mistakes, cost-free, as your memory card can hold. And as you combine technical knowledge and compositional awareness with lots of practice, you'll be able to capture moments of brilliance. We hope this book will help you along that journey.
Want a glimpse inside TechHive's digital darkroom? You can check out a free PDF preview of our Digital Photography Superguide.
Download the Digital Photography Superguide for your favorite device (which may also double as your go-to camera): You can buy the book on the iBookstore, Kindle Store, Nook Store, and Google Play for $9.99.
You can also pick up a PDF version of the Digital Photography Superguide from our web store for $9.99 or get the full package—iBooks, Kindle, Nook, and PDF versions—for $12.99.
If you're interested in even more digital photography coverage, check out Macworld's iPhone Photography Superguide. We also offer how-to guides for your smartphone and computer: Check out the rest of our Superguide offerings on our website.